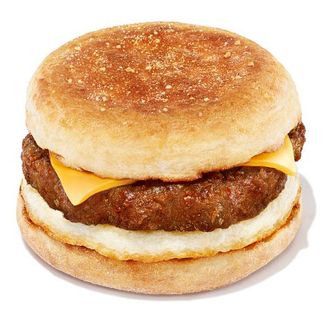 The very foundation of New York City is not a bedrock of schist, but breakfast sandwiches. They are the once and future king in this city and anyone looking to change that would be hard-pressed to convince New Yorkers otherwise.
And yet, Boston-based Dunkin' (f.k.a. Dunkin' Donuts) believes New York is ready for an alternative. A plant-based alternative, more specifically. CNN reports that the chain has partnered with Beyond Meat, the L.A.-based company specializing in meat alternatives made primarily with pea, rice, and mung bean proteins. Together, the companies have created a breakfast "sausage" sandwich that will debut at 163 locations across Manhattan in hopes that we will like it as much other meat-based offerings. Good luck with that.
Whether we like it or not, Dunkin' plans to go national with the new sandwiches in the near future, most likely in places where breakfast sandwiches don't have a cultlike following.