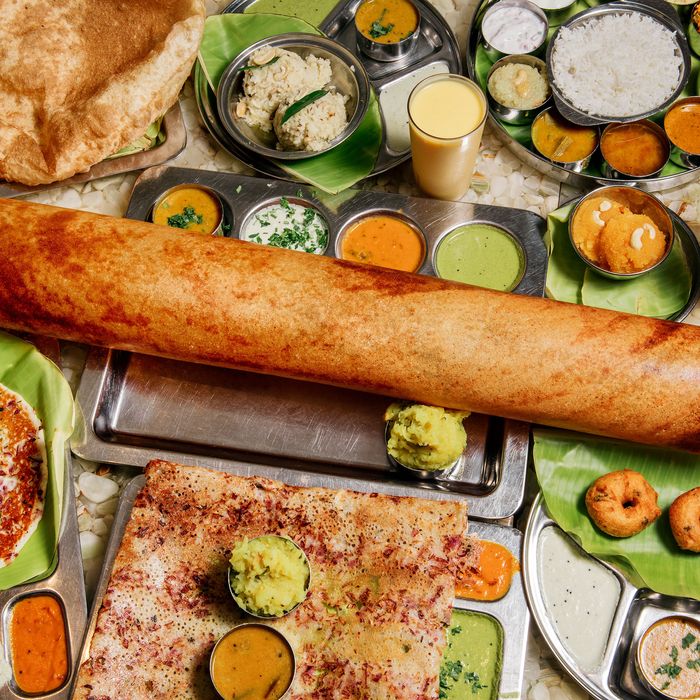 A spread from one of Saravanaa Bhavan's New York locations.
Photo: Scott Heins
When I was a kid in suburban New Jersey, my parents — both South Indian immigrants — were lenient about my Hindu upbringing. They didn't, for example, send my sister and me to the scripture classes that many of our second-generation friends endured in the marbled basement of our local temple. Instead, they seemed to approach religion with the understanding that the concept of faith was too fussy and abstract to instill in our heads, so they did the more practical thing and instilled it in our stomachs.
Every family's for-religious-reasons diet has its own quirks and idiosyncrasies, and ours was no different. We weren't fully vegetarian, as many Hindus are, but the rules we followed were still strict and exacting. Beef and pork were forbidden, although lamb and goat were allowed. Products that imitated the shape and color of meat (veggie bacon, striped with white ribbons of "fat") were permissible, but nevertheless frowned upon for their suspicious, meat-like leanings. Festivals and funerals shared a no-meat rule. And, every Sunday and Monday, we went full-throttle lacto-vegetarian, a toe-dip into veganism. Dairy was allowed; eggs were contraband.
In early-aughts North Brunswick, I had good reason to dread those meatless days, because, at a time in my life when I longed to fit in, they forced me to be conspicuous, or seen as difficult. It was no fun to be an inconvenience, but it was better than the guilt that came with cheating. At birthday parties I had potato chips in buns while the other kids ate hot dogs. At a Subway with my friends, I asked the sandwich artist to change gloves before making my sub. At Taco Bell — fast food was big in New Jersey, and I am something of an aficionado — I was crushed when an employee told me the beans, back then, were cooked in lard.
Going out to eat as a family on these nights meant hunting miles of strip malls for restaurants that could accommodate our dietary restrictions, where we could simply be comfortable. For us, and many families like ours, that restaurant was Saravanaa Bhavan, a straightforward vegetarian chain that specializes in South Indian staples, like dosas, idlis, uttapams, and vadas.
We would eat with our hands, finally free — after so much restraint — to have whatever we wanted. At the laminate tables, my sister and I would sink rice cakes into a broth of warm, tangy sambar. She was picky, and with gentle fingers she peeled red onions off her uttapams, those pillowy, porous pancakes made from fermented black lentils, rice, and a generous pour of oil. I loved to take apart rava dosas by their crisp latticework. For dessert we both ate bowls of kesari bath, and if no one was looking, I'd pull a raisin out of the heap of sweet semolina and eat it by itself, each one so distended with butter it behaved more like a grape: round, juicy, wrinkle-free.
Saravanaa Bhavan's locations feature uniformly humble, hole-in-the-wall atmospheres, yet the company is, in reality, one of the most successful vegetarian restaurant groups in the world, with, at last count, 111 outposts around the globe, 13 of which are in the U.S., including three in New Jersey, one on Long Island, and two in Manhattan.
The chain's founder, P. Rajagopal, opened the first restaurant (called Hotel Saravana Bhavan in India) in 1981, in Chennai, a manufacturing-heavy city that's sometimes called "the Detroit of India." At the time, there were few restaurants in Rajagopal's area, and most of them catered exclusively to upper-caste Indians. With some spiritual encouragement from an astrologer, Rajagopal, the son of a wholesale onion trader, opened Saravanaa Bhavan as an all-inclusive exception to a repressive norm. The restaurant offered high-quality, inexpensive vegetarian fare to anyone who came through its doors, and it quickly amassed a feverish following. Additional franchises followed: first in Chennai, later, in further Indian cities, and finally abroad.
Wherever the Desi diaspora went, Saravanaa Bhavan went, too. The first American franchise opened in 2001 in Silicon Valley, where early customers were largely Indian IT workers on their lunch breaks. Further expansion, in California and Texas, followed, and a Lexington Avenue franchise arrived in 2004. The branch adopted a fast-paced, lunch-counter-style rhythm to accommodate the bustling workdays of its clientele, but it was dead at nights. The dinner action would be across the river, in Edison, New Jersey, home to sari stores and Patel Brothers' grocery marts, in the town's own "Little India." A Saravanaa Bhavan franchise opened there, in 2006.
The Lexington Avenue branch teemed with working professionals, while the Edison branch was a place to unwind after work and on weekends. It was a place for families: Grandmothers and grandfathers can lean back in wooden chairs and rap their knuckles on the table, impatient for service. Children on booster seats sip salty-sweet mango lassis. More New Jersey locations have opened, but even now, when I think back to my own meals, I think of Edison's Saravanaa Bhavan, because it was the restaurant that gave my family a place to relax when spaces that welcomed us felt so limited.
Then again, that warm, wistful feeling is always tempered a bit by the news of Rajagopal's murder conviction, and the decade-and-a-half he spent avoiding prison.
For years, the Rajagopal murder story has been equal parts ludicrous and sensational, perfect tabloid fodder in India; in the U.S., where the restaurants don't have a big following outside of Desi communities, one of the story's biggest developments went more or less unnoticed, but if you know, you know.
On July 7, Rajagopal, at 71 years-old, was supposed to report to prison for the third, and final, time. He didn't. According to India's Deccan Herald, he instead checked into a hospital in Tiruchendur, a town on India's southeastern tip, "ostensibly owing to ill-health." Two days later, he was forced to surrender for good, and began serving out a life sentence.
It was a development that had been nearly 20 years in the making. As the story goes, in 2001, Rajagopal was in love with the daughter of a Saravanaa Bhavan assistant manager. Rajagopal was determined to marry the young woman, known as Jeevajothi, and pursued her with unwanted advances and lavish gifts. When she married another man, Prince Santhakumar, Rajagopal, with the help of five Saravana Bhavan–employed henchmen, reportedly abducted and strangled him. According to detailed news stories, the body was discovered in a forest in a Tamilian hill town of Kodaikanal. In 2003, Rajagopal was charged with culpable homicide, a lesser charge than homicide. A year later, he had served eight months of a ten-year prison sentence, but was released for medical reasons, reportedly his diabetes. Five years after that, the Madras High Court upgraded Rajagopal's charges to murder and sentenced him to life in prison. Rajagopal spent a grand total of three months there, before leaving on bail, again, pending a new hearing. ("It's amazing how he managed it," one local authority told the New York Times in 2014. "I mean, our legal system is not that bad.")
A decade passed without that hearing, but finally, this past March, the Indian Supreme Court upheld the 2009 sentence. Rajagopal pleaded with the Court to delay his sentence, to grant him the leniency that somehow he had always been granted. On July 9, according to the Indian Express, the Court turned down those pleas.
That sentence, however, would prove to be surprisingly short: On the morning of July 18, just over a week after Rajagopal surrendered, he suffered a heart attack and died.
If anyone had any qualms about enjoying a thali plate at a restaurant enmeshed in a legacy of murder, it doesn't seem to have hurt business. Through the entire ordeal, Saravanaa Bhavan thrived. Rajagopal's two sons run the company now, and in the past year alone, eight new franchises opened around the world, with future expansion planned in Italy, Ireland, and Saudi Arabia.
Partly because I've moved from New Jersey to Manhattan, and the city is newly flush with excellent vegetarian food, it had been a few years since my last trip to a Saravanaa Bhavan. But the pangs of chain withdrawal can sometimes be too strong to ignore, and a few weeks ago, I found myself at an outpost on the Upper West Side. On Yelp, a reviewer, Nat S. had written about this location: "a Serial Killer owns Saravanaa Bhavan so I can't give this place 5 stars … But anyway, I must admit that Saravanaa Bhavana is one of the best dosa places I've tried. The mysore masala dosa and onion uttapam are so fucking delicious."
When the waiter came around to take my order, I decided to skip the standard masala-dosa order for a paneer version.  After I sent a photo to my dad, he scolded me for ordering a North Indian dish. (My dad is a diehard for traditional South Indian cooking; to him, paneer in a dosa is an aberration.)  "What are you doing?" he texted, and he was probably right — it was the wrong order. Unlike the classic version, which is often rolled into a massive cylinder, with the aloo filling evenly distributed throughout, the paneer dosa was folded into a crepe-like triangle, and there was a lump in the center, where all the masala appeared to be concentrated. Eating it this way meant that certain bites were glorious — soft, fresh-grated cheese mixing with glassy white onions, peas, and the occasional hot, speckled surprise of whole black peppercorns — while other bites contained nothing at all. It was all the same dish, but it was as if it had been designed to lack balance, and eating it meant coming to terms with the fact that it was inherently uneven.
My table overlooked Amsterdam Avenue. Part of me knew that I should feel wrong about eating here, that there were many less-scandalous dosa chains where I could have dinner. But when I looked around — at the squabbling family, at the couple next to me on a lackluster date — I felt the opposite, that I was in one of the few restaurants where I'd always been made to feel, without judgement, like I belonged.
This post has been updated to include the news of Rajagopal's death.