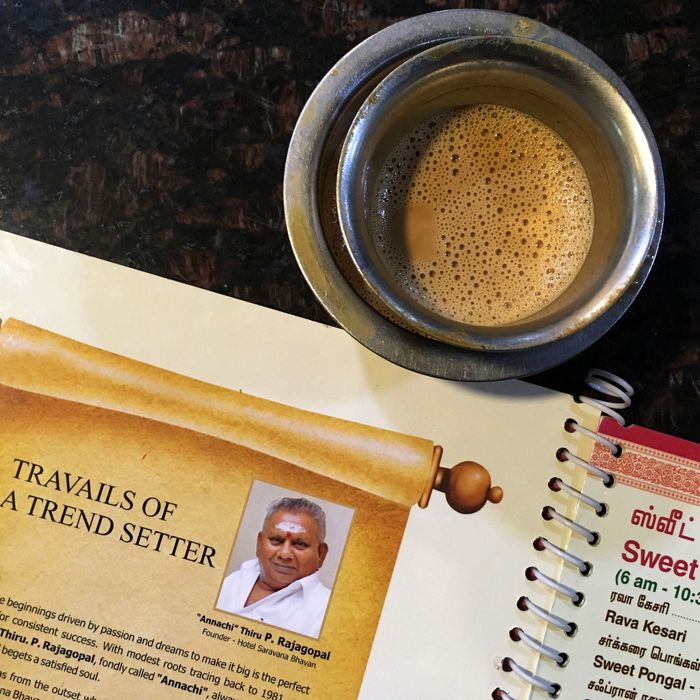 The Saravana Bhavan founder's image graces the menus of his restaurants.
Photo: Arun Sankar/AFP/Getty Images
Many Americans may not know the name P. Rajagopal, but in his native India, his life was tabloid fodder of the highest grade: Lauded as the "dosa king," Rajagopal was the founder of the famous vegetarian restaurant Hotel Saravana Bhavan and its 100-plus locations around the world. He was also convicted of murdering a man in 2001, yet had only just begun serving a life sentence last week. Now, according to a report in the Indian Express, Rajagopal, who was 71, died today after suffering a heart attack.
On July 7, the day that the Indian Supreme Court had set for Rajagopal's mandatory surrender, he failed to arrive in court. Instead, a legal counsel for Rajagopal appealed to the court for more time, due to Rajagopal's deteriorating health. But the presiding justices denied the plea. Two days later, Rajapopal did surrender, arriving to court in an ambulance and donning an oxygen mask, and was transferred to the prison ward of Chennai's Stanley Medical College and Hospital. He was admitted to Vijaya, a private hospital, on Tuesday of this week, where his condition deteriorated.
It is a surprising turn of events, befitting a long life full of them. The casual, vegetarian Hotel Saravana Bhavan — its many international locations, including two in Manhattan, go by the similar name Saravanaa Bhavan — has long been a favorite in India, and around the world, even as news of Rajagopal's now-infamous scandal spread: In the fall of 2001, he and several acquaintances reportedly kidnapped and murdered a man named Prince Santhakumar, who had married a woman Rajagopal was determined to marry himself. (He already had two wives). He was first convicted of the crime in 2004, and managed to avoid any serious prison time until last week.
As one Yelp reviewer wrote of the chain's Upper West Side location, "a Serial Killer owns Saravanaa Bhavan so I can't give this place 5 stars … But anyway, I must admit that Saravanaa Bhavana is one of the best dosa places I've tried. The mysore masala dosa and onion uttapam are so fucking delicious."