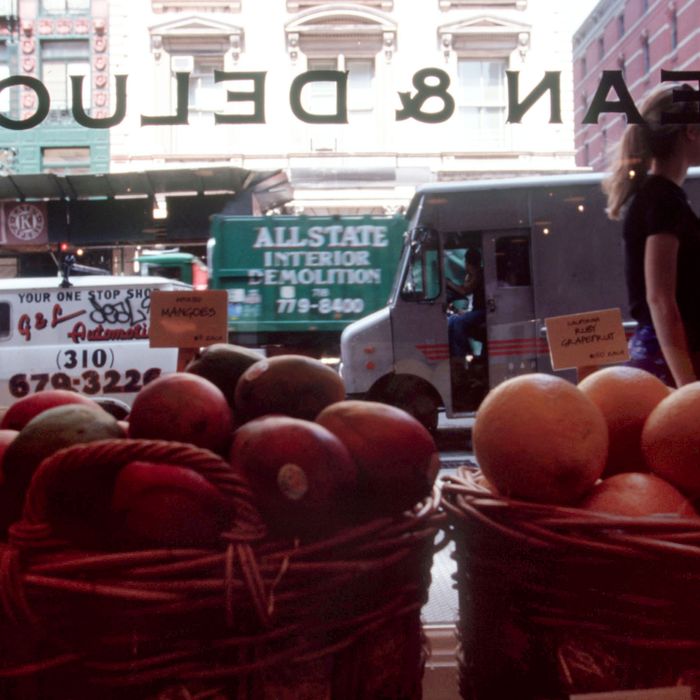 The view from Soho's Dean & DeLuca in 1998. New reports indicate the chain is now on the brink of collapse.
Photo: James Leynse/Corbis via Getty Images
I always made a beeline to the back-left corner of the store, past the espresso bar and the pastry counter full of glistening entremets and a multicolored galaxy of macarons, past the cheese counter and the charcuterie case and the terraced display of olives. I went to that corner because it was there that you would find one last refrigerated case, one that, on first inspection, looked as if it held the random bits that didn't really belong anywhere else. Quickly, however, it would reveal itself to be packed with an almost cartoonishly decadent spread.
Laid out on marble slabs were five-plus varieties of smoked salmon and dill-encrusted Swedish gravlax, the gorgeous pinks and greens popping like a 1960s living-room palette. On top of the counter, there was a display of aged balsamic kept under lock and key, the kind of stuff a well-to-do Italian family might keep in their cellar as a wedding dowry. In the far end of the case, tiny tins of caviar sported names like Galilee Osetra and Acipenser transmontanus. Next to those, a glass cloche guarded Perigord truffles, nestled on a bed of dry rice.
This little section was always, for me, the essence of Dean & DeLuca because it held the highest density of wow-factor stuff, an almost vulgar display of authority that let shoppers know they were in a Very Serious Store. This was stuff most people never bought on regular grocery runs, but it hammered home what Dean & DeLuca was all about. And, in coming face-to-face with these absurd luxuries, their extravagance and astronomical prices were always tempered, at least somewhat, by the people working at the store.
Here were ordinary New Yorkers armed with extraordinary knowledge, who could rattle off a dizzying array of facts about cheese, prosciutto, caviar, and anything else on the shelves, all without making customers feel self-conscious for asking. Whether it was the woman from Haute Savoie working the cheese counter, explaining why Reblochon in the States didn't taste as good, or the produce buyer who drove his own car to Connecticut in the summer to return with a trunk full of pawpaw for the store, the folks working the counters and the floor were not snobs; they were merely obsessives, and they always seemed thrilled to have a genuinely curious, captive audience when they were asked to explain something.
I worked on the corporate side at Dean & DeLuca for almost three years, and I was not shocked when reports emerged last week that the company was closing numerous stores and owed its vendors hundreds of thousands of dollars. By all accounts the grocery chain, which has been owned by a Thai real-estate company named Pace Development since 2014, is struggling to survive at all. Even its flagship Soho location now features bare shelves, indifferent service, and an eerie sense of emptiness. Though I was not surprised, I am still upset by it because, for all of its gourmand posturing — and there was plenty — Dean & DeLuca always felt paradoxically egalitarian, owing in large part to the people on the ground.
When the store first opened on Prince Street, 40-ish years ago, a couple blocks west of the current Soho store's corner location at Broadway, the founders decided on an aesthetic that, as they put it, "brought the back of house to the front." Whether it was purely an economic decision or a bold aesthetic choice is unclear and probably irrelevant, too, since the subway tile/metro shelf/butcher block vibe is now pretty much taken for granted in NYC restaurants and retail. The famous claim is that the store was the first place in the States to sell things like sundried tomatoes, balsamic vinegar, and Parmigiano-Reggiano. Even if that isn't entirely true, Dean & DeLuca has been responsible for much of what we understand to be the fabric of how we eat right now. Who could imagine a 1980s cookbook without a few recipes calling for sundried tomatoes, or a cheese shop without its own hulking wheel of Parm dwelling somewhere on the counter?
The store always featured a "food museum" vibe, but it also felt like an accessible indulgence. Walk into a caviar boutique on the Upper West Side and you might as well be shopping at Tiffany's. But even though the stuff for sale at Dean & DeLuca seemed designed to appeal in equal parts to fans of Escoffier and American Psycho ("the mud soup and the charcoal arugula are outrageous here"), all the standard grocery tropes were alive in a way that made customers feel welcome. At a C-Town deli counter, a customer might ask to see a slice of smoked turkey to make sure it's the right thickness; here, it's a slice of 24-month-aged culatello. At Associated, you're never far from a bread-squeezing grandma in the aisles; here, that same grandma might ask the cheesemonger to hand over a Camembert, then give it a pinch to see if it's ripe.
While the stores' customers included private chefs and celebrities, you'd still find people that pinched their pennies all week so they could buy an outrageous rib eye on a Friday. For a broke-yet-food-obsessed early-20-something like myself, this was a place where I could find the ingredients I needed to attempt to cook dishes I knew I'd never be able to afford in any restaurants.
After a particularly great interaction, when I was still just a customer there, I'd often come away thinking, Dang, they seem like the most regular person who seems to know a crazy amount about caviar, or pâté, or fish, or whatever. And, I would later come to find out, after getting to know them, that's exactly who they were. In 2019, New Yorkers can find high-end ingredients in plenty of places, but the people at Dean & DeLuca always seemed like they were preternaturally consumed by the idea of great food, and making sure it went into the hands of people who would most appreciate it. Take away the history and the air of extravagance, and that connection is precisely what turned the stores into the first place that customers might feel like great food really was meant for everyone.