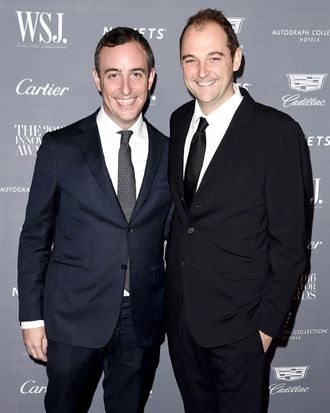 No more!
Photo: Nicholas Hunt/Getty Images
Daniel Humm and Will Guidara's dining-room tango is over. The duo behind Eleven Madison Park have split ways eight years after they bought EMP from Danny Meyer and turned it into what's regarded by many to be one of the world's destination restaurants. The odd one out is Guidara, whom Humm is buying out with the assistance of an investor. Once the dust settles, Guidara plans to start a new restaurant group.
The split is a bit of a shocker. The two became fast friends after starting at EMP in 2006, when the chef was brought over from San Francisco and Guidara was promoted to manager. They'd experienced a meteoric rise during this decade, culminating in EMP nabbing the No. 1 spot on the "World's 50 Best" list — the questionable and controversial list that is nonetheless influential among people who can run around the world spending money on very expensive tasting menus. The restaurant has evolved several times since Humm and Guidara purchased it, most recently closing in 2017 for an overhaul of the kitchen, serviceware, and menu, which leaned hard into minimalism.
Yet, it's come at a cost. All has apparently not been well in the land of Make It Nice, the company they created together. Speaking to the New York Times, Humm said "We just came to the conclusion in the end that what would be best for the company is if I continue to run it."* In the same interview, Guidara added that they had tried, to no avail, to divide the empire.
The two opened up six more restaurants and bars after they bought EMP, all of which will stay in Humm's hands. These include the Nomad, the Nomad Bar, and Made Nice in New York, as well as locations of the Nomad in Los Angeles and Las Vegas. There are other projects in the works too, namely, a restaurant at 425 Park Avenue and another in London, Davies and Brook in Claridge's hotel, that's still slated to open this summer.
We'll have to wait to see how the restaurants change. Guidara brought an obsessive approach to service at the restaurants, a "hardcore coddling" that involves researching guests, like opsec professionals, to give each a very specific experience. Needless to say, whatever Guidara does next will certainly involve taking very good care of people.
This post has been updated to reflect a quotation that was adjusted after the original story's publication.