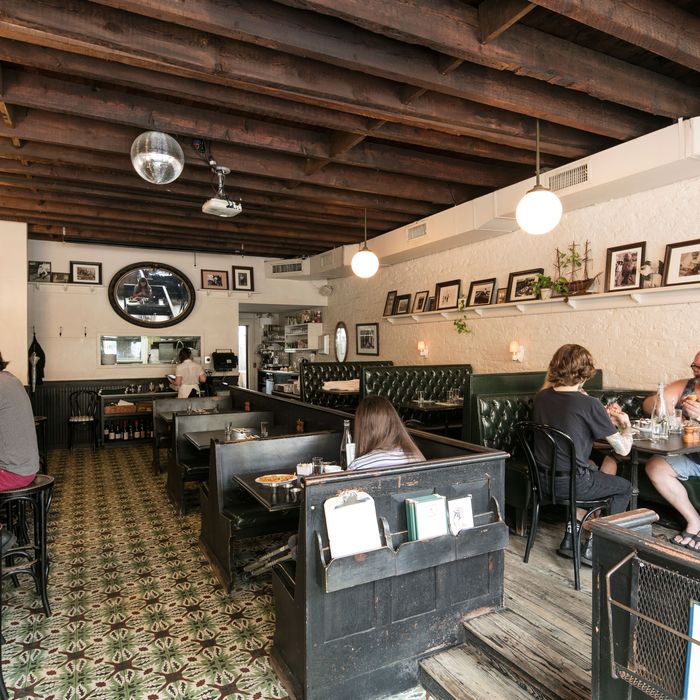 If you believe that sad things often happen in threes, then that's certainly been the case this week: Following the announcements that Madcap Cafe and Bombay Bread Bar have called it a day, so too has Walter Foods in Williamsburg.
The 11-year-old neighborhood staple will serve its last oyster on the half shell on Sunday, July 28. The restaurant has also stopped serving brunch. Co-owner Danny Minch tells Grub that he and his partners plan to hold on to the space for a new project due in early fall.
Minch, a former bartender at Balthazar, opened the American restaurant with Dylan Dodd in 2008, bringing a raw bar, old-fashioned cocktails, steak dinners, and an intimate feel to the then-fledgling Williamsburg dining scene. Three years later, the duo extended their reach to Fort Greene with sister restaurant Walter's, which added hidden Japanese restaurant Karasu to its back room in 2016. Last month, the team added the Mediterranean-leaning Apollonia to the portfolio.
"When we signed our lease in the spring of 2008, we imagined a neighborhood restaurant where you could fall in love, take your parents, have some late-night fun, and eat delicious food," reads a note posted in Walter Foods' window. "Every person that walks through our doors should feel like a regular was what we believed then, and still believe to this day. We thank each and every one of you for being a part of our lives. We literally would not be here without you!"