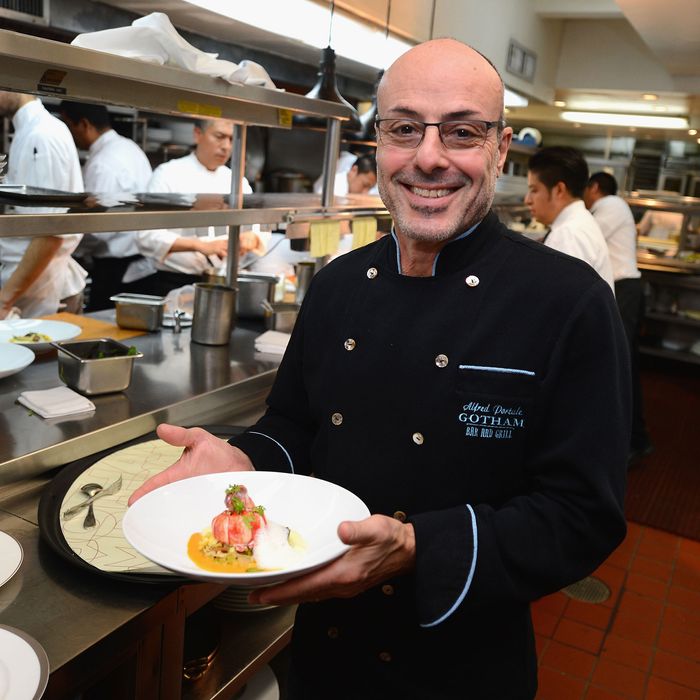 Alfred Portale has left Gotham Bar & Grill, where he became chef in 1985.
Photo: Stephen Lovekin/Getty Images
There are certain restaurants in the life of a neighborhood and of a family that form a kind of continuity down through the years. For my little Greenwich Village neighborhood, and for my family, Alfred Portale's Gotham Bar & Grill was one of those places. If you had a little cash in your pocket, it was the oldest and best bar in the neighborhood, and if someone else was paying, it was the best spot for a reliably stately business lunch. It's been the venue of graduation dinners and birthday dinners down through the years, and for a professional eater who spends his time wandering the avenues, sampling the erratic dining fashions of the day, Portale and his restaurant have always represented a steady comforting presence — the kind of place where you go every now and then to recalibrate the palate, and to pay your own cash for a classic martini (or two), a seafood salad, and a perfectly grilled lamb chop.
There are probably good reasons why Portale and his partners broke up after more than 30 years in business together, and given the whirlwind pace of things in the restaurant world, it's a miracle it didn't happen a couple of decades sooner. Most of the chef's peers from the early-'80s pioneer era around the Union Square Greenmarket are long gone, after all, and many of his legions of imitators are gone, too. These days, the neighborhood around the famous 12th Street façade — with its minimalist gray awning and wide, glittering windows — is filling up with anonymous glass towers and random salad bars. When you walk by the door, as I do several times a day, the clientele alighting from their town cars look less like cutting-edge New Yorkers than well-heeled tourists making their slow, stately way into a long-running Broadway musical.
The new chef in the kitchen, Victoria Blamey, is a talented young cook, and I'm betting that she'll succeed in bringing a new, livelier crowd back to the Gotham, at least for a while. Portale's place in the great culinary pantheon was settled long ago: He belonged to that small group of chefs and restaurateurs who lived and worked in the '80s around Union Square, and who almost singlehandedly helped ignite the great Greenmarket, farm-to-table revolution, and everything that followed. Danny Meyer famously lived in an apartment above the Gotham, and was a frequent customer before he opened his own neighborly joint a few blocks north. Tom Collichio worked in the kitchen before moving on to the Meyer empire and his own highly influential restaurants, and as Jonathan Gold pointed out in a long-ago Gourmet magazine review, Portale's tectonic innovations (vertical plating, tuna tartare, garden freshness fused with a continental, big-city style) are still felt in ambitious kitchens across the U.S.A.
But for New Yorkers in general, and Village dwellers of a certain age and demographic in particular, the sense of history and stability that Portale represented will be missed. I've often used Isaiah Berlin's famous "Hedgehog and the Fox" metaphor to describe the people who run restaurants, hedgehogs being those who know one great idea (André Soltner, Eric Ripert), and the foxes (Jean-Georges Vongerichten, Danny Meyer) being those who flit easily from one concept and style to another. Along with Ripert uptown at Le Bernardin, and Gabrielle Hamilton at her seminal East Village establishment, Prune, Portale is one of the city's last great hedgehogs. Manhattan belongs mostly to the foxes, now, but like all proper hedgehogs, Portale managed to pursue one singular philosophy in his own little corner of the city for as long as he possibly could. He's off to Chelsea, now, to open another spot. Like all of the old regulars, I wish him well, of course, although it will be a shock to see our old neighbor so far from home.