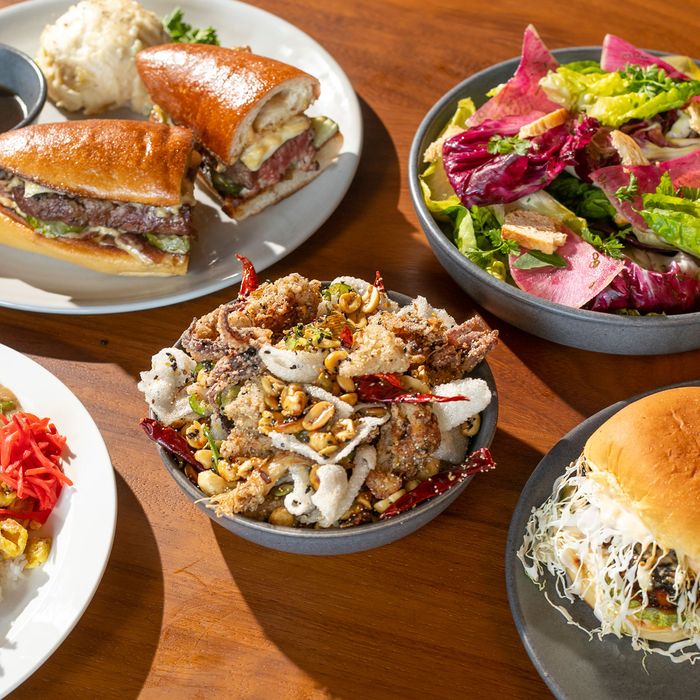 The spread.
Photo: Andrew Bezek
Three years after it was announced, Dave Chang's restaurant in the South Street Seaport has finally opened — part of an ambitious and possibly crazy project to make the Financial District a place you actually want to go. Located at Pier 17, Bar Wayō is not a proper restaurant like its neighbor Fulton, the Jean George Vongerichten spot designed for fancy celebrations, and a tiki turn for the Momofuku group. Here's what you need to know.
Wait, there's another new Momofuku restaurant? How am I supposed to keep track of all of them?
I don't know, maybe start an Excel spreadsheet? It's true the restaurant group is on a tear. Wayō is Momofuku's fifth opening in the last nine months, and third this year. The group opened a second Noodle Bar and the sandwich spot Bāng Bar in Columbus Circle at the end of last October, plus Kāwi and Peach Mart in Hudson Yards earlier this year.
So what makes this place different?
Well, you won't find spit-roasted meats in Korean flatbread, or Korean homestyle cooking, or the delights of a Japanese convenience store. The idea behind this restaurant, rather, is derived from wayo secchu, a Japanese concept of blending ideas from the East and West, though you won't find the usual yoshoku dishes like hamburger steak and doria.
Are there noodles here?
Actually, no. This restaurant is Momofuku No-Noodles Bar. There's lots of bar food, though. You'll find shrimp cocktail; onion rings with trout roe and what a rep for Momofuku calls "our take on ranch" with onion, garlic, mayo, sour cream, and chives; a curry doughnut; dry-spiced wings; a single salad with just palm sugar vinaigrette and optional chicken katsu; and a hamburger — well, a hamburg dip. There's also a one-minute steak, for $28, and a two-minute steak, with the second minute ringing in for an additional $24. (That's a good hourly rate.)
What is a curry doughnut? Is it like a fritter made with Japanese curry?
It's a yeasted doughnut that's filled with not cream but a mushroom-and- tomato-based curry. It is not dessert.
Also, what's the difference between a one- and two-minute steak?
It's just a difference in size. The one-minute is thinner, the two-minute is thicker. That's all. Nothing to see here, folks!
Will Dave Chang be around?
It doesn't sound like it. A rep says he's "integral to the concepting of our projects" and that's he taken on the role of the role of "a mentor to the culinary team as they go through R&D." But, dude has a media empire to run! Netflix just announced a second show with the chef, called Breakfast, Lunch, and Dinner, and will premiere the second season of Ugly Delicious later this year. He also has his media company, Majordomo Media, his podcast for the Ringer, and signed a multiyear deal with Hulu to create a slate of food programming with Vox Media Studios and Eater.
So who is cooking my hamburg sandwich??
The chef de cuisine is one Sam Kang, who cooked at the original Noodle Bar, Eleven Madison Park, and was a sous chef at Momofuku Ko. His most personal contribution to the menu, Eater NY reports, is a the half-smothered royale, an omelette with sausage gravy and mushrooms served over rice, which may scratch your omurice itch. It's a dish he grew up eating at a bowling alley in Gardena, and the menu features a couple more dishes other staff members grew up with. There's a Rhode Island clam chowder, but made with a dashi broth, and the aforementioned salad, derived from one in Melbourne. The dishes aren't included for nostalgia, per se. A rep says, "We thought about what foods one would want on a pier, and chowder was one of them."
Wait, what about the drinks? This is a bar after all.
Right! Momofuku bar director Lucas Swallows tells Eater Wayō has a "tiki mind-set," which sounds like one way you'd described the aesthetic of Jimmy Buffett. Here, Swallows added, it means all the escapism minus the elements that veer into appropriation.
What's on the menu?
The drinks range in price from $12 to $18, and there's something called a melon creamy soda, which is not a cream soda with Midori but a drink of vodka, Midori, the yogurt drink Yakult, and milk punch. Other drinks include the Singapore Sling–inspired South Street Sling, with gin AND mezcal; a Daiquiri rum and lime but also cachaça, lemongrass, and lychee; and a Spritz! (You have to say it as an exclamation, or you'll get a regular spritz.)
This is the new era of Momofuku, so the seats will actually be comfortable right?
Yes, there are chairs with backs. There's a 27-seat insides inside, where there's wraparound bar plus a standing counter space. There's also a patio with 50 seats at communal tables.