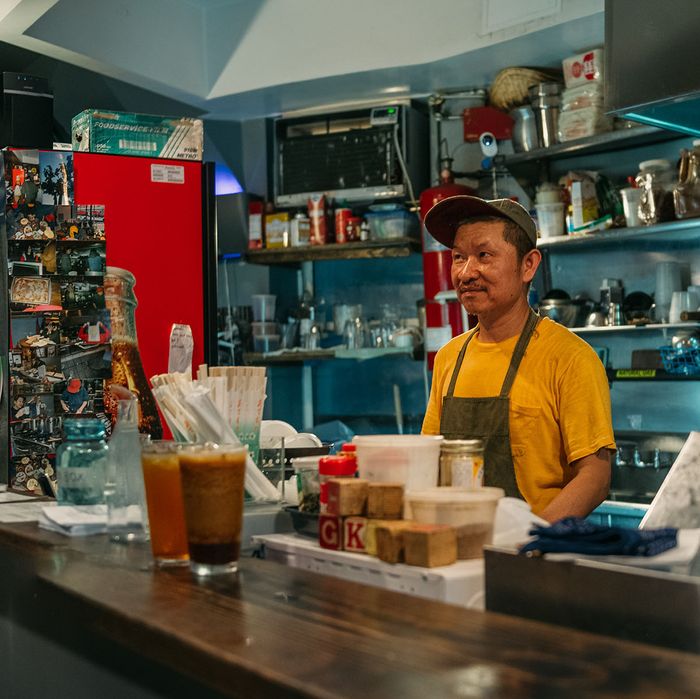 The Underground Gourmet likes dining out in untraditional restaurant spaces as much as the next guy, but truth be told, Bangklyn East Harlem gave us pause. To start, it's hard to glean exactly what Bangklyn East Harlem is. Is it a restaurant with hardly any customers? Is it a scantily stocked clothing and skateboard shop? An eccentric artist's studio? Maybe a piece of Jennifer Rubell performance art? The name of the place up on Second Avenue and 105th Street is vague, if geographically accurate. The façade bears a depiction of what looks like the Brooks Brothers Golden Fleece logo, but here the woolly lamb suspended by a ribbon has been replaced by a plucked chicken dangling from a rope. The back wall is home to all manner of vintage clothing and Americana, from a polished pair of Gokey moccasins to a Beavis and Butt-head sweatshirt by Stüssy. And behind a counter, in Gurkha shorts, knee-high orange socks, and a blue apron of his own design, is the accidental chef and restaurateur Prasong "Pat" Kanhasura, a Thai native who studied at Parsons and became a fixture on the international flea-market circuit before leaving his Bangkok menswear shop (also called Bangklyn, a portmanteau of Bangkok and Brooklyn) to open a restaurant in New York.
To hear Kanhasura tell it — and if you belly up to the dining counter inside this curiosity shop, you most likely will — his midlife career change was prompted by the current sorry state of fashion, the globalization of production, the decline of quality materials and craftsmanship, and social media's deleterious effect on the thrifter's thrill of the hunt. Harrummmph!
As the conversation turns to food, there are a number of things you learn about Kanhasura's culinary leanings that might prompt you to begin strategizing backup dinner plans. While juggling pots and pans, the chef confesses that (1) he hates Thai food (this despite the fact that he serves it at the restaurant you're about to eat at, though he disputes this; more on that later); (2) Chinese food isn't much better; (3) most of his technique was self-taught and based on the meals he prepared for his two toddlers at home; and (4) the purpose of food is to provide sustenance and energy for working, not to amuse our taste buds or serve as something from which we derive greedy pleasure and enjoyment.
That said, Kanhasura, you soon discover, can really cook. And after you take a slurp of his morning market noodles or a bite of his khao man gai, you begin to wonder whether he has been putting you on, lowering your expectations to such an appalling degree that when the food arrives, a certain surprise "Wow!" factor is all but inevitable. This is not incendiary "Thai spicy" Thai or Isan Thai or cookie-cutter Thai but purposefully simple, fresh, and flavorful food that seems as homespun as the rough-hewn space. Kanhasura calls it "Southeast Asia Comfort Food." And in food, if not in fashion, he strives for anti-authenticity: "I think of myself as an American cooking Thai food."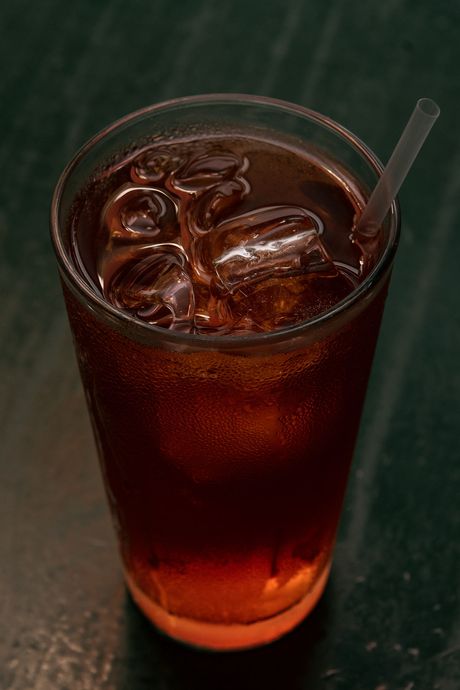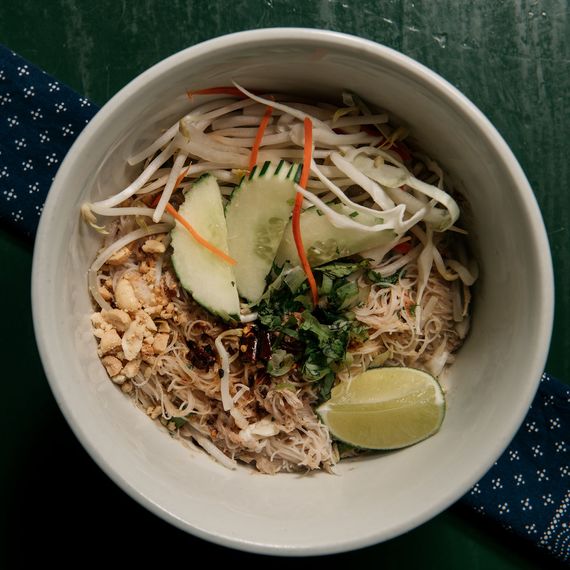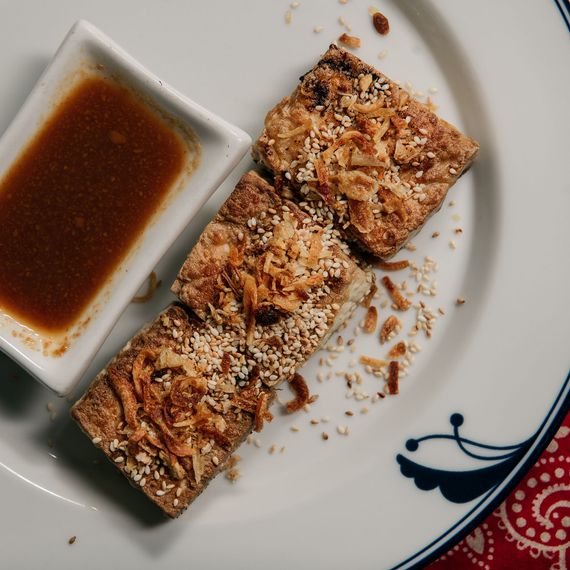 Maybe this is why the featured attraction at Bangklyn is what's listed on the menu as southern fried chicken, which can be ordered as a modest-size appetizer (showered with slivers of fried garlic) or over ginger rice with a bowl of cilantro-flecked chicken broth on the side, not to mention as an optional protein in ­noodles, curries, and fried rice. "I'll tell you my secret," says Kanhasura. "I really want to cook soul food!" He's not kidding. The fried-chicken recipe comes from a 1950s cookbook he picked up at the Chelsea flea market ("One cup flour, one teaspoon salt, one teaspoon black pepper," he says, rattling off the recipe), and the drumsticks and thighs are so expertly encased in their crackly crust that, when you chomp into a piece, a sound like a forest Sasquatch stepping on a patch of dry leaves reverberates around the room. (Kanhasura also confesses to spiking most of his side sauces with Grandma's-brand molasses he gets at the grocery store down the block — "Just a dab!")
Noodles here are as comforting as chicken soup — especially the aforementioned morning market variety, itself a glorified bowl of Jewish penicillin, invigorated with garlic, chile oil, and lime. The tamarind–coconut-milk noodles are not only creamier but crunchier thanks to the pickled vegetables, fresh bean sprouts, and peanuts strewn about. And that culinary cliché pad Thai is a special source of pride for the chef, who conquered his own distaste for the dish by taking pointers from a popular Bangkok street vendor; to her minimalist prescription of tamarind water and fish sauce, Kanhasura adds an optional runny poached egg and, when he has it, pork belly and some pork fat to fry the noodles with.
Rice can be had multiple ways: plain and steamed in the sauce-sopping service of subtly spiced red or green curry; fried with basil and chiles; or suffused with ginger and sided with steamed chicken, fried chicken, or roasted tofu plus a sidecar of soup in variations on the khao man gai theme. And should one hope to season one's noodle or rice repast with a bit of roughage, Kanhasura pounds out a classic green-papaya salad and stir-fries a mountain of cabbage, its natural odoriferousness given a power boost by a splash of fish sauce. And who knows? Maybe a dab of molasses.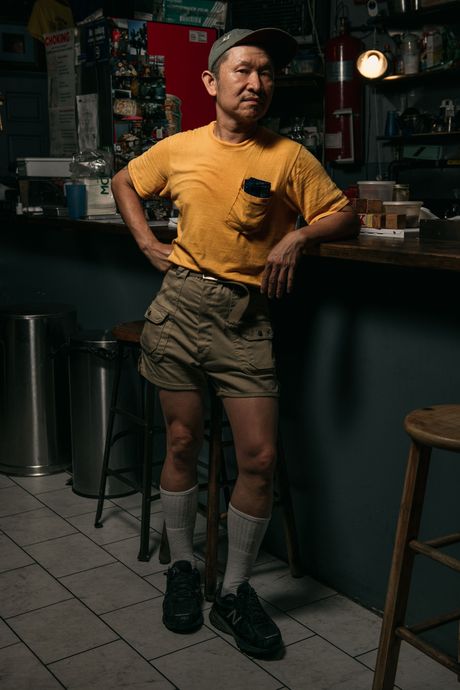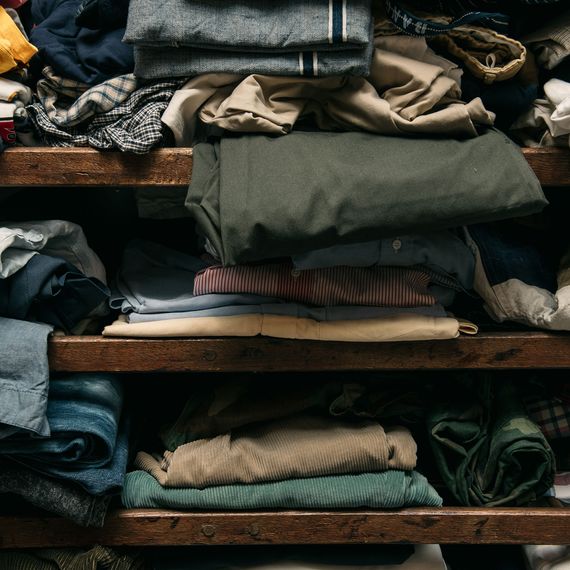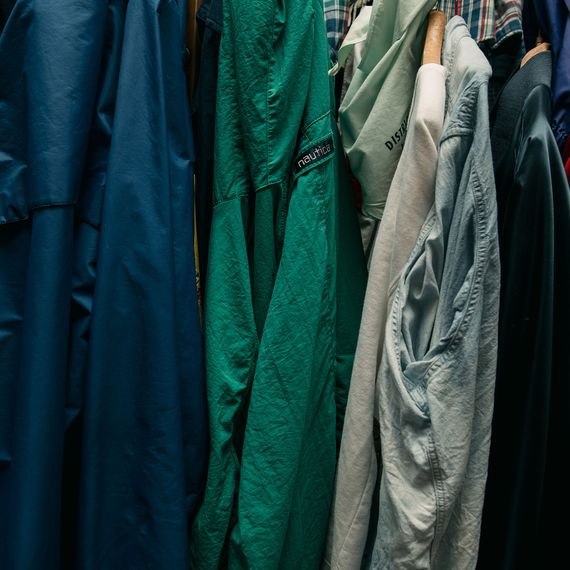 Bangklyn East Harlem | 81 (out of 100)* | Good
2051 Second Ave., nr. 105th St.; 646-429-8128
Open: Daily for lunch and dinner.
Prices: $7.95 to $14.95.
Ideal Meal: Southern fried chicken, morning market noodles with tofu, fried cabbage.
Note: Kanhasura offers coconut milk in his Vietnamese coffee and tarts up Thai iced tea with fresh lime; for BYO purposes, the nearby Rosenthal Wine Merchant keeps a few bottles chilled in the fridge (check for abbreviated summer hours).
Scratchpad: Even without knowing the chef's philosophy on art and life, you can't help but be charmed by the homey cooking, personal service, and unique setting, which all translate into a "good" 81 rating.
*The rating scale of 0 to 100 reflects our editors' appraisals of all the tangible and intangible factors that make a restaurant or bar great — or terrible — regardless of price. See The Thousand Best for 999 more great places to eat and drink.
*A version of this article appears in the August 5, 2019, issue of New York Magazine. Subscribe Now!