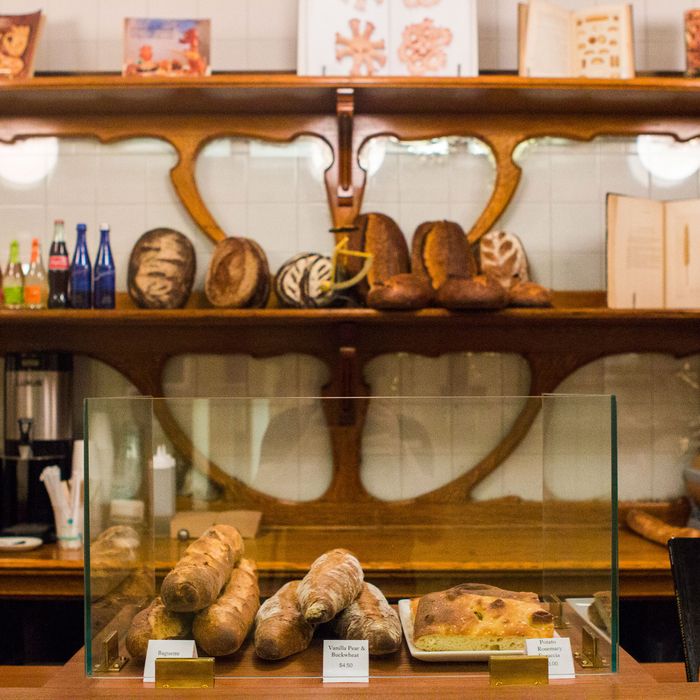 "Great bread? Here?"
Photo: Konstantin Sergeyev
Arcade Bakery is one of those wonderfully weird and unexpected New York places, the sort you fantasize about dropping into on the way to a day of adulting. It's charm is undeniable: What looks like a nondescript, ordinary hallway in a Tribeca office building is actually home to a trim bakery with a laminated baguette that it's hard not to make a weekly ritual of eating, a perfectly simple ham and cheese, and — what? — some really excellent Neapolitan pizza. So Grub was sad to find out this morning, as reported by Tribeca Citizen, that baker Roger Gural will likely be closing Arcade this August and New York will lose one of its most talented bakers.
"I have rheumatoid arthritis. It's physically not possible for me to work in the way that I would like to work," Gural tells Grub. The decision to close was made in the last couple weeks, as a result of that diagnosis. Gural's own departure from the business is imminent, as he shuts the bakery down for a summer vacation every August. But Arcade could, he says, live on. "I'm trying to sell it, so it's possible the bakery will stay open in some other form."
Almost as soon as it opened in 2014, Arcade cemented itself as one of the city's finest bakeries: New York's Underground Gourmet quickly called it the city's best new bakery. (They aren't alone.) Gural had worked at Bouley, Bouchon Bakery, and the French Laundry, Amy's Bread, and the much-loved Almondine. He's a craftsman at heart, whose passion for bread comes through in his baking. The bakery has never seemed wanting for customers, either.
If Gural is able to find someone to take up his mantle of carbs quickly, he says he'll stay on in the fall to help with the transition. If not, the bakery won't reopen in September. Right now, it's too early in the process to say.
"I've only just started that process, so I have reached out to a few people, including my employees," Gural says. "I'm in the first steps, so I'll see what turns out, but ideally there will be someone who is passionate about bread who would want to take it over. Because it's a profitable business and a nice space."