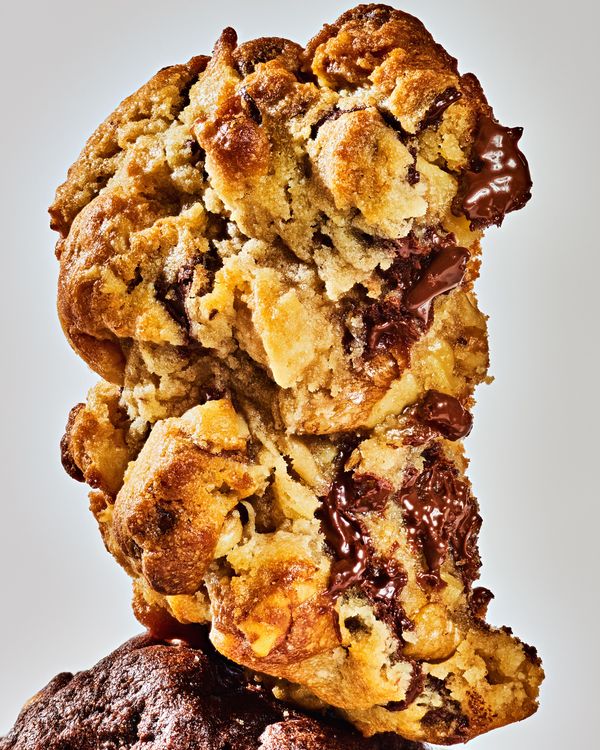 Levain Bakery's supercolossal chocolate-chip-walnut cookie.
Photo: Joe Lingeman
If there's anything in this world you can count on, it's a Levain Bakery chocolate-chip-walnut cookie. They're unfailingly fresh (in fact, they're often too hot to eat), and they're always satisfying, almost absurdly so. The six-ounce, two-inch-tall dynamos were introduced at the original Levain Upper West Side cubbyhole on 74th Street in 1996, and it's not too much to say that over the years they've redefined the idea of what a chocolate-chip cookie is or could be: not flat and smooth, but tall and craggy, with jagged, crisp-edged peaks; not soft and gooey in the middle, but supremely soft and gooey in the middle; not a snack, but a meal. One cookie could feed a small platoon of Augustus Gloops. Among local cookie mavens, they're considered as much a New York culinary icon as a Katz's hot dog or a Di Fara slice. Tourists bucket-list them. New Yorkers line up for them. And, according to Levain co-owners Pam Weekes and Connie McDonald, Jews even bring them to Passover seders—hametz or no hametz.
Yet outside of New York, Levain Bakery is not a household name. That could change. After an infusion of capital from private-equity firm Stripes Group, which has backed brands like Blue Apron and GrubHub/Seamless, and the appointment of a CEO who last helmed David Chang's delivery start-up Ando, Weekes and McDonald are preparing to stake their claim to the national cookie consciousness, beginning with the opening this week of their first Upper East Side outpost. A Noho branch will debut this fall, in the old M&D Shapiro hardware-store space on Bleecker and Lafayette, with national expansion likely to follow in 2020 with Boston, D.C., and Chicago under consideration.
The Levain story is of the classic career-changing-bootstrap variety: Two friends meet through a shared hobby (competitive swimming), commiserate about job dissatisfaction (investment banking and fashion), begin a wholesale bread-baking operation in the back of a Greenwich Village restaurant (Vince and Linda at One Fifth, whose chef at the time was Anthony Bourdain), and open their own retail shop (in a tiny Upper West Side brownstone basement). It was there, during the slow early days when people didn't know who they were or how to pronounce Levain ("They thought it was 'Levine' and that we were kosher," says McDonald), that out of boredom she baked a batch of the monster cookies she and Weekes ate while training for triathlons. (Apparently, neither triathlete had heard of Clif Bars, hemp seeds, rice cakes, grilled chicken breasts and steamed broccoli, or the general concept of sports nutrition.)
The cookies were a minor success that became a major sensation a year later. "Pam was in the back and I was mopping the floor," says McDonald. "I picked up the phone and this woman said, 'Hi, I'm Amanda Hesser from the New York Times,' and I was about to hang up because I didn't know who she was. I thought she was trying to sell me a subscription. And she was like, 'I write the "Temptations" column for the New York Times, and we're featuring you tomorrow and I'm fact-checking.'" The rest, as they say, is history, in the form of staggering lines and three more branches, including a Harlem commissary kitchen and a place out in Wainscott, where the cookie-bakers followed their summering clientele.
So why the urge to scale up after over two decades of slow but steady, sustainable growth? "It's hard to keep good people who couldn't see a future for themselves because we weren't growing fast enough," says Weekes. And then there are the copycats. You might have noticed that Levain's aren't the only bocce-ball-size cookies oozing all over the internet these days. Despite their best efforts to guard their intellectual property—turning down cookbook offers, enforcing NDAs—the co-owners realized they had to fight fire with fire, or at least cookie dough with cookie dough (their four flavors of cookies account for 85 percent of their total revenue). Though they won't share sales figures, when pestered sufficiently they offer that in 2018, they sold enough cookies that, "stacked on top of each other, they'd make up something like 689 football fields!" as if to say: "You do the math!" Well, okay. Considering that a typical Levain cookie ranges between one and a half to two inches tall, and that the last time we checked a football field was 100 yards, that makes for a total of 1.2 to 1.6 million cookies per year. And climbing.
Levain Bakery, 1484 Third Ave., nr. 84th St.; 917-464-5578
*A version of this article appears in the July 22, 2019, issue of New YorkMagazine. Subscribe Now!