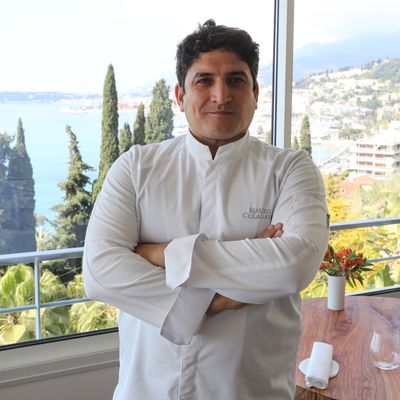 Chef Mauro Colagreco and his views.
Photo: Valery Hache/AFP/Getty Images
Today, a crown of repurposed Pellegrino bottles was awarded to the restaurant deemed to be the "world's best," at least in the eyes of the attention-grabbing cabal of jet-setters who vote on the annual World's 50 Best Restaurants list. This has become a customary annual ceremony in the world of fine dining, and this year, the torch was passed to France's Mirazur.
In the 18 years that the list has existed, only eight different restaurants have taken the top sport, and this marks Mirazur's first time atop the ranking. As such, you may have some questions. What is Mirazur? Why is it "the best"? And does any of this even matter? As always, Grub Street has answers.
I thought Noma was the world's best restaurant? That's what everyone always says.
Well, it's complicated, but for a number of reasons — Noma closing and reopening, rule changes to this year's list, and the list makers' obvious desire to keep this ranking feeling fresh — Mirazur has made the jump to the top spot after years of being ranked very near the top.
Oh and what about the place in Modena that was on Aziz Ansari's Netflix show? It's not on the list at all?
Osteria Francescana is one of several restaurants that has been forever retired from the list and put into a hall-of-fame-style category. Same goes for Eleven Madison Park and any other restaurant that has ever taken the No. 1 spot. Noma, because it had previously closed and reopened in a new location, is technically a "new" restaurant, so it still counts.
So what's the deal with Mirazur?
The restaurant is on a cliff in Menton, France, overlooking the Mediterranean.
Good view, south of France: got it. Who's the chef?
Mirazur is run by the Italian-Argentian chef Mauro Colagreco, who worked for Alain Passard at l'Arpège. There is a lot of grilling. Even though there is a heavy emphasis on seasonality — the restaurant's website promises "Light, honest, respectful of nature, Mauro's cuisine expresses itself freely" — this is not the foraging-heavy food that has dominated fine-dining for the last decade. It is very much in the mold of classic, luxury dining.
So what kind of food can I expect?
Colagreco serves dishes like anchovy fillets over fried anchovy skeletons with lemon, crab cannelloni, and lemons. The lemons are famous. As you might expect, it's all very Mediterranean.
Are you saying there aren't foraged berries?
A lot of the ingredients come from the restaurant's own farm. In 2018, the South China Morning Post reported the restaurant grew 150 herbs and edible flowers, and 35 kinds of tomatoes, which Colagreco told the paper are "somewhat of a passion for me." (Same.)
How much does it cost to eat here?
There is a tasting menu available for lunch and dinner that costs $295. There's also a "cheaper" lunch menu that goes for $182, though you can't get it during peak seasons (like summer).
Okay, I'm a high-rolling hedge-funder, so this is totally doable for me. When can I get a reservation? 
No time soon. A quick glance at the restaurant's website indicates available tables for two and three are currently nonexistent, and the first availability for a solo diner is in late October. If you can round up a crew of fellow high-rollers, you might be able to find something in late July.
I consider myself something of a gourmand, and I pride myself on having eaten at all of the finest Michelin-starred establishments. I'll do whatever it takes to eat here because it's obviously the very best restaurant in the world, right?
Grub Street's official opinion is: "Eh, sure?" Aside from the question of whether anyone can actually deem a single restaurant the world's very best, the World's 50 Best in particular is rife with controversies, valid criticisms, and is generally accepted to be pretty silly, despite its outsize influence.
I love controversy that only applies to a minuscule group of extremely wealthy restaurant lovers! Tell me more!
The voting panel consists of 1,040 of the world's fanciest chefs, restaurateurs, writers, and critics. While it is required that voters visit the restaurants they select, lobbying is common, and restaurateurs as well tourism boards can bring voters in however they see fit. The list has been also criticized for being very Eurocentric, representing a narrow slice of the actual "world," and for representing female chefs in a manner that would be called, at best, "marginal." The organization announced it would update its voting body last year, and change some of its rules earlier this year.
So is this place actually any good?
Any restaurant that ranks on this list is "good" by any kind of objective or subjective measure, but it's still the type of restaurant that, almost by definition, requires exclusivity and outrageous amounts of money. The world is filled with amazing restaurants, and the actual "best" restaurants don't require $1,000 to eat there. That said, they are some very fancy lemons and that view is pretty nice. What we're saying is if you have a table booked and need someone to join you for dinner, we won't say no.