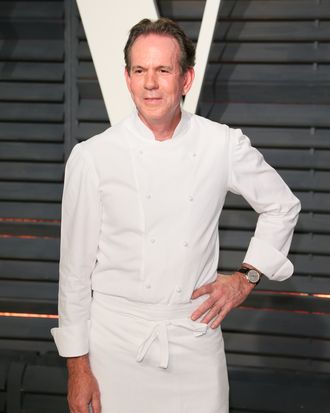 Thomas Keller.
Photo: JB Lacroix/WireImage
Today, chef Thomas Keller, his restaurants Per Se and the French Laundry, and two employees of the Thomas Keller Restaurant Group are expected in court to face a lawsuit from a former employee who says she was unjustly pushed out after she announced her pregnancy.
According to the $5 million lawsuit filed in Napa County Superior Court, Vanessa Scott-Allen began working at Keller's New York restaurant Per Se in 2011 and worked her way up to head waiter at the restaurant. In January 2016, she visited the French Laundry and while there expressed interest in a transfer to the California restaurant, a prospect that was greeted with enthusiasm by general manager Michael Minnillo.
A month later, Scott-Allen officially began the internal transfer process and discovered at the same time that she was pregnant. In an email dated March 1 to HR head Julie Secviar, Minnillo writes, "Apparently she is pregnant. She never mentioned this to me. I am confused how to proceed." Secviar responded: "Well, unfortunately not much we can do. What was committed verbally or in writing?"
From that point on, Scott-Allen says the company began to push her out: On March 7, she was asked to sign a "Notice of Resignation," which, by making it appeared as if she'd quit, caused her to lose her health insurance. But three days later, on her last day at Per Se, an internal message with a picture of Keller and Scott-Allen was circulated with the message: "Thank you Vanessa! May your warmth, grace and impact shine just as brightly at TFL (the French Laundry) as it has here."
When Scott-Allen went to the French Laundry in April 2016 for what she describes as a "sham interview," she was asked about her pregnancy, including whether she could do the job in her condition, when she planned to go on maternity leave, and how long her maternity leave would last. Soon after, she was told that there was no position available for her and, in a formal letter from co-defendents Minnillo and Secviar, that she would not be offered a job. (Minnillo apparently admitted to all of the above in a deposition.)
"This is one of the last bastions where it is OK for women to be discriminated against," Scott-Allen's attorney Carla Minnard told the Associated Press. "They found out she was pregnant and figured out a way to backpedal."