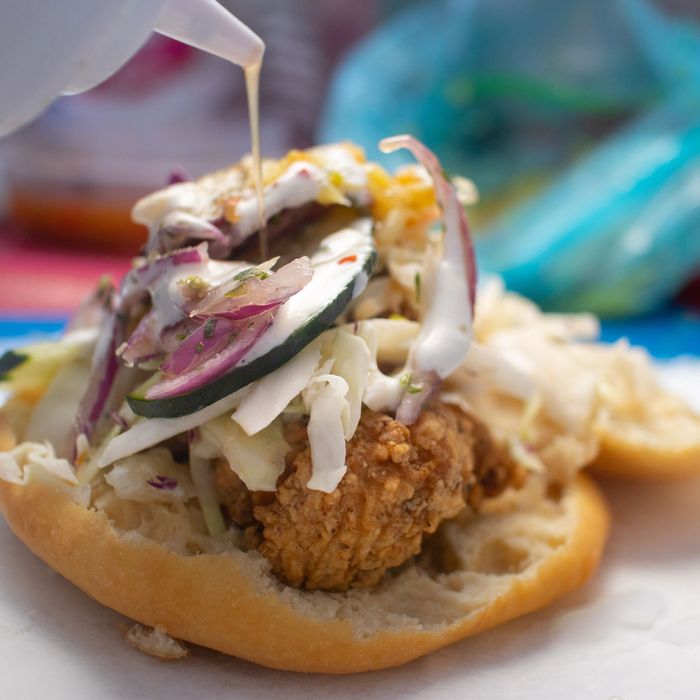 Try your first shark sandwich at the Bronx Night Market.
Photo: Daniel Kwak
With summer now in full swing so, too, are the big parties and other ambitious gatherings that make this the best time of year to spend the whole day out. Summer also means checking out the city's many, many summertime food festivals, which often bring together the best in regional cuisines, alfresco dining, and food-as-entertainment here in one of the world's greatest cities for eating. Below, check out Grub Street's guide to this summer's finest food events and festivals, including a jerk-chicken party in Prospect Park, two ice-cream festivals in one weekend, and more barbecue cookouts than we can count.
The Festival: the Bronx Night Market
When: June 15 and 29; July 13 and 27; August 17 and 31; September 14 and 28; October 26
Why It's Awesome: the Bronx Night Market has returned for a second season at Fordham Plaza and the whole enterprise has grown from 40 vendors last year to more than 100 for 2019. (Sixty percent are Bronx-based.) This year's offerings will include Korean-style hot dogs, fried ice cream, chicken sandwiched between loaded potato waffles, and cheese-filled corn on a stick.
The Festival: Hester Street Fair Girl Power Fest
When: June 15
Why It's Awesome: In addition to its usual lineup of great vendors, the Hester Street Fair is teaming up with Lower East Side Girls Club this weekend to host a Girl Power Fest, where girls can learn the basics of DJing, take in a girl-positive comedy show, get their craft on, and snack on South Asian snack food and vegan Caribbean bites from chef Monica Vannasing and Cheff' Rootsie. Admission is totally free.
The Festival: Egg Rolls, Egg Creams, and Empanadas Festival
When: June 16
Why It's Awesome: Those looking for a particularly kid-friendly food festival will want to check out the 19th annual Egg Rolls, Egg Creams, and Empanadas Festival celebrating the best of Jewish, Chinese, and Puerto Rican cuisine on the Lower East Side. Starting at noon on Sunday, June 16, New Yorkers are invited to try these three classic New York treats alongside klezmer performances, a lesson in Chinese opera (with face painting included), live salsa music, mahjong lessons, and more than you ever thought could possibly be fit into a four-hour window. Check out the full itinerary here.
The Festival: Smorgasburg Jerk Festival
When: June 16
Why It's Awesome: Head to Prospect Park this weekend, starting at 11 a.m., for caribBEING's mini–jerk festival within the bigger food market. Flatbush icon Peppa's Jerk Chicken will be on hand with its particularly fiery brand of spice-rubbed chicken as well as Smorgasburg vendor Excell's Kingston Eatery. If it gets too hot, there'll be ice cream from Creme and Cocoa Creamery to combat the burn of the Scotch bonnet, and rubs and pepper sauce from Breukelen Rub and Shaquanda Can Feed You if you want to make authentic jerk at home.
The Festival: CiderFeast NYC
When: June 19
Why It's Awesome: If cider is your main squeeze, you'll definitely want to drop by this festival dedicated to everyone's favorite fermented apple juice. There'll be pours from cider outfits based in Vermont, Spain, Texas, Sweden, France, Oregon, and, of course, New York, plus cheese from Consider Bardwell Farm, cured meats from the Piggery Charcuterie and La Quercia Cured Meats, and apple pies from Petee's Pies for dessert.
The Festival: Green City
When: June 22
Why It's Awesome: On Saturday, June 22, the Gowanus brewery with the cult following will host its Green City festival — dedicated to the hoppy, high-ABV IPAs — at Industry City for a second year. Like last year, the festival will also feature rare brews from other big names in craft beer, including the Alchemist, the brewery behind the world-famous Heady Topper brew; San Diego's Modern Times, and Virginia-based IPA specialists the Veil. There are still plenty of $100 general admission tickets available.
The Festival: Kosher Brooklyn's Brew Bourbon & BBQ Festival
When: June 25
Why It's Awesome: The last week of June, event company Bon & Oak will put on this event dedicated to barbecue from kosher vendors like the Kosher Culinary Center, Hangry Heifer, and Mill Basin smokehouse Main House BBQ. Tickets start at $125 for general admission and include unlimited access to a cocktail bar, hand-rolled cigars, and more than 200 beers and bourbons to sip on as you go.
The Festival: LIC Food & Flea
When: June 29 and 30
Why It's Awesome: In addition to the normal monthly market, the folks behind LIC Flea have put together an impressive "special events" schedule for this summer. The highlight will be the LIC Flea & Food festival on June 29 and 30, featuring food stands, flea shops, and a beer garden and the season-closing Fourth Annual Queens Beer Festival on October 5 and 6, where attendees will be able to try the latest from Finback, Rockaway Brewing Company, Big Alice, and more. Admission to both events is free.
The Festival: PrideFest
When: June 30
Why It's Awesome: After the parade, head to Fourth Avenue between Union Square and Astor Place for a proper street festival. In addition to live performances by Princess Nokia, the Veronicas, and Mel C of Spice Girls fame, there'll be food and lots of it. Mighty Quinn's Barbeque, Israel fast-casual chain Taïm, Coolhaus, C Bao, 886, Luzzo's La Pizza Napoletana, and 11 other restaurants will provide the necessary fuel for surviving Pride. The whole event is free and open to the public.
The Festival: the Jollof Festival
When: August 24
Why It's Awesome: A festival centered around one of the finest one-pot rice dishes to come out of West Africa? Yes, please. Attendees will be called on to try jollof variations from a handful of African countries and then called on to declare one country home to the best take on the dish. (Liberia handily claimed last year's title.) There will also be live music, Afrobeats, vendors selling African-inspired clothing and jewelry, and a panel on the African diaspora. Grab $20 early bird tickets now.
The Festival: Joy of Sake Festival
When: June 21
Why It's Awesome: Now in its 15th year, this festival is still your best chance to experience all that everyone's favorite rice-wine concoction has to offer. Head to Metropolitan Pavilion for an evening featuring more than 500 different sakes shipped in from all four corners of Japan and paired with bites from some of Grub's favorite restaurants, including Insa, Morimoto, Shuko, BONDST, Momofuku Ssäm Bar, Little Tong, and 12 other eateries. Grab tickets, for $110, here.
The Festival: Ice Cream Social at Hester Street Fair
When: July 20
Why It's Awesome: To celebrate National Ice Cream Day, the Lower East Side's Hester Street Fair will host an ice-cream social featuring frozen treats from Stax, La Newyorkina, Blue Marble, and more. On-site admission is $10, which includes two-ounce scoops of ice cream from every vendor for seven, bliss-filled hours, plus a say in which booth makes the best ice cream.
The Festival: NYC Summer Ice Cream Blizzard
When: July 21
Why It's Awesome: If one ice-cream festival isn't enough for you, then head uptown to Grand Bazaar NYC to check out what they're calling an "ice cream blizzard" party. Last year's lineup featured Bona Bona Ice Cream, Melt Bakery, Sam's Fried Ice Cream, and 12 other vendors. One hundred percent of proceeds from the blizzard fest (and all other markets) will benefit four local public schools.
The Festival: Black VegFest
When: August 10 and 11
Why It's Awesome: Recently, this community center focused on preserving the history of the historically black Weeksville neighborhood was the subject of a $200,000 crowdfunding campaign that will hopefully keep it open for decades to come. But an even better way to support the spot would be to check out it, especially Black VegFest, a vegan food festival aimed at educating black people and others about plant-based diets. The guest list already includes rap group Dead Prez, Brooklyn borough president Eric L. Adams, vegan author Tracye McQuirter, and more. Grab tickets here.
The Festival: the Vendy Awards
When: September 21
Why It's Awesome: We'd be remiss if we didn't include the final Vendy Awards celebration on this list. Head to Governors Island that Saturday, for what will surely be a blowout and emotional good-bye for what we at Grub describe as "the city's go-to celebration of all things street eats." The nomination process is open now, so send along the names of your favorite street-food vendors, grab your tickets here, and pay your respects to the best street-food festival this city may ever see.
The Festival: New York Vegandale Food Drink Festival
When: September 28
Why It's Awesome: With a vegan revolution fully underway in New York, it was only a matter of time before a massive vegan food festival landed. At the end of September, this festival will bring more than 50 vegan vendors from across the United States — including Chicago's These Wingz?, Berben and Wolff's Vegan Delicatessen, L.A.'s Southern Fried Vegan, and our own Screamer's Pizza — to Randalls Island Park for an entire day of meatless indulgence. Tickets are $10 through July 1.