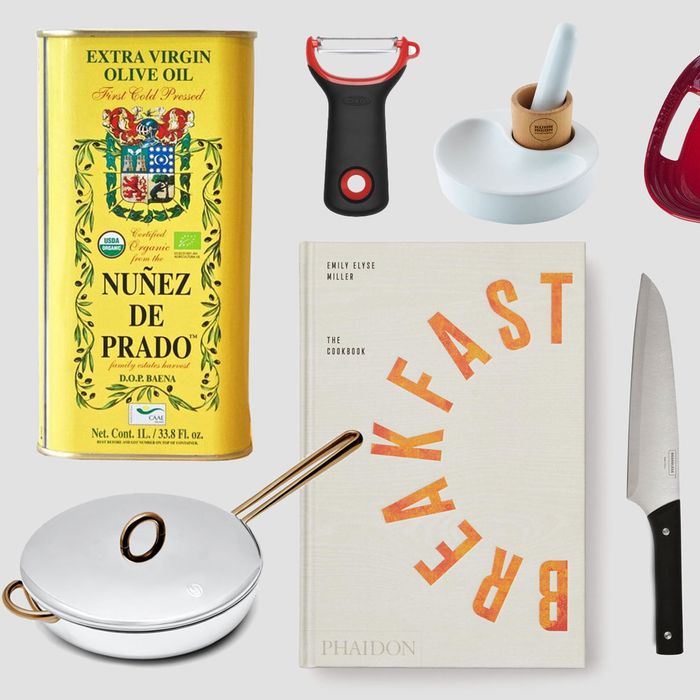 Photo: Courtesy of the Vendors
It's a scientific fact that the vast majority of dads love a good project. What better way to make a food-loving dad feel loved and appreciated than to give him a Father's Day gift that (a) gives him something to do, and (b) hopefully results in some extra-delicious food for everyone to eat? Below, 15 options — from an innovative skillet to the mysterious status spoon that pro chefs swear by — that are for dad, but are also sort of for everyone else in the family, too.
Anyone with kids can tell you that, at some point, pizza is life. This kit makes it easier to whip up DIY pies without also installing a pizza oven. It includes four stones that can be fitted to grill pizzas of all shapes and sizes, flour, a pizza peel, roller, and herb blend. Even if dad's skills aren't Lucali-level (yet), this might be the encouragement he needs to get there.
Don't underestimate the power of a pretentious spoon, especially this one, which is beloved by pro chefs (and named, of course, for acclaimed culinary genius Gray Kunz). The extra-large bowl allows for ideal tasting, mixing, and plating. Prices vary based on size, but at only around $10, it's an affordable way to give dad a gift with a great backstory.
Made In is often called the Warby Parker of cookware. The company's Blue Carbon Steel Wok is fabulous because it is made from French carbon steel, and is perfectly sized for a New York apartment kitchen. It's also one of those gifts that will just get better each time you use it, and everyone knows dads love a good patina.
Good dads need a solid breakfast game. Give the not-so-subtle hint with the aptly named Breakfast, which is not just practical, but is also big and arty, so just in case he bombs at breakfast burritos, you get a beautiful coffee-table item.
Stock dad up with cheap, easy kitchen perks like this new trio of peelers, which includes straight, serrated, and julienne peelers. He'll be ready to prep potatoes, peaches, and plenty more.
Something from Le Creuset is always appreciated, but it can be very pricey. Thankfully, you don't need to give dad a Dutch oven. Instead, the company's extra-large serving platters are perfect vessels for anything he might want to cook. (And a bunch of color options, including a new marine blue, means you can find one to suit your dad's specific tastes.)
We may be biased — this cookware start-up was co-founded by former Grubber Sierra Tishgart — but it's hard to argue with their unique skillet, which has deeper-than-usual sides to contain sauces and prevent splashes, while still being shallow and wide enough to sear up, say, some Berkshire pork chops.
The Pandora of coffee: This coffee subscription service will match dad's morning-joe preferences to the perfect small-batch beans. Because we know no dad is really ever fully satisfied, Trade also tracks everything you like and dislike in order to constantly send new coffee, which your dad will probably already have brewing by the time the rest of the family wakes up.
If dad's going to have fancy beans, he should have a fancy coffee maker, preferably one that requires the sort of manual — but not onerous — operation that will make any dad feel handy.
Of course, if your father is more of a gadget type than a "spend 10 minutes pouring water over coffee grounds" type, there's always the automatic option. This small, cute, minimal model is great for a tiny apartment while still turning out decent espresso.
A weekend away would be lovely, but until then, have dad use his imagination with this legendary (gluten-free) cornbread from the southern food haven, Blackberry Farm. (Plus, the mix is helpful if your father is just starting to get into the whole cooking thing …)
Anyone working the line in a high-end kitchen knows it's foolish to spend tons of money on a workaday knife. This stainless-steel model from Brandless is a mere $6. Like plenty of dads, it swaps out form for function and simply gets the job done well.
Bright, versatile, family-run, and really pretty to look at, this oil is one of the many wonderfully understated, but sophisticated, options from Park Slope's favorite grocer.
Put dad on guac duty. This Swiss-made mortar and pestle set, made with unglazed porcelain and beechwood, provides just the right amount of friction for grinding — and looks pretty nice on practically any kitchen counter.
FarmSteady's fun, user-friendly DIY epicurean kit has everything you need to transform regular milk into rich, creamy burrata, ricotta, mozzarella, or mascarpone. Plus, killing an hour with your kids with an activity that does not involve bubbles or "Baby Shark"? That is a gift worth giving.
Every editorial product is independently selected. If you buy something through our links, New York may earn an affiliate commission.