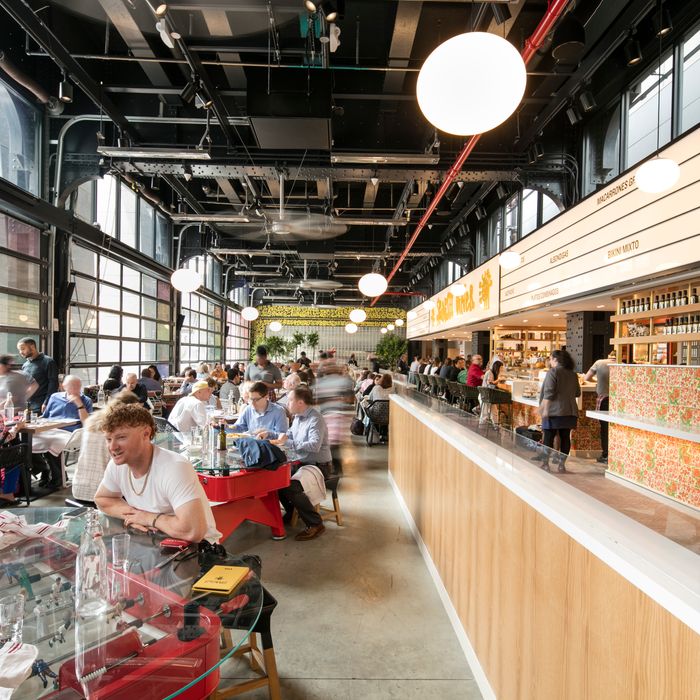 Spanish Diner at Mercado Little Spain.
Photo: Melissa Hom/New York Magazine
When you think of Spanish diners in New York, you think Formica counters, fluorescent lights, and swiveling counter stools. You think bilingual wall menus that spell out the daily sancochos and guisados and sopas; foil-lined sandwich grills worn from decades of Cuban-sandwich-smooshing; mountains of rice and beans — yellow and red, black and white, glistening under generous splashes of vinegary hot sauce. You think of Margon off Times Square. You think of Westside Coffee Shop below Canal. And you think of the late great La Taza de Oro, a Chelsea holdout that finally closed in 2015.
You do not think of glitzy urban megadevelopments like Hudson Yards. But that is where you find José Andrés's new Spanish Diner, one of three sit-down restaurants that anchor his sprawling Mercado Little Spain food hall just below the point in the High Line where it takes a sharp left to jut out to Twelfth Avenue. Of course, Andrés — he of more than 30 restaurants and one Nobel Peace Prize nomination — is a Spanish-born chef, and his Spanish Diner reflects his Iberian heritage. And though those Puerto Rican, Cuban, and Dominican lunch counters and icons of New York gastronomy have historically advertised themselves as Spanish or Spanish-American, they're more precisely rapidly disappearing pockets of Latin-Caribbean culinary culture.
But in some oddly satisfying and heartening way, the spirit of New York's old-school Spanish diners lives on in this sleek new one, even though you could probably squeeze a dozen Taza de Oros inside the airplane-hangar-like space. Where its predecessors are cramped and homey, this one's bright and airy, with retractable garage doors and an expanse of garden-type chairs and bare wood tables spread out across a polished concrete floor. In keeping with the greater market theme, there's a flower shop and kiosks selling every manner of Andrés-affiliated merchandise, from cookbooks to coasters. And at the moment, as the whole massive undertaking opens in stages, the Diner is only serving breakfast and lunch, with dinner still to come—maybe this week, according to our kitchen mole.
If you're anything like the Underground Gourmet, you'll agree that diners are at their best during daylight hours (the wee hours are also good), and we found a whole lot to recommend about this particular one. Service is friendly and informative, the vibe is unpretentious and welcoming, and the food is at once comforting and put together in a way that suggests an exacting taskmaster is at the helm.
Take, for instance, the eggs — a bulwark of any self-respecting diner and especially, it would seem, a Spanish one. Judging by both the breakfast and lunch menus, you might surmise that Spaniards love their huevos as much as they love their jamón. If you get both these foodstuffs together on one plate, you have something that is to the average Spaniard what catnip is to cats. At breakfast, in fact, the Spanish Diner menu seems to be about 90 percent egg, dropping off at lunch to a mere 50. Normally, the U.G. is compelled by the rules stated in the Underground Gourmet handbook to visit a restaurant three times before filing a review. Thing is, there are so many delicious-sounding egg dishes at the Spanish Diner we found ourselves returning to this veritable henhouse many more times than that. We ate eggs fried in the Spanish style in olive oil, their lacy edges delicately crisp, their yolks as runny as an active volcano. We ate them with eggplant-and-pepper stew, and we ate them with pork cutlets stuffed with ham and cheese like a chicken cordon bleu. We ate a barely cooked (poca hecha, as Andrés would say) marigold-yellow tortilla shaped like a tubby pancake, filled with preserved tuna and accompanied by what must be the best pan con tomate in town (more on that later). And we ate arroz a la cubana, the Latin equivalent of the full English breakfast: two eggs with rice and tomato sauce, plus a fried sweet plantain and sausage.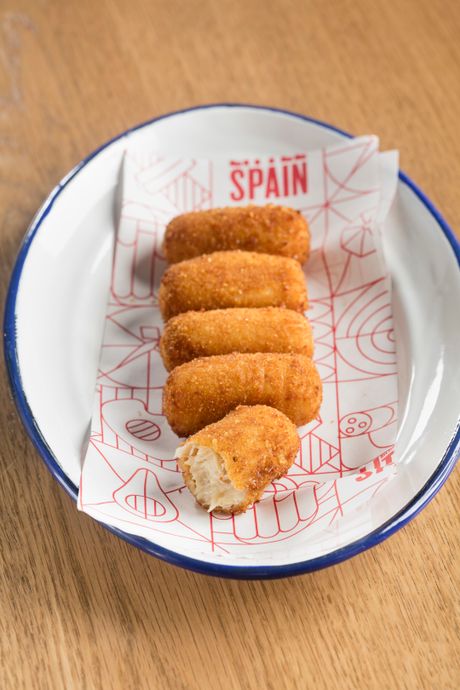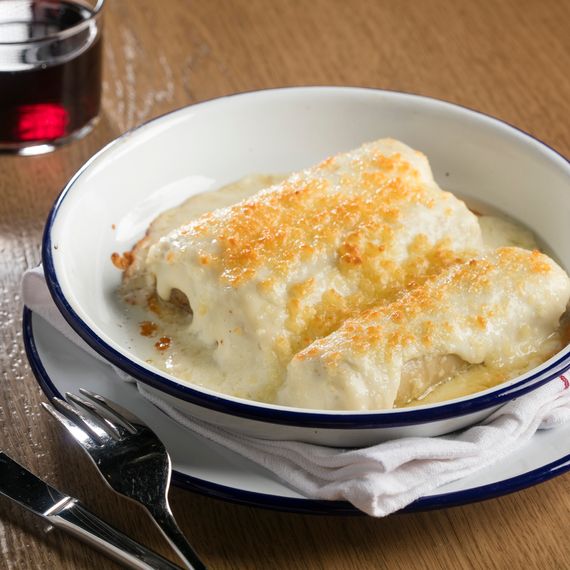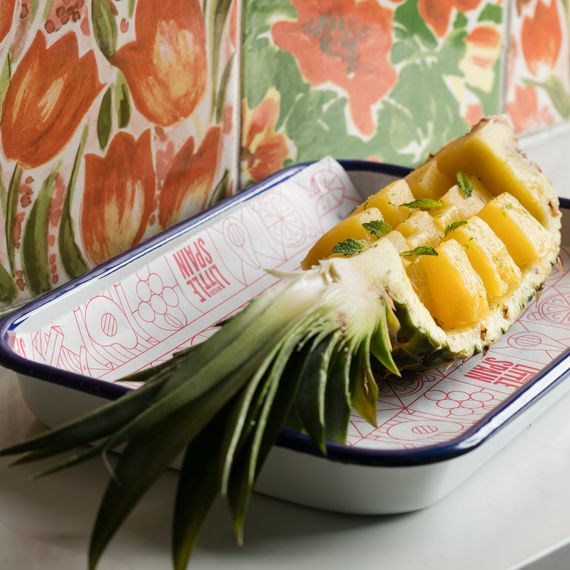 All perfectly delicious, all nourishing ways to start the day. But all paling slightly in comparison to Spanish Diner's pièce de résistance: huevos rotos Casa Lucio, a formidable dish named for the Madrid restaurant that made it famous and consisting of fried eggs plopped over a pile of fat French fries. These fries are great and unusual in their flat, squared-off shape and relatively soft texture, seemingly designed to soak up egg yolk like sponges. (We should also mention that rotos means "broken," as in pierced yolks, but ours arrived unscathed, meaning that maybe Andrés has determined that New Yorkers are a DIY species who prefer to break their own eggs.) The plate is ringed with your choice of three Spanish pork ­products — paleta ibérica (shoulder ham), chistorra (long skinny spicy sausage), and sobrasada (soft, spreadable sausage). We recommend all three together. Another notable thing about the rotos: They come in three sizes (two, four, or six eggs), which makes them the only large-format breakfast plate we've ever seen at a diner.
The transition from breakfast to lunch is marked by the arrival of a more substantial (but still egg-forward) menu as well as groups of giddy office workers eager to cut loose and guzzle wine from a porrón, the spouted communal drinking vessel you hold at arm's length from your gaping mouth that's a favorite among party animals and dry cleaners alike. (The drinks menu is no joke, though, and more "Spanish" than "diner," with sophisticated riffs on the gin-and-tonic, an enticing roster of vermouth and Spanish wine, and beers by the half-glass caña.)
Classic and homey seem to be Andrés's guiding principles here, and so you will find on the lunch spread a combination of greatest Spanish hits and granny-style comfort food. In the former category: gazpacho blitzed to its smoothest, tangiest essence; pan con tomate so harmoniously constructed one can't tell where the garlicky tomato pulp ends and the thin-crusted, airy-crumbed pan de cristal begins; crispy, creamy chicken croquetas; and simply plated totems of Spanish terroir, a.k.a. ham and cheese. On the homey side, or what the menu calls La Cocina de Abuela, there are meaty, beany stews and baked pastas, including canelones stuffed with duck liver, chicken, and pork and browned under a blanket of cheese and béchamel. It's like the turducken of cannelloni.
To offset this hefty fare, you might consider a salad — just maybe not the (admittedly tasty) ensaladilla Rusa, or Russian salad, a great Fourth of July–picnic mound of mayo-y potato salad with peas and carrots and tuna and, yes, hard-cooked egg shaved over the top and breadsticks sticking out like birthday candles. Maybe this passes for salad in Russia (or Spain), but from the man who just published Vegetables Unleashed and who once famously called meat boring and vegetables sexy, you expect something rawer and juicier. You get it on a plate of Little-Gem hearts lined up in a neat row and seasoned with fried garlic and pimentón, and in a bowl of peeled, marinated Campari tomatoes dressed with oil and spring onion, a dish whose name translates to "in Spain, tomatoes are eaten like this."
As in the best of New York's old-school Spanish diners, flan is served for dessert. But here, it takes the new, old form of a dish called Pijama, invented in 1951 at the Barcelona restaurant 7 Portes (or so the menu informs us). It's a mash-up of the classic custard and peach Melba, inspired by the requests of American naval officers, and delicious proof that Andrés's Spanish Diner is only the latest in a long line of cross-­cultural traditions in the culinary realms of Spain, New York, and diners.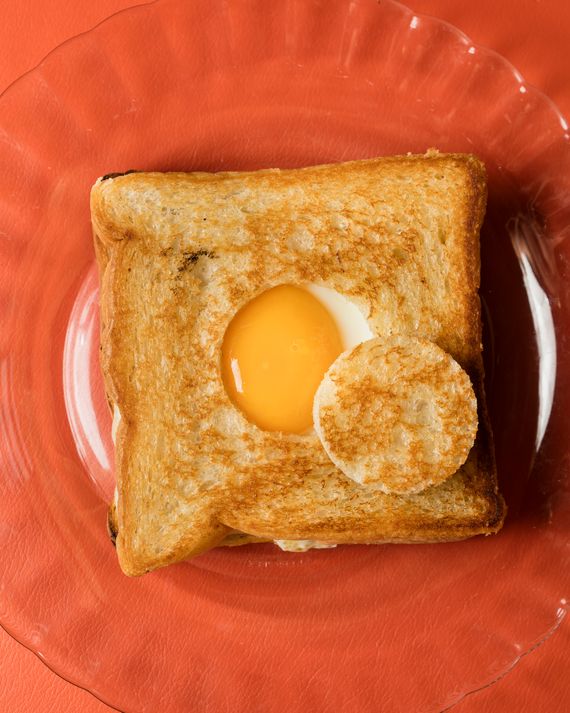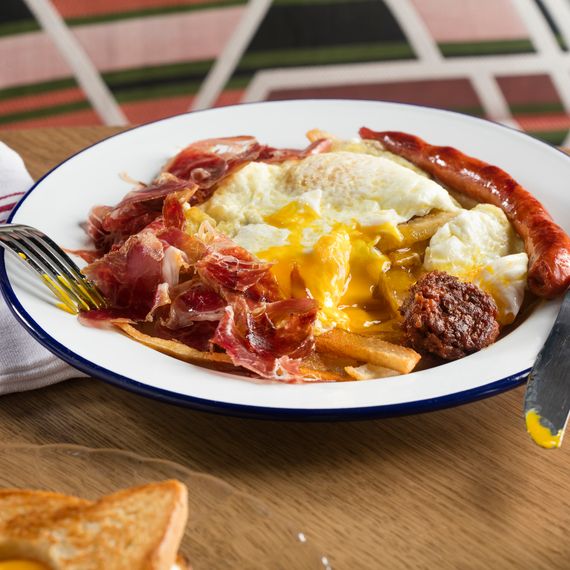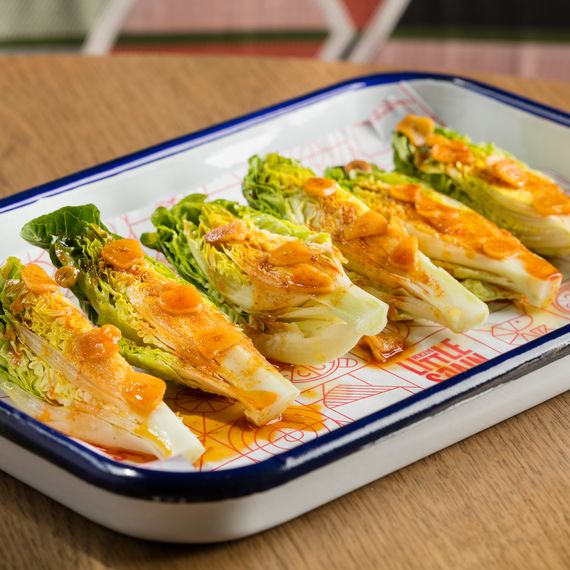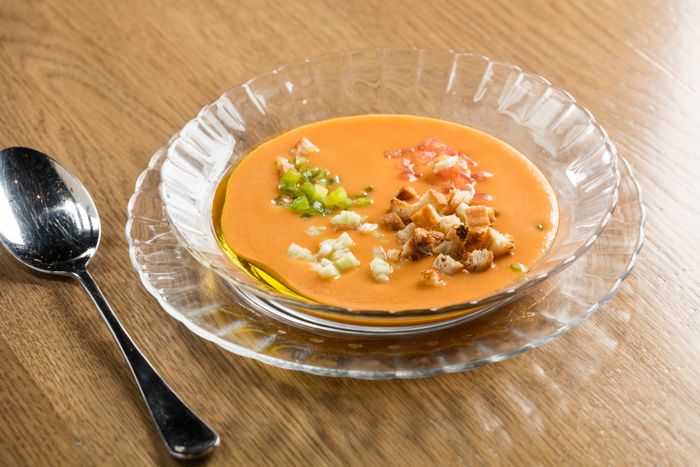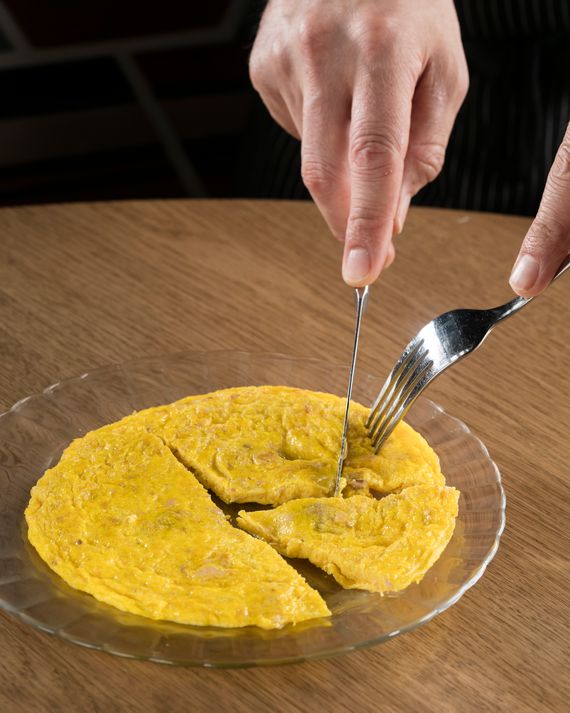 Spanish Diner | 90 (out of 100)* | Excellent
10 Hudson Yards; 646-495-1242; littlespain.com
Open: Breakfast and lunch seven days, with evening hours extending gradually.
Prices: Appetizers, $6 to $12; main courses, $8 to $18.
Ideal Meal: Huevos rotos Casa Lucio, pan con tomate, and a side of avocado.
Note: There's no takeout yet, but some menu items like the pan con tomate are also available at the Mercado kiosks.
Scratchpad: Super-friendly, informative service; a cheerful vibe; and simple, delicious Spanish comfort food earn José Andrés's diner a 90 on our 100-point rating scale.
*The rating scale of 0 to 100 reflects our editors' appraisals of all the tangible and intangible factors that make a restaurant or bar great — or terrible — regardless of price. See The Thousand Best for 999 more great places to eat and drink.
*A version of this article appears in the June 10, 2019, issue of New York Magazine. Subscribe Now!