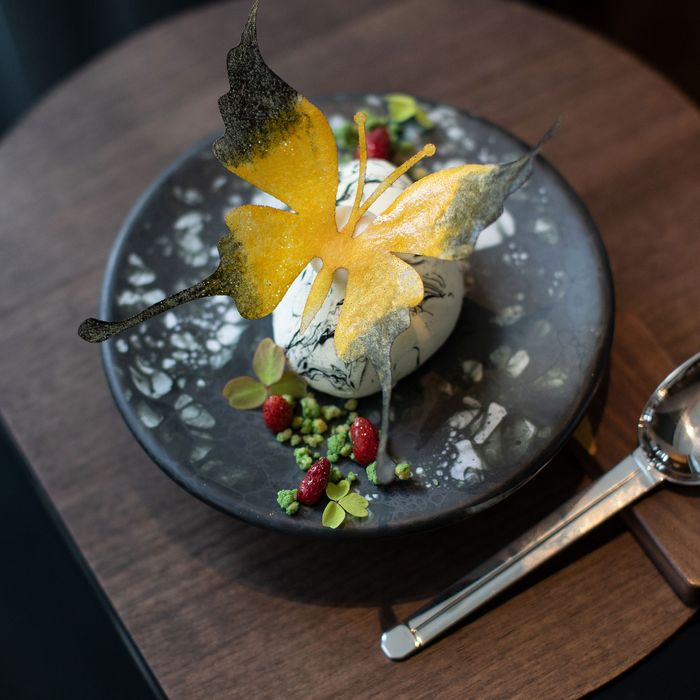 The strawberry-sudachi "stone" with lemon marmalade.
Photo: Erinn Springer
It took Alain Verzeroli a few decades to open his first restaurant, Le Jardinier, which he did this May after a career in the kitchens of influential chefs like the late Joël Robuchon and Alain Passard. But he has wasted no time in getting to his second act: This week, the chef opened Shun, a Japanese-French restaurant located one floor above Le Jardinier. "Upstairs I wanted something a little more elevated and linked to my experience," he says, referring to the 18 years he spent working for Robuchon in Japan.
Whereas Le Jardinier feels leafier, with its plants and green Italian marble, Shun looks as if it could be a set from The Matrix for a scene in which Agent Smith tries to wine and dine Neo in an Art Deco restaurant. There are no tablecloths on the black tables, which you may notice are rounded and have no edges. That design element is carried throughout the space. "It's the new sense of luxury. We don't need over-the-top golden plates or whatever," Verzeroli says.
There's a sleek, if slightly obscured, open kitchen in the main dining room, which seats 58 and occupies one part of the floor; two private dining rooms for 8 and 12 people, should you need to throw a fancy dinner party; and Bar Shun. "I want it to be very elegant, quiet. I want people to fully enjoy the drinks," Verzeroli says.
At Shun the restaurant, the food is a synthesis of Verzeroli's career: French in foundation, filtered through Japan. (The place takes its name from the Japanese concept of shun, which celebrates food at its very peak of flavor and freshness.) Eating here won't be cheap. You can go prix fixe and get three courses for $135 or four courses for $155 or try the chef's tasting ("the path of nature") for $225. There's a proper duck à l'orange with peach and cherries, but other entrees include Colorado lamb with walnut-miso eggplant. The green asparagus is served with caviar and wasabi cream, and the lobster is seasoned with asparagus.
Shun's desserts, like those at its sibling restaurant, are courtesy of Salvatore Martone, the executive pastry chef for Robuchon restaurants in the States. Unsurprisingly, they share the eye-popping architectural, naturalistic qualities that are a Robuchon trademark. The strawberry dessert looks like a scene out of a forest, or at least the cover of a book of fairy tales. There's a bright-yellow-and-black "butterfly" made of brick dough, which rests on a "stone" that is white with streaks of black; inside is lemon marmalade, strawberry coulis, fresh strawberries, and sudachi (a Japanese citrus fruit) mousse. Other desserts include a chocolate-and-caramel forest tuile and a white-on-white passion-fruit vacherin with white chocolate and elderflower, which looks like leaves arranged around a blossom. It's all rather pretty food.
Shun, 610 Lexington Ave., at 53rd St.; 212-451-9228