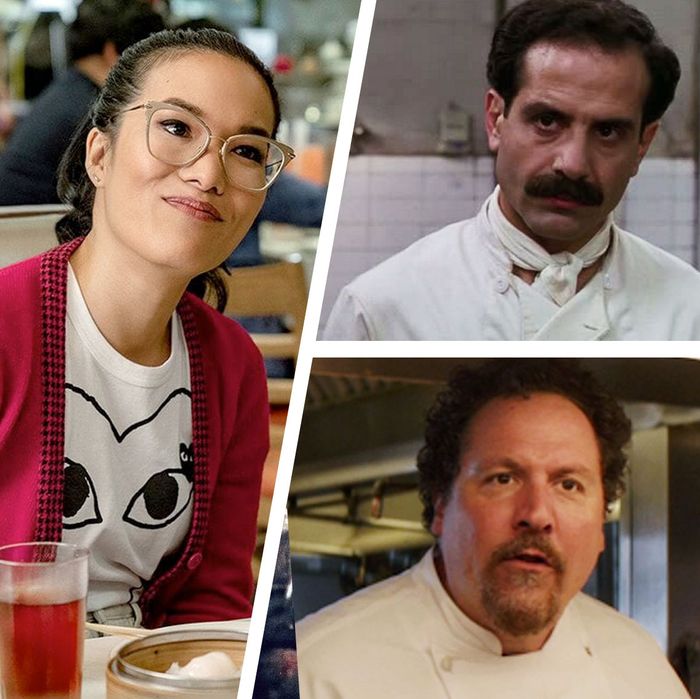 Sasha Tran, Primo, Babette, or Carl Casper: Who will win out?
Photo: Courtesy of the Studios
What do all the best movie chefs have in common? For one, they're not just good at what they do. They're obsessive about it. They only want to serve the best food they can and nothing less. And in doing so, they not only transform the people they serve, like a curmudgeonly food critic or a depressed matriarch, but they transform themselves, somehow finding a newfound sense of warmth and openness in the process. In honor of the Netflix movie Always Be My Maybe, in which Ali Wong plays celebrity chef Sasha Tran, Grub thought it was the perfect time to rank all fictional movie chefs: Not on the basis of quality acting or how good the movie is, but on the quality of the food in the films. Here's how they measured up.
20. The Devil Wears Prada (2006)
The chef: Nate, played by Adrian Grenier
The food: Grilled cheese sandwich, cooked in a skillet
Nate, the boyfriend of our main character, Andy, is shown in chef whites a few times throughout the film, and even appears in a kitchen at one point, but the only chance we get to actually see his handiwork is when he makes Andy a grilled cheese sandwich that looks … fine. His technique doesn't exactly scream "passion."
19. God of Cookery (1996)
The chef: Stephen Chow, played by Stephen Chow
The food: Sorrowful rice
The premise of this film is that chef Stephen Chow is revealed as a fraud and then must begin a journey of redemption to reclaim the title of "God of Cookery." ( Iron Chef, basically.) Much of the movie is shot with the soft lighting and wind effects you might find in an '80s music video, and the soundtrack might have been composed on a MIDI keyboard, but Chow's final dish — barbecue pork over rice with an egg — is so good it makes one of the judges pass out in ecstasy.
18. Simply Irresistible (1999)
The chef: Amanda Shelton, played by Sarah Michelle Gellar
The food: Crab napoleon
Amanda Shelton is a down-on-her-luck chef who's inherited her late mother's restaurant, and is running it into the ground because she can't cook. That is until she's gifted a magical crab by a mysterious stranger. Suddenly she becomes a world-class chef capable of imbuing her food with her emotions. Alas, food, even when it's great, feels like cheating if it's actually magic.
17. Woman on Top (2000)
The chef: Isabella Oliveira, played by Penélope Cruz
The food: Moqueca de camarão
Yet another film where a woman gets her ability to cook by way of magic. At least this time, the dish, a Brazilian shrimp stew — onions, garlic, and tomato paste that have been cooked down and used to infuse a coconut milk and vinegar base — looks good enough to eat. Throw in the shrimp and, baby, you've got a stew.
16. Spanglish (2004)
The chef: John Clasky, played by Adam Sandler
The food: The world's greatest sandwich
In the 15 years since this film was released, it has inspired at least a dozen videos of amateurs making chef John Clasky's favorite late-night snack: A high-class BLT with Monterey Jack cheese and a fried egg that was created for the film by chef Thomas Keller. With a gooey yolk and the sheen of melted cheese, it's definitely a sandwich that's tailor-made for its close-up — but it's still just a sandwich.
15. Chocolat (2000)
The chef: Vianne Rocher, played by Juliette Binoche
The food: All the chocolate
As far as fictional chefs go, pastry chefs are often given short shrift, but the chocolate work on display throughout this movie is stunning — cocoa-dusted truffles; nipples of Venus with a white chocolate tip; hot chocolate with chili powder; a warm, melt-in-your-mouth chocolate cake — and apparently so good that even a woman suffering from diabetes will put all that aside for a little taste. Still, as the movie title says, Vianne's cooking skills are a bit one-note and unfortunately one can't live on chocolate alone.
14. Mystic Pizza (1988)
The chef: Leona, played by Conchata Ferrell
The food: The Mystic Pizza
Connecticut chef Leona's mysterious Mystic Pizza plays something of a bit part in this coming-of-age classic, but it also looks good as hell: There's clearly a nicely risen crust, good distribution of the red sauce, and a generous but not overwhelming amount of cheese, and everyone in the movie keeps on talking about how good it is.
13. Always Be My Maybe (2019)
The chef: Sasha Tran, played by Ali Wong
The food: Kimchi-jjigae
The Netflix movie has received plenty of raves since it came out last week (92 percent on Rotten Tomatoes!), but we get to see very little of Sasha Tran's cooking skills in the film, other than a glimpse of her masterful childhood plating skills, and her claim to have invented fish-sauce ice cream. That being said, she seems to have learned a lot from her friend Marcus's late mom, Judy, in the craft of Korean cooking, to the point where she's able to re-create her kimchee stew with pork, onions, mushrooms, and other staples of Korean home cooking from memory.
12. Big Night (1996)
The chef: Primo, played by Tony Shalhoub
The food: Timpano
The word epic is too often used to describe pedestrian events, but the presentation of the timpano, the beloved secret family recipe of the brothers in Big Night, truly deserves the descriptor: a massive casserole of cooked pasta with layers of meatballs, hard-boiled eggs, salami, provolone, and ragù encased in dough. There are so many places this dish could go wrong: The pasta could be undercooked, the eggs could be crushed, or the dough could be soggy on the bottom. But to watch Primo and Secondo serve up their gigantic family dish and not miss a note doing so is why the timpano will always be among one of the most impressive fictional chef dishes.
11. I Am Love (2009)
The chef: Antonio Biscay, played by Edoardo Gabbriellini
The food: Prawns with ratatouille and ukha soup
Before there was the peach scene in Call Me by Your Name, there was the prawn scene in I Am Love. Same director, same over-the-top reaction to something that seems so simple. In this case, chef Antonio Biscay manages to seduce the matriarch of a family of Italian millionaires with a dish of prawns and ratatouille, which sends Emma Recchi (played by Tilda Swinton) into a state of culinary rapture that will — uh, spoiler — ultimately destroy her family.
10. Ratatouille (2007)
The chef: Remy, voiced by Patton Oswalt
The food: Ratatouille
First, let's establish that the dish Remy the Rat ultimately prepares for Anton Ego in the seminal scene of Ratatouille is not, technically, ratatouille. It's a very similar Turkish dish known as byaldi that was tweaked by chef Thomas Keller, who worked as a consultant on the film. This rendition involves layers of yellow and green squash, eggplant, and tomatoes cooked in a red pepper and tomato sauce and seasoned with thyme, black pepper, parsley, and rosemary before hitting a hot oven for 90 minutes. It's a simple dish, really, and it perfectly captures the idea of "comfort food," so much so that it even moves the once-stonehearted critic Anton Ego to think back on the joy of his childhood in the French countryside.
9. Tampopo (1985)
The chef: Tampopo, played by Nobuko Miyamoto
The food: The perfect bowl of ramen
A down-on-her-luck widow, nicknamed Tampopo, works obsessively to create the perfect bowl of ramen. It's that level of obsessiveness, including spying on a rival through a hole in the wall to see exactly how he makes his stock to gently cajoling a ramen-maker into revealing the secret to his perfect noodles, that makes this underdog story so watchable. In the end, Tampopo does, in fact, serve that perfect bowl of ramen, though we, as viewers, never get to see it, which robs us of at least some of the pleasure.
8. No Reservations (2007)
The chef: Kate Armstrong, played by Catherine Zeta-Jones
The food: Whole fish with lemon
Chef Kate Armstrong's young niece isn't impressed by this seafood dish — a lovingly made mix of zucchini, citrus, thyme, and a whole white fish. As adults, however, Grub Street would happily eat this for dinner.
7. Chef (2014)
The chef: Carl Casper, played by Jon Favreau
The food: Carne asada, grilled cheese sandwich, Cubanos, pasta aglio e olio
Okay, the premise — Carl Casper is a high-end chef who rediscovers his passion by opening a Cuban sandwich truck — feels a bit trite, but the cooking scenes in this movie could be the basis of a film-school class on food porn: There's the scene where Casper seduces Scarlett Johansson's character with pasta aglio e olio, the grilled cheese sandwich he makes for his son that'll make you question your own father, beautiful carne asada, and the mono pork Cubanos that really make this movie hard to watch if you're hungry.
6. Tortilla Soup (2001)
The chef: Martin Naranjo, played by Hector Elizondo
The food: Spread after spread of Mexican food
We learn that Martin Naranjo, played by Hector Elizondo, is losing his ability to taste and smell, but apparently you don't need all five senses to create three Mexican feasts over the course of a two-hour film. There are sopas, there are tamales, there is, obviously, tortilla soup.
5. Eat Drink Man Woman (1994)
The chef: Chu, played by Sihung Lung
The food: Peking duck, ground pork dumplings, stir-fried vegetables
This film's tone gets set in the very first scene: Fresh whole fish gets filleted and fried; Peking duck is basted in hot oil until it's golden orange; pork belly is thinly sliced and served over rice; ground pork is encased in dumplings and steamed; and fresh-from-the-garden produce is turned into stir-fry.
4. Le Chef (2014)
The chef: Jacky Bonnot, played by Michaël Youn
The food: Concassé of sea prince with lemon mousse, sweetbreads and scallops deglazed in elderberry vinegar, caramel mille-feuille
Le Chef is kind of like Ratatouille come to life. Chef Jacky Bonnot is obsessed with fine cuisine, but can't seem to get a job in a fine-dining restaurant. He briefly takes a job repainting an old folks home but can't help but try and make them gourmet dishes, the first of which is this dish, feature cod in a lemon sauce on a "raft" of asparagus. That leads to sweetbreads and scallops deglazed in an elderberry vinegar, and caramel mille-feuille with strawberries, currants, pistachios, and a vanilla sugar heart. Every dish has a little imagination and a sense of creativity you just don't see in most chef movies.
3. The Hundred Foot Journey (2014)
The chef: Hassan Haji, played by Manish Dayal
The food: Pigeon in truffle sauce and fish with tamarind and smoked chili
An Indian chef with a preternatural ability to cook moves to France with his family and opens up a restaurant that competes directly with the Michelin-starred restaurant across the street. In one scene, chef Hassan brings a peace offering, pigeon in a delicate puff pastry with vegetables and truffle sauce, which honestly — yes. It only gets better from there: Deconstructed beef bourguignonne, a classic French omelette sprinkled with Indian spices, and some kind of fish dish with tamarind and smoked chili. It's enough to melt the cold, vengeful heart of Helen Mirren's character and make you wish you lived in the small French town this takes place in.
2. Burnt (2015)
The chef: Adam Jones, played by Bradley Cooper
The food: Michelin star–level tweezer food
As a film, Burnt is too self-serious, but we're only ranking the food on this list, and chef Adam Jones clearly knows his way around a pair of kitchen tweezers. Real-life chef Marcus Wareing developed the film's menu. There's lamb with beet aïoli; turbot with semi-dried tomatoes and basil yogurt and basil purée; mascarpone blood orange streusel; and more high-class food served in exceedingly small portions.
1. Babette's Feast (1987)
The chef: Babette Hersant, played by Stéphane Audran
The food: Potage à la tortue, Blini demidoff, Cailles en sarcophage, Savarin au rhum avec des figues et fruit glacée
The big twist in what is perhaps the most famous food movie of all time is that Babette, who spends the film laboring away for free for two Danish puritans, is secretly a world-class chef. When she finally gets a chance to showcase her skills, she puts out a lavish meal of French delicacies: blini topped with glistening caviar, sumptuous turtle soup ("There's real turtle in here!"), tiny roasted quails wrapped in puff pastry with foie gras, and a truffle sauce, and a decadent rum sponge cake topped with jammy figs and candied cherries. It's the type of meal that people dream about months, and even years, later — including everyone who's seen this film since it debuted three decades ago.