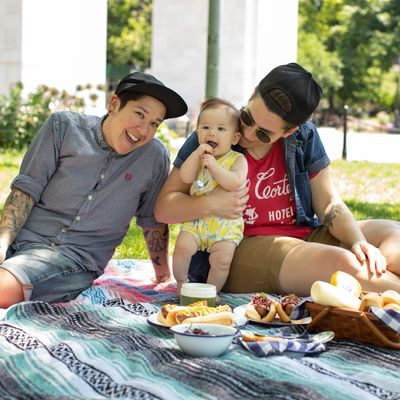 Nakamura (left), Guest, and their 8-month-old daughter, Nina.
Photo: Erinn Springer
Jocelyn Guest and Erika Nakamura like to think that they're the first couple in history to have a lesbian shotgun wedding. "We got married, like, two weeks before our daughter was born," Nakamura says, to which Guest adds, "We're like straight people."
The couple, both professional butchers, consider themselves a package, an image of themselves they had long before they were married or even thought of having a child together. "People tell us a lot when we start working with them, 'Don't you guys wanna have different, opposite schedules?' And we're like, 'No, we're always together,' " Nakamura says.
Nakamura and Guest were together in L.A. when the former co-owned the butcher shop Lindy & Grundy. Together they became star butchers for chef April Bloomfield, first working at the Breslin and Salvation Burger before eventually being given their own butcher shop and restaurant on the Upper West Side, White Gold.
"They were both tough bosses in their own way," says Nakamura of Bloomfield and co-owner Ken Friedman. "And we always did our best to do right by them to be in their good graces."
Since the revelation of Friedman's history of sexual harassment and Nakamura and Guest's subsequent departure from White Gold in March 2018, they haven't been in much contact with their former bosses other than well-wishes from Bloomfield at the birth of their daughter, Nina, in October. (White Gold has since closed.) "Everyone is picking up their own pieces in their own time, and I think that's fine," Nakamura adds.
They say their ultimate goal was always to have their own business and that their desire was only intensified by their decision to have a child together in late 2017. A week after departing White Gold, Nakamura — already two months pregnant — and Guest moved to Goldens Bridge, New York, and a month later they began tinkering with the idea that would become J&E SmallGoods, a small-batch line of sausages. All of this in the name of finding sustainability and longevity in an industry that's not known for either of those things.
"One of the reasons we wanted to start this kind of company is we wanted that work-life balance," Guest says, referring to the 12-hour days at White Gold that often started at 5:30 in the morning. "I don't know how parents who work in restaurants do it."
"I think our experience thus far has really inspired us to reenvision what working with food can be like," Nakamura continues. "It doesn't always have to be 18-hour days, like you can work smarter, not harder. You can actually put your foot down and say, okay, none of us are working on this day because it's an important day to spend with your family."
They thought at first that they might start their own butcher shop but soon realized that the labor costs as well as the cost of renting facilities were too high for a fledgling company. "If you imagine the business as an onion, and we just started peeling away all the layers of the shit that does not work," Nakamura says. "We were like, okay, if we start working with a co-manufacturer and have a specific relationship with them and step away from the meat counter, what do you end up with?"
The two describe J&E SmallGoods as the beginning of what they hope will be a line of condiments, rubs, and other pantry items as well as their reentry into the world of restaurant consulting. They'd also like to go the way of Pat LaFrieda, creating specialty sausages and burger blends for restaurants. For now, though, they're starting with hot dogs, bratwurst, and kielbasa.
"We wanted to go for the most popular and the most classic things that we've made in the past," Nakamura says. "I mean, we've done a lot of other crazy shit, like bacon cheeseburgers or like pork kimchee, and we love all those as well, but we figured that for the general masses, and for a much broader grocery-store audience, it makes sense to do the classic things. Because I think it's more accessible and it's less threatening for people."
Everything is being processed at a family-owned, women-run facility in Troy, New York, that "indulges our cray," as Guest puts it. "You know, like being on the floor when they're running a commercial run, tasting every run, being like, 'I want this hot dog an inch longer,' and then shorter," she says. "It's really nice to still have that kind of say-so and not just being like, okay, I hope this works."
They settled on the facility after meeting with number of processors in the tri-state area, some of whom didn't take them or their credentials seriously. "There was this Russian dude we met, in New Jersey, who was not actually listening to anything we were saying," Nakamura recalls. "So, he would let us do all this talking, and then he was like, 'Yeah, yeah, yeah, yeah, yeah, we'll use my recipe, it'll be fine.' And we were like, 'What? No!' "
The recipes for the products are based on recipes and methods they developed while working at White Gold. They're working exclusively with small farmers from Pennsylvania and upstate New York to source meat, which they spice, smoke, and put in natural casings. The most comparable products, they say, would be found at the Meat Hook or Olympia Provisions on the West Coast. But unlike those two outfits, their products would be widely available, including through Mina's, a new project from chef Mina Stone that will provide Greek-style hot dogs at this year's MoMA PS1 Warm Up series.
"We actually had one of my best friends from college come over and we force-fed her some bratwurst," Guest says. "She looked at the package and was like, 'It's really just pork and spices,' and I was like yes, dumbass, that's the whole point."
But what might truly set their products apart is the sense of humor and humility they bring to selling them. Guest and Nakamura like to joke that the logo featuring cartoon versions of themselves can age as they get "dumpier and older," and each package advertises J&E SmallGoods as a "Mom & Mom shop." They also had T-shirts reading "Gay for Sausage" printed.
"I think what we've discovered is the power in being just us," Nakamura says. "Being thoughtful about who we engage with and who we wanna get behind. Here we are, calling the shots, and we don't have to feel any which way about what this person might think. It's just us."