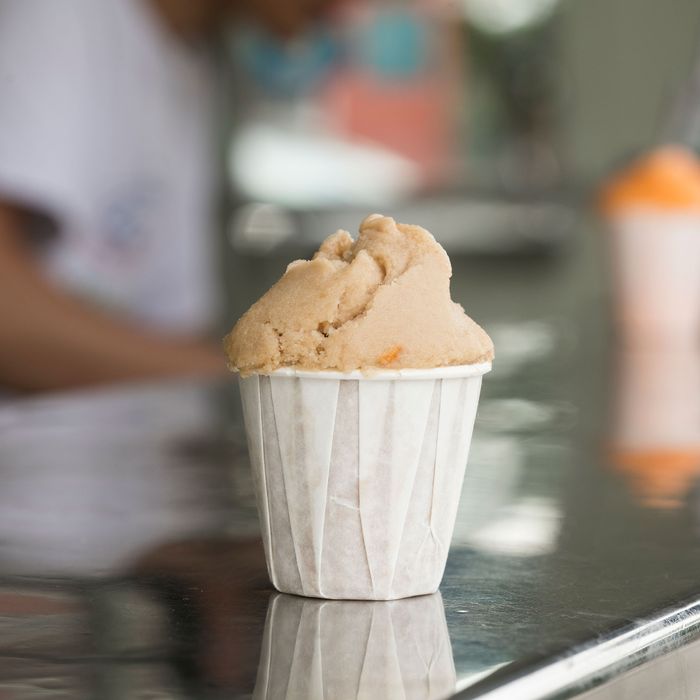 The peanut butter ice.
Photo: Melissa Hom
There are few better places to be on a sweaty summer evening in New York, when the heat is tapering off and the city's glowing, than the Lemon Ice King of Corona. It's one of those perfect pieces of New York Americana, like Coney Island or the Bronx's City Island. Crowds congregate at the counter, kids bug out, and parking laws don't appear to apply; cars wiggle up, emergency lights on, to the corner spot's curb when they'd normally be towed. There's not a bad thing to say about the place — not even about the almond flavor that's blatantly (but charmingly) synthetic, colored to look as green as a Ninja Turtle. And yet: The name might be off. While it is called the Lemon Ice King, the menu item that is truly most worth ordering is the peanut butter ice.
Don't get me wrong. Everybody loves lemon ice, and the one here is indisputably a king of that particular flavor: tangy and tart, light and refreshing, not too sugary. But since the first or second time I first visited the Lemon Ice King, I've never gone without getting the peanut butter ice. Even if I tend to order two or three flavors at a time — it's always in the mix.
Slicker and smoother in texture, the peanut butter has a creaminess to it, naturally, and is definitely richer than the fruit flavors. Little fragments of peanut are mixed in and frozen to crunchiness, like all-natural sprinkles. To be honest, part of the appeal of this flavor is also its seeming unexpectedness. The first reaction to hearing that this flavor even exists is: Peanut butter? Ice? Growing up on those Fla-Vor-Ice sticks and Marino Italian Ice, they expect more common flavors like, say, blue, or rainbow.
This isn't to suggest the flavor is a secret to insiders; I regularly see others order it, and the friend who introduced me is a Queens kid. "First you come over and see it, and say, 'that doesn't even sound right. Peanut butter Italian ice?'" says Vinnie Barbaccia, one of the shop's owners. "People come over to the counter, and they say that, but I get them to try it and they love it. I'm a peanut butter lover — if you are, you can't beat it."
After ordering, you can take your ice across the street to Spaghetti Park, where you can hang out with everyone else watching the bocce guys put on a master class. It's a tradition, and a fun and relaxing way to take a moment and wile away some time. More importantly it's an opportunity to give your stomach a breather, so you can go back and order another peanut butter ice. It's never long before summer is over, after all.