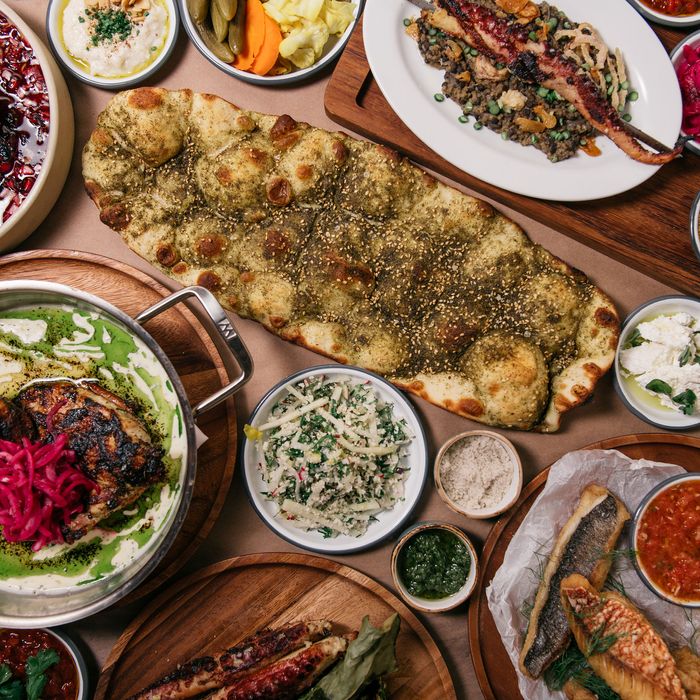 When Gadi Peleg helped open modern Middle Eastern restaurant Nur in 2017, he wanted to prove that the cuisine could hold its own with the best of French, Japanese, and Italian dining. Now, with his new restaurant Lamalo, located inside the Arlo Nomad hotel, Peleg wants to introduce diners to how people in the Middle East eat every day of the week.
"I really wanted to go back to the roots of this cuisine and the reason that I first fell in love with it in my childhood in Israel," Peleg says. "You arrive and your table is immediately filled with mezes and bread, and the experience begins a minute after you sit down."
About that bread: The restaurant's showpiece is its laffa, the chewy, sesame-speckled, barely yeasted bread made tangy with yogurt and baked over a bed of hot lava stones. At Lamalo, the made-to-order laffa comes flying out of the kitchen throughout the meal, first as an accompaniment to the restaurant's rotating menu of 25 different mezes. Some are familiar — tahini, labneh, pickled onions with sumac — while others may be completely new to diners, like matbucha (cooked-down tomatoes and red peppers with garlic and chili pepper), and scordalia (garlic-and-potato dip spiked with chives and slivered almonds). "Cutting a warm piece of laffa and dipping it into a cold tahini is fantastic," Peleg says. "There's no experience in the food world that I like better."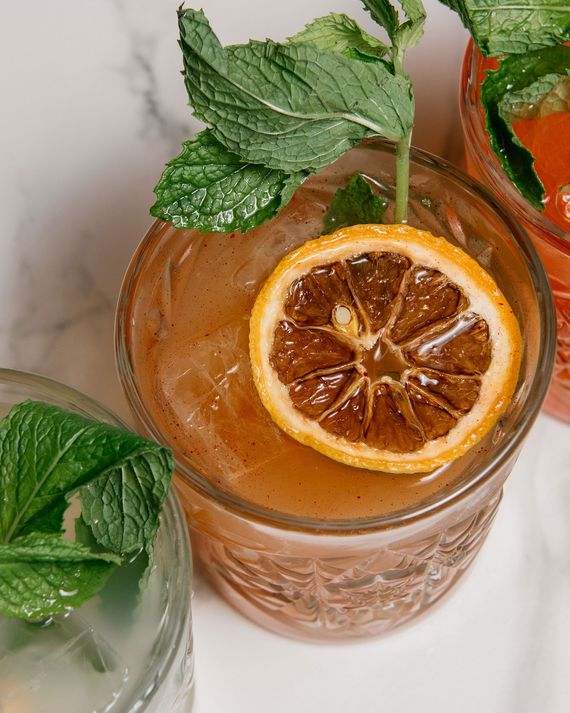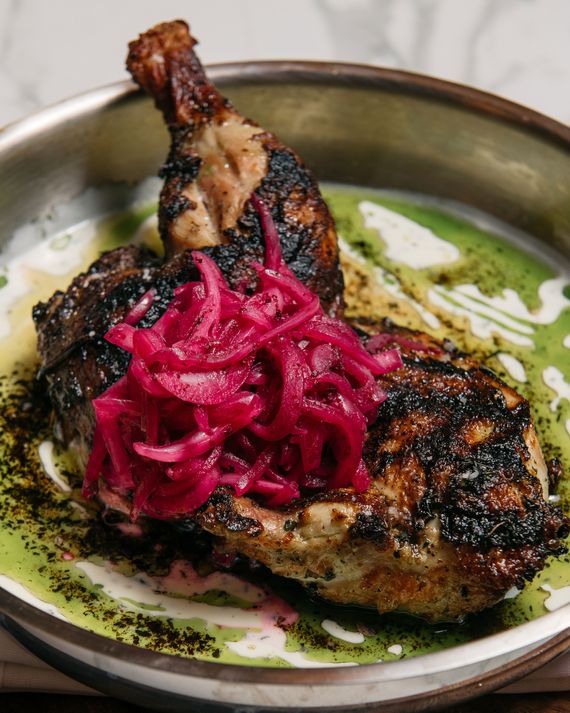 Peleg hopes guests will gladly share everything else on the menu, too, like the Shabtai-style fish, named after a beloved cook who operated a restaurant in the port city of Jaffa, Israel. The long-deceased Shabtai prepared his freshly caught fish simply, dusted in chickpea flour with spices. For their take, Lamalo's kitchen mixes cumin, Aleppo pepper, garlic powder, and salt into the chickpea flour and fries it in soybean oil for a crispy exterior and flaky interior. "I'm so honored to be able to pay this tiny little bit of homage to him really forming all of my childhood culinary memories," Peleg says. "He never studied at Le Cordon Bleu. He probably studied under his mom in the home kitchen."
The rest of the menu follows that format of simple but comforting: Octopus grilled and served with preserved lemon butter, onions, tomatoes, and fennel, and whatever vegetables look good from the farmers' market; slow-roasted short rib served on the bone; grilled half-chicken with spearmint yogurt and sumac-dusted onions. Meanwhile, those who don't want to linger over a meal can get what Peleg has dubbed "Israeli bento boxes," skewered meat (octopus, chicken, fish, or lamb meatballs) or vegetables paired with a daily salad and meze for $19.
Drinks run the gamut as well. The tangy Good Vibrations with grapefruit and lime uses arrack, the Middle East's answer to anise-based ouzo, as a base for a bitter kick while the aptly named Ring of Fire is a Mexican–Middle Eastern crossover with tequila, Aleppo-chipotle pepper cordial, and a squeeze of lime. Spritz aficionados, meanwhile, will certainly take to the Twist and Shout: Aperol and rosé mixed with orange blossom water. All the drinks are available by the pitcher for $75.
Unlike Nur, Lamalo isn't about shocking the senses or using obscure techniques. The food is the type that people can come to time and again, always with the same expectation. "Middle Eastern cuisine is not about getting exotic ingredients from a thousand miles away," Peleg says. "It's what can you do with the techniques and flavors of the Middle East with the ingredients that are growing around you, and that's really what we're trying to do here."
Lamalo, 11 E. 31st St., nr. Madison Ave.; 212-660-2112