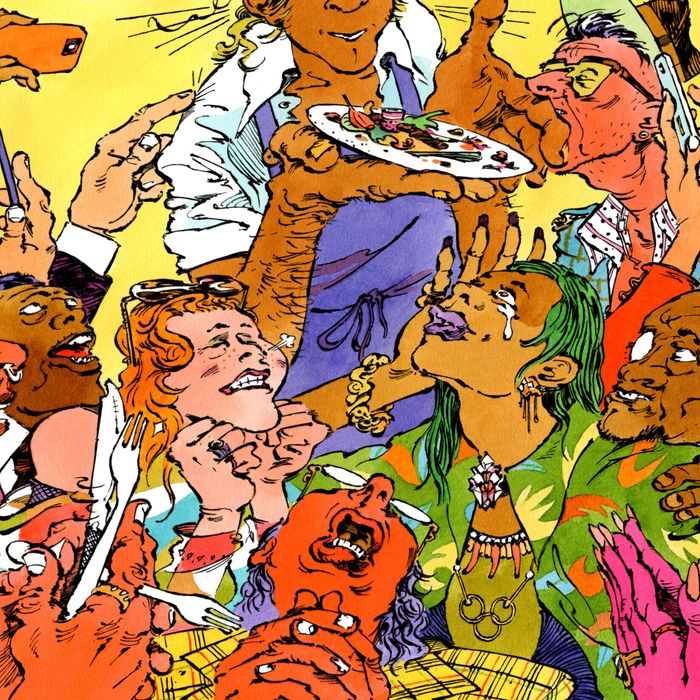 Illustration: Sam Vanallemeersch
This article was featured in One Great Story, New York's reading recommendation newsletter. Sign up here to get it nightly.
Before we get to the savory tart that is decorated with a delicate, lacelike pattern of fuzzy white mold, let's start with the edible butterfly. It arrives like a calling card at the 2.0 version of René Redzepi's famed Noma restaurant in Copenhagen, where I've made my way, like each one of the guests, along a carefully staged promenade through the gardens of herbs and wildflowers, past a crowd of smiling waitstaff arrayed like a military parade unit to greet me, and into the dining room, which overlooks a small lake by the gently puffing smokestacks of what a staff member will tactfully describe to me as "one of the greenest waste-incineration plants in the world."
"Flowers marinated with pollen" is the modest name of this butterfly, which looks less like something you'd eat than a piece of sculpture you'd buy to hang on the wall. It has golden antennae made with bits of carefully tweezed bee pollen, and an array of brightly colored flower petals for wings, which are affixed to a thin wafer with a tangy paste made of currants, gooseberries, and crushed ants, among many other things. ("These take ten or 12 minutes to prepare — try doing it 120 times a day," the waitperson says.) The butterfly is presented like one of Nabokov's specimens, laid out in a glass-topped case. When I lift the lid, a breeze coming through the window flutters the petals in a way that makes me briefly think, in my groggy jet-lagged state, that the whole thing might actually levitate and fly out over the lake.
From the hushed, almost rapturously quiet sound of things, similar visions are occurring around the dining room, which is filled — on this family-and-friends night for a preview of the restaurant's new, summer-season "plant-kingdom" menu — with local chefs sporting dense Viking beards; pale, lean master fermenters and cooks who've been swept into the Redzepi orbit for a time; as well as local journalists who've ridden their bicycles out to the restaurant, which sits on a narrow slip of land between Copenhagen's famous hippie community, Freetown Christiana, and the overgrown battlements of the ancient city. I'm sitting with an eminent vegan named Rich Roll, who's flown 13 hours from L.A. to taste the purest version of the famous chef's vegetable cooking, and the ultimate Redzepi scholar, Jeff Gordinier, who spent a good part of four years following the chef around the globe on his madcap culinary adventures — the way grizzled rock critics used to follow their favorite bands — to write a new book, Hungry, about Redzepi and his obsessions.
It is Gordinier who convinced this dyspeptic, big-city critic to come dine among the chef's inner circle of acolytes and admirers, many of whom will follow Redzepi and his rambling team of foraging cooks and fermenters to the ends of the Earth — in addition to two versions of Noma in his native Denmark, Redzepi has run pop-up events in Tokyo, Sydney, and Tulum, Mexico — to hear his philosophies on cooking and the nature of taste, as well as to sample his challenging, obsessively reworked, often ingenious creations. "It's a kind of Deadhead experience," Gordinier, a former music writer with a taste for the occasional rock-and-roll metaphor, is fond of saying. "You're always wondering, what will the band do next?" It won't be long before Roll, too, gets into the dreamy, improvisational spirit of the evening. "There's something about the fact that these dishes have never been seen before and will never be repeated. It's like mandalas in the sand — they just blow away in the wind."
Only a few days earlier, Gordinier had sent me a copy of his Redzepi book, which paints a vivid picture of the complex, almost messianic 41-year-old Danish chef and the cast of eccentric, talented characters who are drawn into his world, comparing him to David Bowie, Tom Sawyer, and Jay Gatsby, among other cultural totems and demigods, before you even get to page 33. Never mind that I'm a confirmed nonvegetarian, and an all-around skeptic when it comes to blindly obsequious chef worship in general, and the hysteria surrounding "World's 50 Best" destination restaurants in particular. (Noma, in case by some miracle you haven't heard, ranks second on this year's list.)
Sure, Redzepi is a great chef, but the Scandi-foraging, wandering-in-the-woods craze that he helped create has mostly fizzled out in the frenetic, fashion-conscious dining world that I cover. And thanks to 50 Best hype — and worshipful, endlessly streamed shows like Chef's Table — haven't we all heard enough about genius, philosopher-king cooks in our increasingly polarized, list-obsessed culinary landscape? Isn't the globe littered with enough precious tasting rooms in far-flung places like Lima, Vienna, Singapore, Modena, Stockholm, and even Westchester? Is it really necessary to spend thousands of dollars — often many thousands, including first-class tickets and luxury hotel rooms — the way the gilded, international gastronaut class does these days, to dine at restaurants which, thanks to the endlessly reposted buzz of social media, can end up feeling suspiciously the same?
The assembled Nomaheads have heard these prattling complaints before, of course, and they receive them with a kind of beatific calm. Gordinier is normally a jolly soul, prone to spouting snatches of song lyrics and poetry, and he's no fan of 50 Best hysteria, but on this evening, as the butterflies begin to alight on the tables around us, he has a serious, expectant look on his face. In his checked shirt and natty blue suit, he even looks a little like he's dressed up to go to church. "Join us Platty. Join us," he'd written to me, only half in jest, before our plane took off for Copenhagen. "Enlightenment awaits."
To the most fervently devout Nomaheads, Redzepi has never been your run-of-the-mill, Michelin-star-grubbing cook. He's a prophet and a visionary (Gordinier's book isn't short on biblical allusions), a once-in-a-generation talent who, like Ferran Adrià before him, fundamentally altered the perceptions of how the rest of the world looked at, tasted, and walked through the great, buzzing, interconnected worlds of food, nature, and nourishment.
Adrià was an inspired mad scientist who created his own gastronomic movement. Redzepi, who once apprenticed at Adrià's famous elBulli restaurant, and has clearly modeled his own productions after its experimental atelier style, is more like a charismatic John Muir, a boyish, Johnny Appleseed figure who led his growing rabble of disciples out from lablike kitchens and into the wild, where they found obscure ingredients and prepared them with ancient techniques to conjure up all sorts of strange wonders straight from the land.
In person, Redzepi cultivates an unassuming everyman style (he wears a T-shirt and worn-out kitchen clogs during service), and when we meet for a short walkabout through his little Faulknerian corner of Copenhagen (which includes, in serendipitous Redzepi fashion, a ride aboard a langoustine boat that he owns with a gregarious friend named Nils) he tells me that he never learned to drive a car. "I never even tried," he says, in his merry, emphatic, charmingly offhand way, as if cars aren't something one needs to bother with in order to lead a productive, civilized life.
Like any self-respecting visionary, Redzepi has spent time wandering in both the literal and the proverbial wildernesses, and as Gordinier chronicles in his book, the chef endured periods of doubt, even despair. In 2013, the original Noma was riding high as the "best restaurant in the world" for three consecutive years when a group of unfortunate customers came down with norovirus after eating a bad batch of mussels. There was the closing of Noma 1.0, and the frenetic pop-ups, first in Tokyo; then Sydney, where Redzepi and his cooks experimented with the joys of alligator fat; and finally in Mexico, which remains the most beloved of the pop-up experiences among devout Nomaheads, but ended up causing a mini-backlash in the food press. ("The restaurant is making a statement that belongs to Mexicans to make," the late Jonathan Gold wrote in his review. "Arguments about localism and sustainability may seem trite when most of the customers travel thousands of miles to eat a meal.") Because the restaurant was closed, the Noma name disappeared from the top-restaurant lists during this wilderness period. "If people say 'I don't give a shit' about the 50 Best list," Redzepi explains, "they're lying — of course I care. We all care."
But the wilderness years appear to have ended, for now, and from the ashes of the old Noma, this glistening new state-of-the-art facility has appeared with bubbling fish tanks to keep the catch fresh in winter, neatly tended gardens growing along the roof, and even a barrel-shaped sauna set up by the lake for the 90 staff members (and counting) to relax and cleanse themselves during the course of the long working day. "René likes to say for the first 12 years in the old restaurant we were just practicing for this one," says the restaurant's genial, towering fermentation specialist, David Zilber, whose biblical tome, The Noma Guide to Fermentation, which he wrote with Redzepi, stands as a kind of philosophical touchstone for this next phase of the great Noma adventure.
Like many creative spirits, Redzepi is attracted to outsiders and misfits who have curious, unexpected ways of looking at the world. When Zilber decided he wanted a change in his life, he wrote blind letters to several of the world's top chefs, and found himself welcomed at Noma because Redzepi was the only one who bothered to reply. Like many Nomaheads, he's completely self-taught in his own, complex discipline, and before dinner he'll give us a tour of his fermentation lab, with its vats of bubbling garum and shelves filled with jars of gently rotting soy beans, salmon roe, and a substance labeled "salt and wild boar pancreas."
Redzepi considers mold and fermentation to be one of the great engines of taste, especially going forward in an era of increasing scarcity, and it's one of the central ideas around which he has built his latest reinvention. The new Noma, as I'd been told again and again, serves three seasonal menus — game in the fall, plants in the summer, seafood in the winter — and each is completely unique, offering dishes that will never again be repeated. This makes it, according to Noma devotees, effectively three different restaurants in one. Zilber tells me that his wife likes to say René is more of a creative director than a cook, who makes choices based on his own elevated sense of taste — "he knows what he likes and what he doesn't like" — and during our stroll through Christiana, as if on cue, Redzepi spots a great rose blooming by the path and commands me to smell it. "Take a bite," he says. "It tastes good, too."
When finally I bring myself to eat it, the intricate, Nabokovian butterfly tastes floral and fresh and strangely wild. After it disappears from our lives forever, we're served a little pouch made from candied beetroot propped on a carefully foraged rock, followed by a lip-smacking jellied-onion bullion, which Gordinier correctly describes as tasting "like all the onions in the cosmos."
Shortly afterward, the mold portion of our meal commences. There are cuttings of fresh asparagus preserved in snowy frostings of mold; the carefully rendered, lacy-looking mold tart served by Redzepi himself ("Imagine having to grow enough mold for 80 covers a night!"); and a folded taco pancake filled with a cool dissolving substance that tastes of truffles and seaweed and gently melting cheese, before it dissolves into a kind of delicious, granular, umami-laced nothingness as you eat it with your fingers.
I enjoy my taco more than some other diners, it seems — "the mold portion of the maestro's symphony may require a little adjustment," one of the bearded Vikings will mutter to me later — but as we progress into the evening, the meal offers plenty of more-traditional plant-based wonders, including a delicious, sour-sweet berry-and-tomato soup dressed with little frizzles of barbecued thyme; roasted wild mushrooms skewered with carefully carved sprigs of Nordic pine; and a smooth, buttery mash of new potatoes, served in a baby-size flower pot, covered with an earthlike dusting of granulated truffles that prompts Gordinier to happily begin quoting passages of Dante in the original Italian.
If this grumpy critic is beginning to sound a bit like a Nomahead himself, that's because maybe he's becoming one, too. Although, unlike the other veteran campaigners in the room, I don't have dozens of other performances to compare to this one, the way Deadheads and Bob Dylan fans compare concerts and the bootlegs they've obsessively ranked and reshuffled over the years. For sheer improvisation, the Nomaheads seem to agree, the legendary Mexico pop-up probably can't be topped, and for pure bountiful deliciousness, last year's winter seafood menu will be hard to beat. But for pure "fireworks and magic," this has been an impressive show.
The three-month run of the plant-kingdom menu is completely sold out, as Noma performances tend to be, although if you're planning a lavish, big-money gastronaut excursion for the fall, the next game menu is well into the R&D stage — the summer extravaganza took fives months to dream up — and according to rumors circulating among the Nomaheads, it may include nonvegetarian delicacies like raven, puffin meat, deer hearts, and even a shot or two of moose blood.
As the light is fading over the smokestacks across the lake, and the last bits of a final flower-strewn, weirdly tasty dessert made of white chocolate and perfectly crisped, unborn-bee larvae is being devoured and cleared away, the chef stops by our table for a minute. He can't take credit for any one of the recipes, he says in his modest, matter-of-fact way, and he actually can't remember where most of the fireworks came from. "We work as a team," Redzepi says, looking casual in his T-shirt and even a little refreshed, like he's been doing some light running outside and has come in for a rest. "Like most chefs today, I'm here to make people do the work," he says. "I just facilitate things, and nudge them along."
*A version of this article appears in the July 8, 2019, issue of New York Magazine. Subscribe Now!