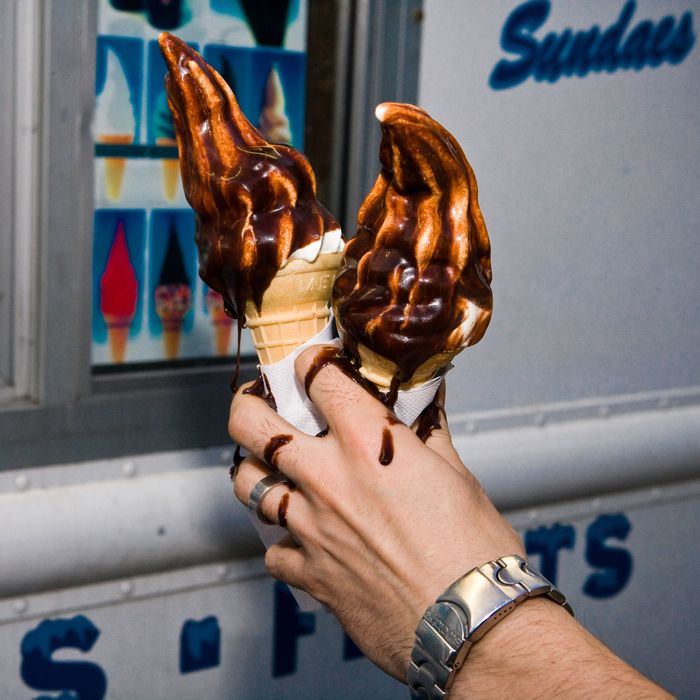 Summer is canceled.
Photo: Jazzmine Beaulieu/Getty Images
If in the coming weeks you hear fewer jingles floating down the streets of your neighborhood, you're not imagining things. As of yesterday, there are 46 fewer ice-cream trucks patrolling the streets of New York City after a crackdown dubbed "Operation Meltdown."
The sting operation took down ice-cream trucks belonging to New York Ice Cream founder Dimitrios Tsirkos that had racked up tens of millions in parking tickets and other moving violations over the last decade and then evaded said fines. All in all, the city issued more than 22,000 summonses, amounting to $4.6 million in unpaid tickets, or more than $10,000 per seized truck.
The why is interesting enough, but how Tsirkos avoided the fines is even more fascinating: According to corporation counsel Zachary Carter, Tsirkos and his team were " … transferring ownership of their ice-cream trucks between and among dozens of phony companies, effectively shielding their trucks from fines and seizure." Some of the fake names they used include Meathead Inc., D.L.T. Softex Corp, and Ice Boyz Inc.
In order to get the trucks back, Tsirkos will have to pay the $4.6 million in fines plus additional fines for wasting the city's time and giving traffic cops the runaround. Bad news for him, but good news for his longtime rival, Mr. Softee.