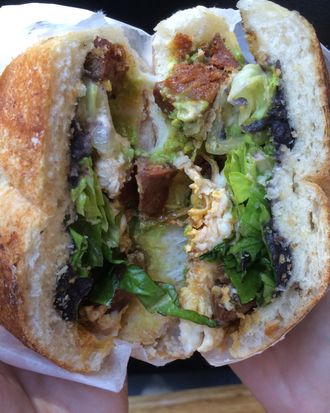 A torta from Miscelanea.
Photo: Rob Patronite
New York's premier destination for fancy salsas and other gourmet Mexican goods will soon close. In an Instagram post yesterday, Miscelanea owner Guillaume Guevara announced his store's last day in business would be June 16.
Opened in 2015, Miscelenea is a kind of high-end version of the no-frills taqueria-bodegas found around New York. The shelves are stocked with higher-end goods like canned squash blossoms, masa from Nixtamal in Queens, mezcal worm salt, and of course staples like powdered Tajin seasoning. It also served a tight menu of very good food, including "damn tasty tortas," per New York's Underground Gourmet, and a few other dishes like chilaquiles and esquites. There would occasionally be holiday specials like rosca de reyes, and on Tuesdays they served tacos like mole poblano and carnitas with refried beans that Grub has called some of the best in the city. In an email to Grub, Guevara cited reasons including competition from online retail.
"Competing with large companies in the food scene, having so many other (larger) retailers nearby and maintaining a good online presence despite the big names (i.e., Amazon) out there is very hard these days," Guevara wrote to Grub. "We succeeded in many ways, and I think we achieved our ultimate mission which, was to raise the bar and present Mexico in a modern, curated yet realistic manner … Sadly, we have to close. But I think a wonderful Mexican seed has been planted in New York!"
Along with Miscelanea, the well-liked Tehuitzingo seems to have shuttered at some point last year, though it closed quietly. It has since been replaced by a place called Friendly's Hot Dogs. Opened in 2001, Tehuitzingo was tucked into the back of a bodega in an unexpected neighborhood, the sort of exciting place that, if you're an outsider, you feel like you've stumbled upon.
Eric Asimov covered Tehuitzingo as part of a larger story about bodega-taquerias for the New York Times, in which he wrote, "Not so long ago, any kind of taqueria was unheard of in New York." It remained a popular place, and in 2014 the owners expanded with a 24-hour, sit-down taqueria on 9th Avenue, though that closed after three years. The reason for the closings isn't clear. However, in 2018 a New York Southern District Court judge ordered the owners to pay three plaintiffs $434,773.18 as a result of a Fair Labor Standards Act lawsuit.
Lee Musho contributed reporting to this story.