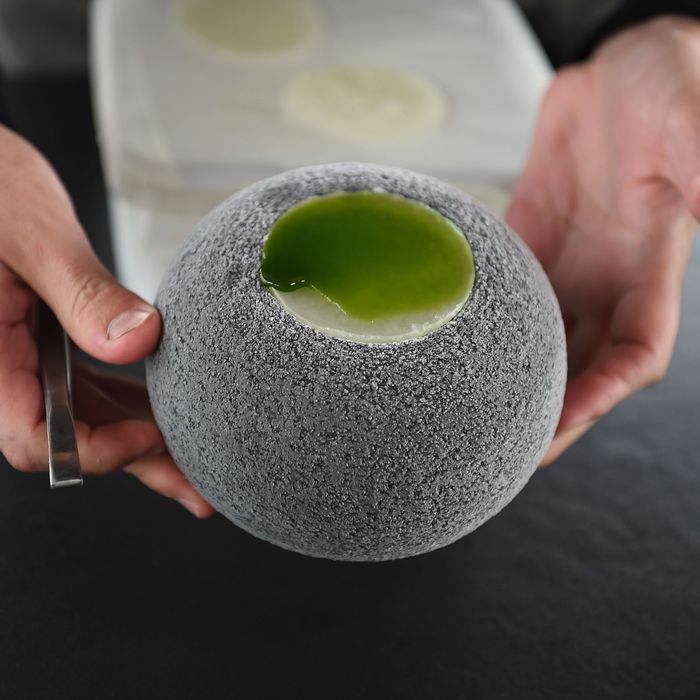 Scallops, bone marrow and white asparagus from Vepsertine, in Culver City.
Photo: Robyn Beck/AFP/Getty Images
The best way I can describe this week's rollout of Michelin stars in Los Angeles is: [Insert popcorn emoji here]. As you have read in every food or travel magazine and digital outlet for the last half-decade, L.A.'s restaurant scene is thriving. It is, according to multiple publications, "the most exciting food city in America." And this year, for the first time ever, the French tire company combined the entire Golden State into a single restaurant guide, so, when the stars were finally announced earlier this week, there was bound to be some fanfare. Instead, it turned into a drama that pitted the country's second-largest city against the guide's inspectors and editors, which of course is exactly what Michelin wanted.
Angelinos were already primed for disappointment when, the week before, the list of "Bib Gourmands" — more "affordable" restaurants that are deemed worthy in their respective categories but do not rise to the level of the guide's much-vaunted stars — revealed that local favorites like Sqirl, Majordomo, and Cassia (to name only a few) would end the year star-free. And it did not come as a shock that the overwhelming majority of star recipients were either Euro-centric or Japanese-leaning, exactly the kinds of spots Michelin always rewards.
Sure, everyone was happy for the local establishments like Rustic Canyon (one star) and Kato (also one star) that walked away with a sprinkling of Michelin's starry dust, but omissions were glaring: no stars for Korean, Filipino, Thai, or Mexican restaurants, save for one star for the upscale Taco María in Orange County. And only one restaurant from one of L.A.'s greatest dining treasures, the ever-flourishing San Gabriel Valley, earned a star. (As you have also probably read by now, no restaurants in Los Angeles received three stars, the guide's highest honor.)
The ensuing takes were as hot as they were immediate — "Los Angeles to Michelin: Delete Your Account" was a particularly good headline — and many industry watchers were able to point to a near-endless list of perceived snubs. Alas, each take that arrived, more fire than the last, was just free publicity for the Michelin brand name. In other words: Michelin trolled us, and we took the bait.
After all, the Michelin Guides are not a true editorial product. Each little red book is a branding exercise masquerading as service journalism. The very first Michelin Guide, published in France in 1900, was the original #sponcon, but the genius of this particular marketing move is that anytime a major list drops, whether it's World's 50 Best or a national magazine's Best New Restaurants feature, it's bound to create controversy. The better publications and organizations do a thorough job of explaining how and why they put together the rankings, and why particular restaurants matter. Michelin, on the other hand, goes out of its way to obfuscate its processes and famously keeps its inspectors' names anonymous, thus preventing any one person from being held responsible for the guide's results. In response, LA Times restaurant critic Bill Addison wrote, "In an era when public trust is fragile and maximum transparency is key, the Michelin process, particularly in a city as diverse as Los Angeles, smacks of carpetbagging."
I think there's something else going on, too. As Helen Rosner wrote in the New Yorker, restaurants like Vespertine and n/naka are "among the most artful, innovative, and exacting in the world, in large part because they didn't build themselves specifically to the imposed standards of Michelin, or of anyone else." L.A. restaurants thrive on their own terms, and of course Michelin was going to ignore the taco trucks, strip-mall Korean gems, Thai Town favorites and neighborhood trattorias that make every single piece of pasta a mano. These businesses are foundational to L.A. dining, and they might as well not exist as far as Michelin is concerned.
In Los Angeles, Michelin has encountered a restaurant culture that makes its own value system look more outdated than ever, and while we can hope that Michelin will change its scope to celebrate the mom-and-pop joints of the world, we can also accept the fact that it probably won't happen. Maybe the better option is to let Michelin stay stuck in the past while we simply enjoy L.A.'s global, inclusive future.
San Francisco has been consistently reviewed for years, but it's the the first time L.A. has been included since Michelin's brief stint handing out stars here from 2008 to 2010, and the city has had a chip on its collective shoulder since that same year, when then-Michelin director Jean-Luc Naret infamously declared "the people in Los Angeles are not real foodies."