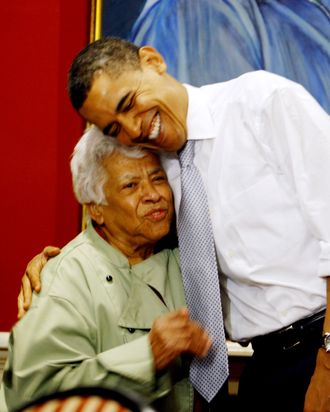 Leah Chase with Barrack Obama.
Photo: Emmanuel Dunand/AFP/Getty images
Leah Chase, the great New Orleans chef, died on Saturday at the age of 96. Called "the Queen of Creole Cooking," she was inarguably her city's most celebrated culinary figure and one of this country's most important. Her Dooky Chase's Restaurant is an institution, not only for its excellent versions of Creole food but also for the role it played in the civil-rights movement and the place it has it held in New Orleans since.
Chase was born in Madisonville, Louisiana, and came to New Orleans to attend high school. She worked jobs including waitressing and managing two boxers before marrying Edgar "Dooky" Chase Jr., whose parents owned a po-boy shop and lottery. They would take over the business and transform into the now renowned sit-down restaurant. She started serving Creole and more New Orleans dishes like chicken Creole, shrimp Clemenceau, and gumbo. Dooky Chase's became both famous for serving exemplary versions of staple dishes like fried chicken as well as bringing ones like gumbo z'herbes into the spotlight. The Chases also turned their restaurant into what was, back then, New Orleans' first and only white tablecloth establishment for African-Americans in a city plagued by segregation and Jim Crow. Speaking to the Associated Press a few years ago, Chase talked about her experience working in a fancy French Quarter restaurants and thinking, "why we can't have that for our people?"
The significance of Dooky Chase's goes well beyond what was served on its plate. In the 1960s, the restaurant became a gathering place for civil-rights activists to strategize. As Leah told the BBC in 2016, "they would eat gumbo, and talk about what they were going to do and how they were going to do it." The Chases went against segregation laws and hosted white and black activists together, hosted NAACP meetings, nourished Freedom Riders, and others. She also sent food to jailed activists. Those civil-rights movement activists included Reverend Martin Luther King Jr. and Thurgood Marshall. Over the decades, the restaurant has hosted a pantheon of other African-American cultural and political figures including James Baldwin, Beyoncé and Jay-Z, the food historian Jessica B. Harris, Reverend Al Sharpton, and President Barrack Obama. It has also effectively doubled as a gallery of African-American art, and Chase sat on the board of the New Orleans Museum of Art. She was also the first president of the Southern Foodways Alliance's board of directors and the recipient of a Lifetime Achievement Award from the James Beard Foundation.
The restaurant was nearly closed forever in 2005 by Hurricane Katrina, during which it was heavily damaged and flooded. Chase was already 82 at that time, but she and her husband committed to reopen the restaurant, living in a FEMA trailer for an extended period of time. It reopened in 2007. The following year, then–presidential hopeful Barrack Obama stopped by and famously got his hand slapped away by Chase when he tried to add Tabasco to her gumbo. As Chase's legend grew over the decades, she would be enshrined in art: in Ray Charles's "Early in the Morning," as the inspiration for Princess Tiana in Disney's the Princess and the Frog, and in Beyoncé's Lemonade.
Dining at Dooky Chase's is to be steeped in history; as Harris wrote earlier this year, it has "become a witness to an era." Leah Chase may be gone, but Dooky Chase's remains as that witness.