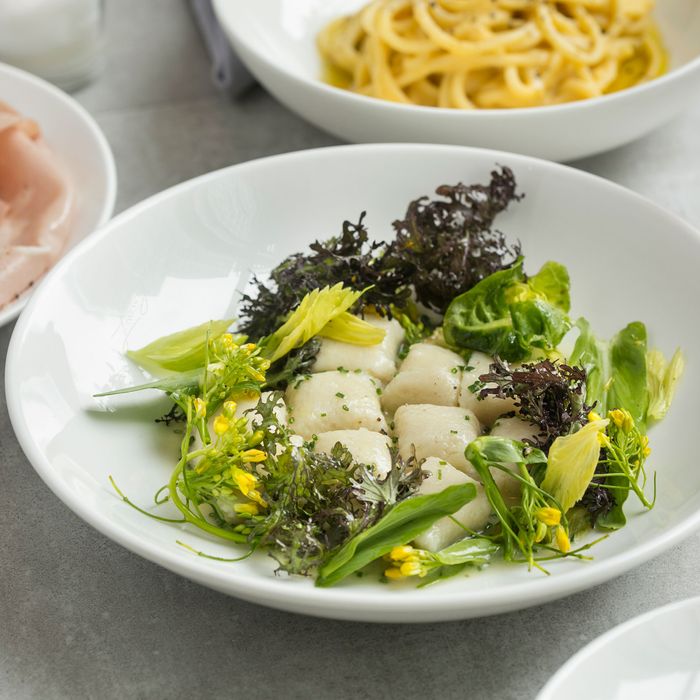 The potato dumplings with Sorrento-lemon-butter sauce.
Photo: Melissa Hom
Over the past four or five years, the perception of wine bars in New York has gone from "sleepy places to try on your new monocle" to "cool places to drink funky orange juice." But before the city was visited by the current influx of neo-bistro-inspired spots, Joe Campanale was pouring orange wine in the West Village. Starting in the late aughts, the sommelier cut his teeth opening the Epicurean Group's buzzy wine-centric restaurants like dell'anima, L'Artusi, and Anfora. After quietly leaving the Group in 2016, he and the chef Erin Shambura opened the Park Slope restaurant Fausto in the former home of Franny's. And today, he's expanding his Brooklyn reach with LaLou, a wine bar in Prospect Heights.
It's located on a stretch of Vanderbilt Avenue dense with good bars and restaurants: Olmsted, Maison Yaki, Alta Calidad, Chuko, Weather Up, Rose's, Ode to Babel, and LOOK by Plant Love House are all nearby. But LaLou brings something new to the table: not just in the particular focus on wine, but in the cooking of the talented Ashley Rath, who was the first chef de cuisine at the Grill.
Campanale calls LaLou "a totally separate business" from Fausto — the only commonalities being himself and partner and creative director Ilyssa Satter. The new venture has its origins in Campanale's relationship with partner Dave Foss, with whom he worked at Anfora. Practically speaking, this will mean new drinking territory: The wine lists Campanale put together at his restaurants have been oriented toward Italy, while Foss's interests lie elsewhere. "Dave has a big experience with wines that I don't know quite as well," Campanale says. "He goes to Austria so much more than anyone I know who isn't Austrian."
So there will be wines from Austria. Central Europe will be well represented (Hungary, for example), as will less-heralded Italian regions such as Ligura and Sicily. You might drink a Riesling from Denmark, an orange wine from Croatia, a rosé from Greece, or any number of bottles from France and Spain. All the wines will be organic, biodynamic, or natural, and none will be the result of large-scale production. "There'll be a good portion of Dave's interests of really obscure wines that are super-delicious and great value," Campanale says. "And then French wines — a little bit from Burgundy, but mostly from the appellations that are not the most famous."
All of this makes it sound like LaLou will be a very good place to drink wine, but you won't want to forget about the food. Rath cooked at Atera and Gramercy Tavern before going on to work on the openings of Major Food Group's Dirty French, Santina, and the Grill. At that last restaurant, Bon Appétit wrote that she "brought to life an exceedingly refined vision of classic Americana." Things are a bit more toned-down here — there's no tableside theatrics with the pasta, for example — and it's certainly less expensive. The menu is designed around the wine and is meant to be more familiar than ambitious. But it's not routine.
"She just blew us all away with how delicious her food is," Campanale says of Rath. The potato dumplings come with a Sorrento-lemon-butter sauce, rhubarb's savory potential is put to use in a monkfish-and-lardo dish, and a salad zings with a tangy feta-buttermilk dressing. Desserts include beignets with lavender and honey, as well as an Eton mess, the English dessert of whipped cream, meringue, and strawberries. All of which you can wash down with your Grüner Veltliner at one of the 50 seats inside or, on a balmy night, in the 20-seat backyard.
LaLou, 581 Vanderbilt Ave., nr. Pacific St., Prospect Heights; 718-857-9463