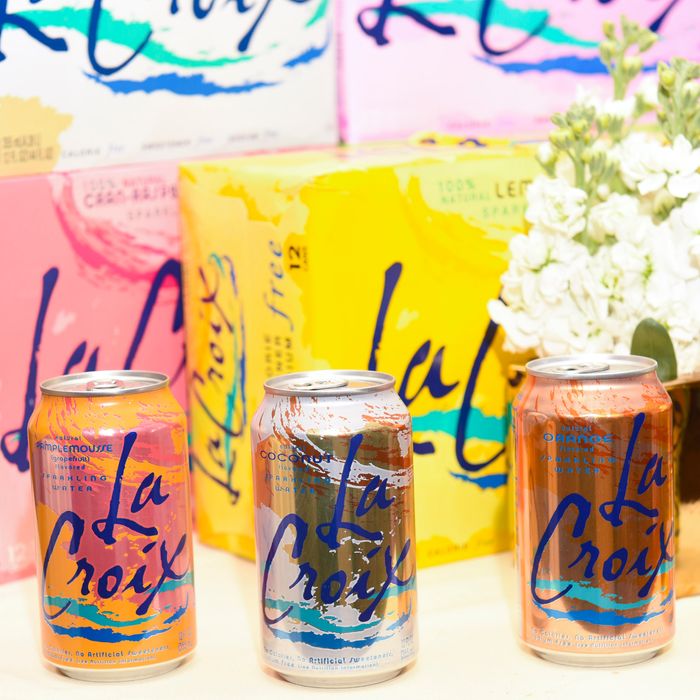 Photo: Vivien Killilea/WireImage
Between 2016 and 2017, you couldn't turn a corner without running into a LaCroix window display or a LaCroix obsessed acquaintance. The 38-year-old seltzer brand developed such a cult following that it inspired T-shirts, music videos, ceramic planters, bathing suits, greeting cards, and countless other DIY merchandise without any real advertising on the part of parent company National Beverage Corporation.
But according to recent reports, the company and its CEO Nick Caporella aren't the powerhouses they once were. Increasing competition from PepsiCo, Spindrift, and regional brands; a handful of lawsuits; and executive mismanagement have left National Beverage Corporation in dire straits. It's been a wild nine months for the company and the LaCroix-loving public, but Grub has pulled all the disparate reports together into one narrative on how LaCroix went from golden goose to a company in distress.
The company's been hit with lawsuits from outside.
While things weren't great for LaCroix and National Beverage Corp. last summer, the worst of its problems began last October when a class-action lawsuit was filed against the company in Chicago. The chief plaintiff, Lenora Rice, alleges that the seltzer "in fact contains ingredients that have been identified by the Food and Drug Administration as synthetic" despite claims that LaCroix is completely natural and "innocent." Among those synthetic ingredients is linalool, a chemical used in insecticides, and two other chemicals that have been linked to kidney toxicity and tumors and used to treat cancer. That particular case never offered proof of its claims (and National Beverage Corp. issued a press release in 2020 announcing the dismissal and retraction of the claims), but a case filed in New York's Southern District in January 2019 claims that in an analysis undertaken at the University of Georgia's Center For Applied Isotope Studies, samples of LaCroix were found to "contain synthetic ingredients ranging from 36% to 98%." National Beverage Corp. execs, of course, strongly objected to both lawsuits, saying an analysis by an accredited independent lab found "no trace of artificial or synthetic additives."
A former employee filed his own lawsuit against the company.
This month, Albert Dewjeski, a former vice-president, filed a lawsuit against National Beverage Corp. over what he's calling an unjust firing. Dewjeski claims the company was preparing to make a false claim that its cans were free of BPA, the same synthetic chemical that's been taken out of plastic water bottles. Dewjeski objected to the impending announcement, was fired the next day, and is now seeking damages. In their own statement, National Beverage Corp. made clear their intention to "vigorously defend our company and our brands against false claims brought by this disgruntled former employee," adding that the company's cans have been BPA-free since April 2019.
Sales are down and so is the National Beverage Corp. stock
While the lawsuits have become a merry-go-round of finger pointing, there is at least one indisputable fact: National Beverage Corp.'s stock has taken a nosedive. A year ago, the company's FIZZ stock was trading at $115 per share, peaking at $127 in September 2018. That figure is now down to $45 per share. In March, financial services company Guggenheim Partners beverage industry analyst Laurent Grandet reported that sales were "effectively in free fall." The primary drivers behind this downturn, according to Grandet, are poor management of the LaCroix in the wake of its overnight success; competition from Coca-Cola and PepsiCo, which recently purchased Topo Chico and Sodastream; a lack of standout new products; and ineffective handling of the aforementioned lawsuits. Grandet concluded that unless LaCroix is sold off or finds "a strong distribution partner," and soon, National Beverage's stock price will continue to fall.
CEO Nick Caporella has his own issues
Caporella, the company's founder, has a history of making bonkers statements and has had a less-than-tactful reaction to the company's recent setbacks. After a disastrous earnings report in March 2018, Caporella cited "injustice" as a primary reason for the company's slowing sales before going onto compare the experience to a caring for a handicapped person. "Brands do not see or hear, so they are at the mercy of their owners or care providers who must preserve the dignity and special character that the brand exemplifies," Caporella told stockholders in March. He's likely the most disappointed stockholder, having reportedly lost $2.7 billion of his $4.7 billion net worth since the first lawsuit was filed in October.
Meanwhile, Caporella was embroiled in a lawsuit filed against him by two pilots who said the octogenarian sexually harassed them over the course of two years and more than 30 flights. Caporella's attorney said his client was unjustly targeted due to his immense wealth and advanced age. One of the pilot's cases was settled, but then both pilots filed another lawsuit in federal court. That lawsuit was "dismissed with prejudice," according to a statement from Caporella's lawyer, Eric C. Edison.
This post has been updated with new information on the cases filed against Nick Caporella by two former employees.