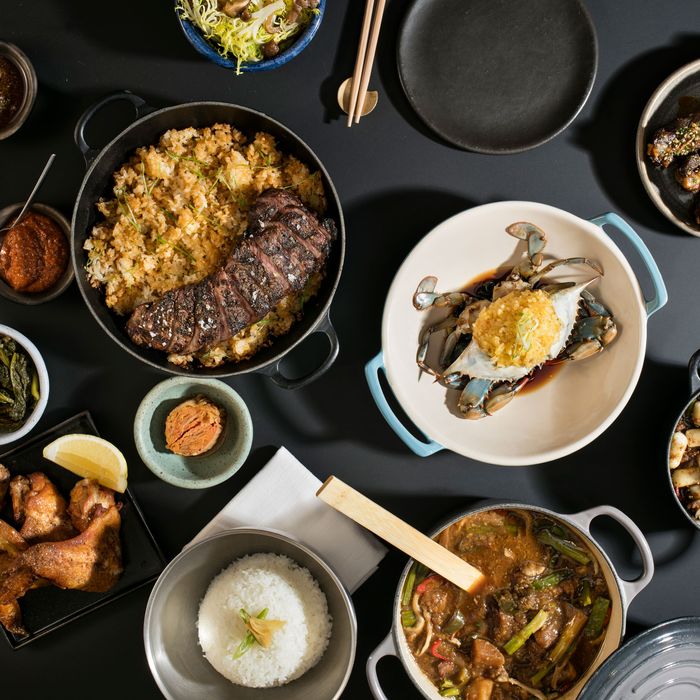 The cooking at Kāwi is both homey and precise.
Photo: Melissa Hom
For those of us who remember the early, fraught, sometimes tumultuous phase of David Chang's career, his evolution from mercurial downtown cook into the smiling, almost cuddly public personality of today is something to behold. As any of his 1.2 million Instagram followers can tell you, this famously temperamental New Yorker seems to spend most of his time these days out in sunny L.A. He's a family man now, with a podcast and a popular TV show to his credit (Ugly Delicious has been renewed for a second season). After attracting capital from a variety of deep-pocketed investors over the years (including Hudson Yards developer Stephen Ross), his Momofuku franchises have been opening with a kind of military precision in brand-friendly venues like Vegas and L.A. As this empire expands, Chang has shown a knack, like that other paragon of big-city dining, Danny Meyer, for choosing and nurturing cooking talent and for the professional "hospitality" side of the business.
With imperial expansion comes all sorts of trade-offs, of course. One of the finest examples of Chang's signature bo ssäm pork shoulder I've ever tasted was at the sprawling Momofuku outlet in the Cosmopolitan out in Las Vegas, although a bit of the old downtown terroir was lost when the dish arrived at our table in the big dining room looking like a regal aircraft carrier, flanked by platters of pork buns, each one stuck with the little lucky-peach flag of the Momofuku empire. In terms of the quality of the ramen (not to mention the Sichuan shrimp), and the efficiently cheerful clockwork service, my favorite Noodle Bar in town is the one that opened recently at the Time Warner Center in Columbus Circle, although sitting at the long, polished bar, next to groups of tourist families with their noodle-slurping kids, it's hard not to miss the messy, raffish, communal experience at the original downtown restaurants.
Hard-core Momofuku veterans are likely to have similar twinges of sadness and regret as they make the long escalator ride up to the latest Chang venture, Kāwi, which as I'm sure you've heard opened several months back on the fifth floor of another megamall operation on the West Side called Hudson Yards. Unlike some of the other more prominent dining options in this vacuous complex, this one occupies a windowless space in the back corner of the building, in between one of Thomas Keller's Bouchon Bakery franchises and a random clothing boutique called Forty Five Ten. The adjoining rooms are appointed in what is, by now, the familiar elegantly casual Momofuku style, with a long dining bar up front, rows of shiny wood tabletops set with wine goblets and expensive silverware, and a semi-open state-of-the-art kitchen in back, where you can see the cooks bustling to and fro amid clouds of steam and grill smoke.
As we made ourselves comfortable in one of the commodious mall-size booths, a few of the skeptical downtowners groused about the sparseness of the mall dinner crowd (it was pretty sparse), and the tinny familiarity of the trademark Momofuku rock-and-roll soundtrack (Zeppelin, the Pixies, etc.), although their mood began to brighten considerably once dinner started to arrive. There was a single, beautifully plated blue crab in this first salvo of dishes, marinated in soy sauce and stuffed with a little mound of crab-flavored sticky rice, along with a helping of crispy chicken wings, flash-fried to order in the Korean style and seasoned with a house blend of pepper, garlic, and salt. There were also some enticing crudi (try the madai with lemon dashi); cool, thin strips of brisket pooled ingeniously with a tangy mustard vinaigrette; and a serving of sticky, sesame-speckled "sweet and sour" ribs that were so exceptional that one of the rib connoisseurs at the table had to be restrained from ordering them twice.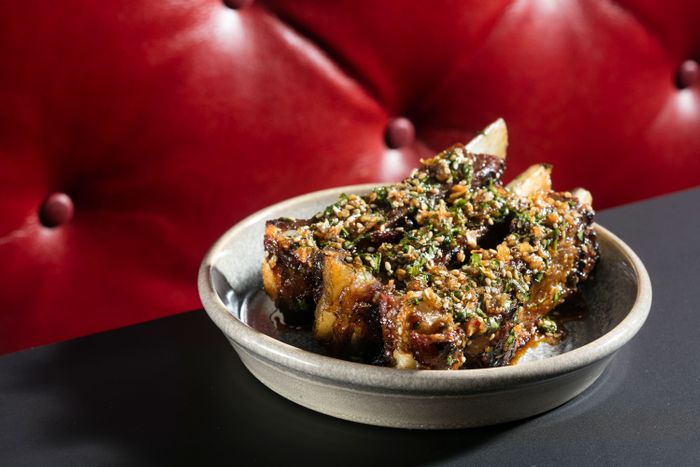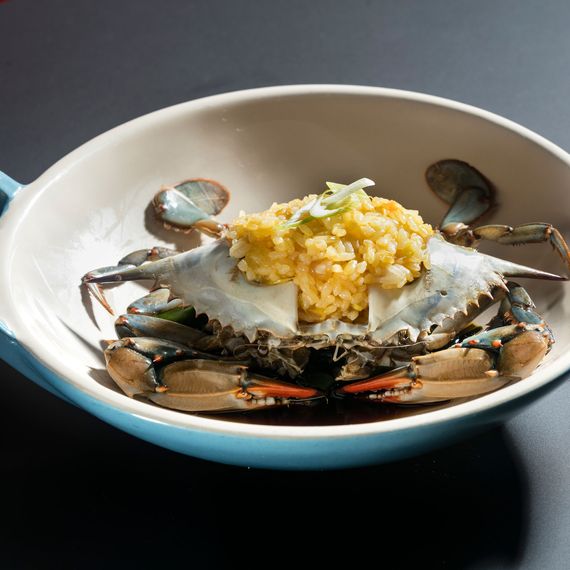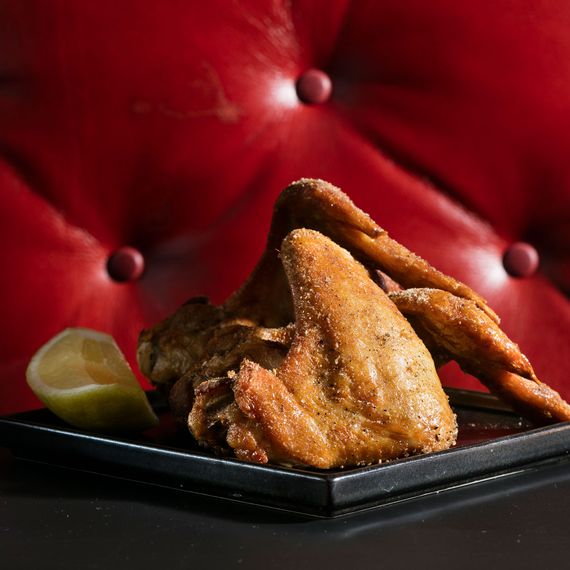 These inspired little treats are the work of a young cook named Eunjo Park, who spent time at Per Se and that great Chang talent incubator, Ko, downtown, before ascending, like a captain in the Navy, to a kitchen of her own in the great Momofuku fleet. She was born in Seoul but grew up in Philadelphia, and there's a bountiful homestyle focus to her menu that I haven't encountered on my visits to other Momofuku satellites in places like Toronto or Vegas. I wasn't a big fan of the pricey, sushi-style kimbap rolls we sampled after the small dishes had been cleared away (they're stuffed with foie gras, among other things), but the best of the food that followed — scissor-snipped rice cakes drowned in a spicy Wagyu ragù ("Kāwi" is a play on the Korean word for scissors), the ugly delicious "Yesterday's Stinky Soybean Stew," a pot of gently simmered oxtail and brisket spiked with jalapeño — had the kind of deeply layered flavor that lodges in the brain, the way the early Chang creations used to do.
I'm still thinking about that soybean stew, which is served with a perfectly formed dome of rice in a silver bowl, and contains chunks of pork belly hidden in its miso-rich depths, and the large-format whole chicken, which was hoisted to the table, home-banquet style, over bok choy and a tangled mass of sweet glass noodles, with the crispy bits (legs, wings) set in a bowl off to the side. When you call for a steak at this mall restaurant, the well-aged New York strip arrives neatly sliced over a sizzling, paellalike layer of beef fried rice that continues to crisp as you eat it in the time-honored bibimbap style. In the time-honored Changian style, the dessert choices are predictably sparse, although if you somehow manage to rouse yourself, after your chicken and steak (or oxtail or pork stew) dinner, you could do an awful lot worse in this megamall than the dainty slice of red-bean coffee cake, or the Everest-size rendition of bingsoo, a Korean version of the popular Japanese kakigori, which was poured with blueberry syrup the last time I enjoyed it, and dappled with crunchy sweet croutons made from cubes of pancake batter.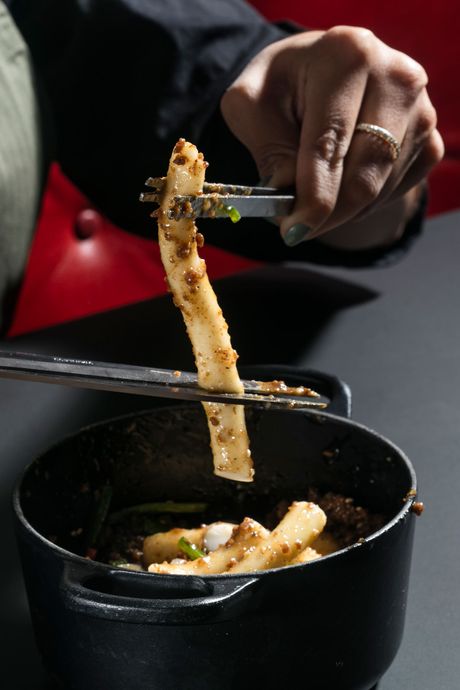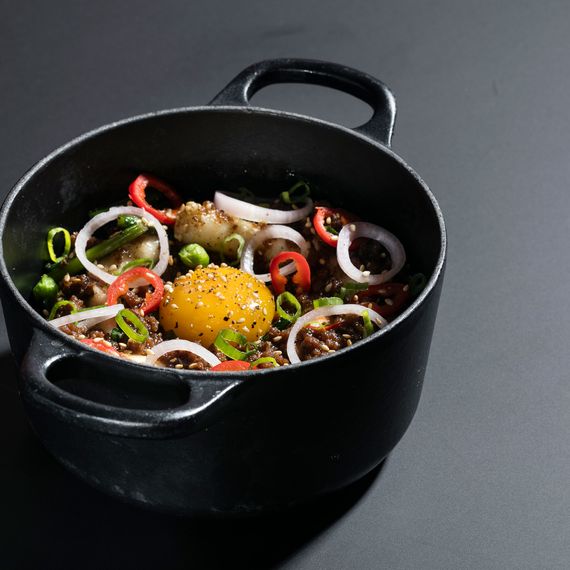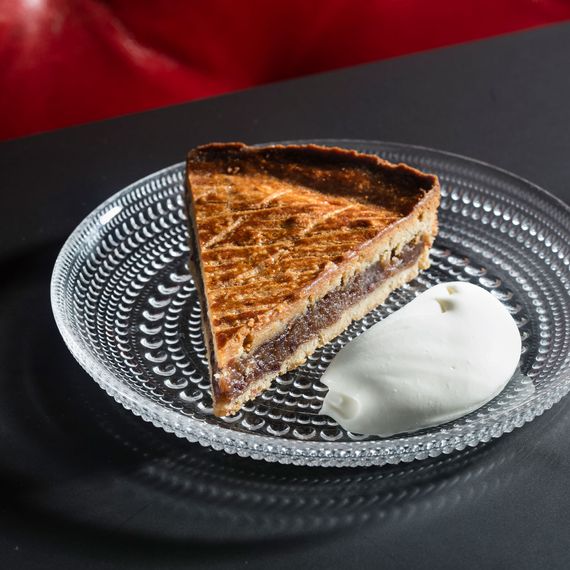 Kāwi | 86 (out of 100)*| Very Good
20 Hudson Yards, fifth fl. (entrance at Tenth Ave. and 33rd St.); 646-517-2699; kawi.momofuku.com
Open: Lunch and dinner daily.
Prices: Appetizers, $12 to $34; entrées, $28 to $69.
Ideal Meal: White-pepper wings, ribs and/or pickled brisket, raw marinated crab, stinky soybean stew or grilled New York strip or chicken for four, shaved-ice bingsoo.
Note: Many of these dishes are available at lunch in lighter, neatly packaged "Kāwi Sets," and if you're looking for a stiff drink after visiting Neiman Marcus, the bar serves a lovely floral-tasting martini made with Japanese gin.
Scratchpad: Three-star (err, 90-point) cooking in a zero-star (60-point) location adds up to a very good 86.
*The rating scale of 0 to 100 reflects our editors' appraisals of all the tangible and intangible factors that make a restaurant or bar great — or terrible — regardless of price. See The Thousand Best for 999 more great places to eat and drink.