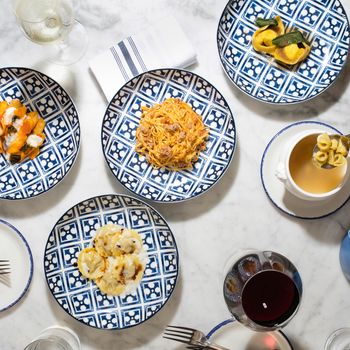 New York has never had a shortage of old-school red-sauce spots or exuberantly expensive odes to Italian cooking, but the last few months have seen a serious uptick in restaurants and cafés from Italians eager to introduce New Yorkers to the way Italy eats now, whether that's sandwiches served on the Florentine answer to focaccia, strong cocktails poured in a bar bedecked in dark wood and Carrara marble, or regional cooking from Piedmont, Tuscany, and Emilia-Romagna. Here are the seven new molto Italian restaurants that demand your immediate attention.
Rezdôra
At this new Flatiron spot, chef Stefano Secchi is determined to bring the best of Emilia-Romagna to Manhattan. Though American-born, Secchi trained at Massimo Botura's famed Osteria Francescana in Modena. Your meal might start with a trio of gnocco fritto, topped with prosciutto, mortadella, and Tuscan finocchiona. Pastas display serious technical perfection, like the stuffed anolini, a style of pasta from Parma that is bathed in a sauce that makes the most of the region's famed Parmigiano. For dessert, of course, you'll find some of the city's most impressive new gelato, especially the dark, surprisingly toasty pistachio.
Il Divo
The Upper East Side is already home to longtime favorites Sfoglia and Caravaggio, and now Antonio Sinesi — a Milan restaurateur who made his name with unfussy food and a high-fashion crowd at Al Valentino — is here, too. That same spirit of sprezzatura is on display at Il Divo, where chef Matteo Limoli sticks to the classics: gnocchi cacio e pepe, fettuccine with traditional Bolognese, and an understated but sophisticated take on veal with bacon and snow peas.
All'antico Vinaio at Otto
This pop-up from Italian sandwich mecca All'antico Vinaio won't be around forever. Through July 13, New Yorkers have a chance to get a taste of this beloved Florentine spot known for sandwiches like La Summer (stuffed with thin slices of prosciutto, tomatoes, arugula, and fresh mozzarella), and La Favoloso (artichoke spread, pan-roasted eggplant, pecorino cheese, and Tuscan salami), which arrive on oil-soaked schiacciata flatbread. Lines start forming quickly outside host pizzeria Otto in Greenwich Village, so get there early and hungry.
Bar Pisellino
This casual cocktail bar — from Italy native Rita Sodi and Jody Williams of Via Carota and I Sodi fame — for all intents and purposes evokes what Williams calls "the feeling of a train station out in the country, where you end up at the bar and you miss your next three trains because you met somebody and you're having such a good time." Most visitors are already drawn to the Aperol spritzes on tap, but don't sleep on the sgroppino, a lemon-sorbet cocktail with vodka and prosecco, or the negroni sbagliato, a bitter and bubbly combination of Campari, prosecco, and vermouth di Torino that's a lighter riff on the gin-heavy original. Of course, in the classic Italian style, aperitivi demand snacks. They're covered here in the form of tuna sandwiches with fennel, cacio e pepe potato chips, mushroom-and-rice arancini, and Italian-style Klondike bars with hazelnut gelato in a chocolate shell.
10 Corso Como
If we were to trace the origin of this sudden spate of Italians landing in New York, it begins with 10 Corso Como, the restaurant-shopping center-art exhibit — who says you can't be all things to all people? — that opened in September 2018. Here, the saffron-scented risotto Milanese and rosy tagliata steak are reminders why some classics don't go out of style.
Feroce
Feroce is a three-headed beast of a spot in Chelsea's Moxy Hotel with a bar, café, and full-service ristorante. It's the brainchild of Francesco Panella, the restaurateur behind Brooklyn's Antica Pesa and heir to the original location in Rome, which dates back to 1922 and is backed by the clubstaurant experts from the Tao Group. The kitchen takes a decidedly un-locavore approach to sourcing, stocking its larder with ingredients imported from the motherland: lemons from the Amalfi Coast for lemon sorbet, mortadella from Bologna, Piennolo tomatoes grown near Mt. Vesuvius, and borlotti beans from Alberti Farm in Umbria.
D'Antan
Alessandro Trezza, the Italian-born restaurateur behind this new Crown Heights spot, accents the traditional with a modern-Brooklyn sensibility, combining dishes from Piedmont with the city's lingering natural-wine obsession. Between cloudy glasses of pinot grigio and dolcetto, nibble on raschera cheese shipped straight from Piedmont and go all in on the tagliatelle with braised venison ragu and hazelnuts before closing the evening out with a tipple of one of the restaurant's 14 vermouths, a nod to Turin's role as the birthplace of the fortified wine.