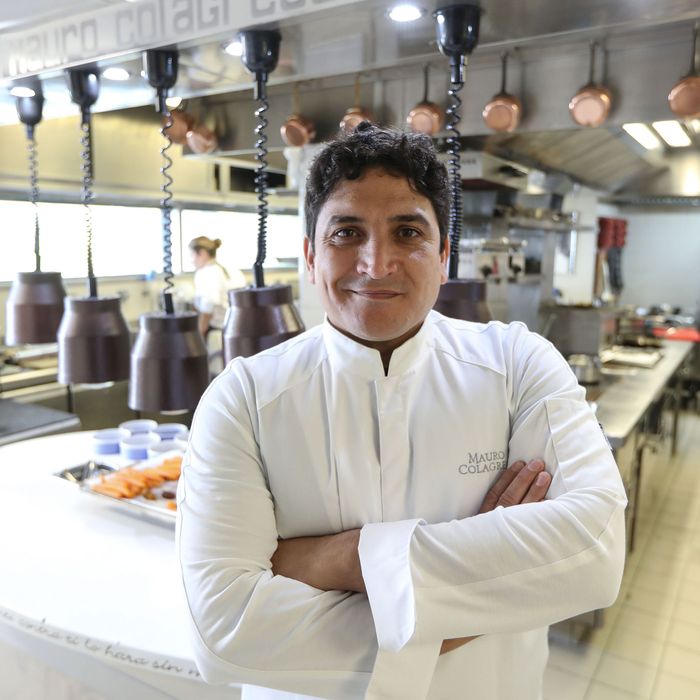 Chef Mauro Colagreco's Mirazur took the top spot.
Photo: Valery Hache/AFP/Getty Images
Trophy diners, aim your forks. William Reed Business Media has released its "World's 50 Best Restaurants" list. The top-ranked restaurant on this year's index is France's Mirazur, which last year was ranked No. 3. Meanwhile, Noma 2.0 — always a favorite to win — arrives at No. 2, while Asador Etxebarri jumped from No. 10 to No. 3. But wait! Where, you're asking, is some place like Osteria Francescana, which seems to win this contest each year? This is the first year that restaurants which were previously ranked No. 1 will no longer be featured on the list, something it was reported restaurateurs actually lobbied for themselves. (Noma was allowed into the party because the original restaurant closed, and the new location is — at least as far as this list is concerned — a "new" restaurant entirely.)
Other notable entries: Dominique Crenn's Atelier Crenn landed at No. 35, after being entirely absent from the 2018 list and appearing at No. 83 in 2017. Crenn herself has criticized the lack of female representation on the list, and has expressed her hope that awards like the World's Best Female Chef disappear. Leo is the first restaurant from Colombia to ever be featured on the list, at No. 49 while Enrique Olvera's Pujol is the highest ranked North American restaurant, at No. 12, and his New York spot Cosme is the highest ranked one from the U.S. at No 23.
These top 50 come on the heels of the previous the extended rankings, which now count 120 restaurants. On the long list, Thomas Keller's Per Se fell from No. 81 to No. 115, beyond the scope of the original extended list. New York's Momofuku Ko fell from No. 62 to No. 72, and Chef's Table at Brooklyn Fare dropped from No. 69 to No. 77. The Korean tasting menu spot Atomix, however, debuted, just slipping in at No. 119 — so close!
Here's the full list:
1. Mirazur (France)
2. Noma (Denmark)
3. Asador Etxebarri (Spain)
4. Gaggan (Thailand)
5. Geranium (Denmark)
6. Central (Peru)
7. Mugaritz (Spain)
8. Arpège (France)
9. Disfrutar (Spain)
10. Maido (Peru)
11. Den (Japan)
12. Pujol (Mexico)
13. White Rabbit (Russia)
14. Azurmendi (Spain)
15. Septime (France)
16. Alain Ducasse au Plaza Athénée (France)
17. Steirereck (Austria)
18. Odette (Singapore)
19. Twins Garden (Russia)
20. Tickets (Spain)
21. Frantzén (Sweden)
22. Narisawa (Japan)
23. Cosme (U.S.A.)
24. Quintonil (Mexico)
25. Alléno Paris au Pavillon Ledoyen (France)
26. Boragó (Chile)
27. The Clove Club (U.K.)
28. Blue Hill at Stone Barns (U.S.A.)
29. Piazza Duomo (Italy)
30. Elkano (Spain)
31. Le Calandre (Italy)
32. Nerua (Spain)
33. Lyle's (U.K.)
34. Don Julio (Argentina)
35. Atelier Crenn (U.S.A.)
36. Le Bernardin (U.S.A.)
37. Alinea (U.S.A.)
38. Hiša Franko (Slovenia)
39. A Casa do Porco (Brazil)
40. Tim Rauer (Germany)
41. The Chairman (Hong Kong)
42. Belcanto (Portugal)
43. Hof Van Cleve (Belgium)
44. The Test Kitchen (South Africa)
45. Sühring (Thailand)
46. De Librije (Netherlands)
47. Benu ( U.S.A.)
48. Ultraviolet (China)
49. Leo (Colombia)
50. Schloss Schauenstein (Switzerland)
51. Reale (Italy)
52. Mikla (Turkey)
53. Arzak (Spain)
54. D.O.M. (Brazil)
55. Maeemo (Norway)
56. Relae (Denmark)
57. Nobelhart & Schmutzig (Germany)
58. Sud 777 (Mexico)
59. Burnt Ends (Singapore)
60. Indian Accent (India)
61. Uliassi (Italy)
62. Nihonryori Ryugin (Japan)
63. Florilège (Japan)
64. The Ledbury (U.K.)
65. Selfie (Russia)
66. Core by Clare Smyth (U.K.)
67. Astrid Y Gastón (Peru)
68. Fävikin (Sweden)
69. Nahm (Thailand)
70. Saison (U.S.)
71. Singlethread (U.S.)
72. Aqua (Germany)
73. Maní (Brazil)
74. Lasai (Brazil)
75. Diverxo (Spain)
76. Momofuku Ko (U.S.)
77. Chef's Table at Brooklyn Fare (U.S.)
78. Lido 84 (Italy)
79. Mingles (South Korea)
80. Estela (U.S.)
81. Quique Dacosta (Spain)
82. Enigma (Spain)
83. Dinner by Heston Blumenthal (U.K.)
84. Attica (Australia)
85. Amass (Denmark)
86. Tegui (Argentina)
87. Martin Berasategui (Spain)
88. Lung King Heen (China)
89. 108 (Denmark)
90. Alo (Canada)
91. Sushi Saito (Japan)
92. Harvest (Russia)
93. La Cime (Japan)
94. Aponiente (Spain)
95. Gaa (Thailand)
96. Belon (China)
97. Vendôme (Germany)
99. Anne-Sophie Pic (France)
99. The Jane (Belgium)
100. Oteque (Brazil)
101. Brae (Australia)
102. Amber (China)
103. Jade Dragon (China)
104. Cococo (Russia)
105. Kadeau (Denmark)
106. Restaurant David Toutain (France)
107. Il Ristorante Luca Fantin (Japan)
108. L'Astrance (France)
109. Alcalde (Mexico)
110. Neolokal (Turkey)
111. Chambre Séparée (Belgium)
112. St. John (U.K.)
113. Vea (China)
114. La Colombe (South Africa)
115. Per Se (U.S.)
116. St. Hubertus (Italy)
117. Epicure (France)
118. Ernst (Germany)
119. Atomix (U.S.)
120. Sugalabo (Japan)