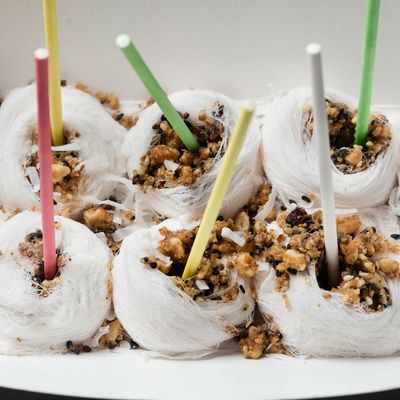 East Wind Snack Shop's dragon beard candy.
Photo: Melissa Hom
Since 2015, East Wind Snack Shop has been a dumpling destination in Windsor Terrace. At the small, 17-seat restaurant, the chef Chris Cheung fills potstickers with dry-aged beef, engineers delicate har gow so he can pan-fry them, and tweaks classic dishes like gwa bao. Over the last few years Cheung has expanded a couple times, first to a now closed flea market in Manhattan and then to the North 3rd Street Market. On Friday, he quietly opened the doors to a second brick and mortar location in Cobble Hill.
This second East Wind is slightly larger than the original, at 500 to 600 square feet with 30 seats. There's a backyard, too, where you can bring your food, and the design draws on the same red-and-white palette. There won't be any alcohol here (just bubble tea) but as at North 3rd Market, where you can find General Tso's glazed fried chicken, Cheung will introduce a few dishes to compliment the dumplings.
"My cooking is very close to Chinatown cooking, the cooking that the restaurants do for their own community," says the chef, who grew up at his mother's in Brooklyn and grandmother's in Chinatown. The new dishes are very much in line with his approach of carefully tweaked riffs, and cooking that brings something new to familiar dishes. Cheung takes some cues from his wife's Shanghainese heritage, evident in a dish he's calling Shanghai shrimp. Inspired by shrimp with lobster sauce, it's made with crab eggs, dried scallops, and, of course, its namesake.
There's a version of the Chinese-American classic beef and broccoli, made with braised, slow-cooked short ribs, thinly sliced Chinese broccoli, and a mix of oyster and abalone sauce. Then there's the chow fun noodles, though they might not be exactly what you expect. Cheung's isn't just a rendition of the Chinese-American dish, made with wetter, stir-fried meat, oyster and soy sauces, and wide rice noodles called hor fun. "There's a dish that's kind of a spinoff, which ties in Chinese cuisine but also Southeast Asian cuisine," he says. "They use the same fresh rice noodles, but in the Southeast Asian version they'll add egg, bean sprouts, chili paste. It boosts up with the flavors. Mine is a kind of cross between the two."
He's putting in the work to make the rice noodles in-house ("I'm not an Italian pasta chef," he jokes), but the dish he's most excited about is, actually, a dessert. Called dragon's beard candy, it's a street sweet that you'll find in cities like Shanghai and Hong Kong and is something of a spectacle that can be treated as an art. It looks like cotton candy and is comprised of thousands of fine threads of sugar. To make it, you start by simmering sugar and maltose syrup (traditionally) until it forms a gel that is then shaped into a ring, dipped in starch so it doesn't stick to surfaces, and then pulled repeatedly so it separates into smaller threads. Rather then YouTube, Cheung learned the old-fashioned way.
"Last summer my wife's uncle came from Shanghai to live with my wife's father, I didn't know him too well. So we would go over, and I found out he was a candy maker in the streets of Shanghai in the night markets," Cheung says. "I basically made him teach me this recipe and technique, and he was happy to. We practiced all last summer, and we've been practicing ever since."
Dragon's beard is something you'll find in other countries like Singapore, South Korea, and Taiwan, and was served in New York, until a few years ago, in Chinatown at Yao's. It's not an easy thing to learn, by all accounts. The daughter of Sydney dragon's beard maker Gary Au told Australia's Special Broadcasting Service it took her "years to perfect the wrapping process."
(There are, of course, pre-made versions available.)
After all that learning and labor, dragon's beard is an ephemeral treat that needs to be enjoyed immediately. At East Wind, Cheung presents them like lollipops, spools of sugary yarn on variously colored sticks, and garnished with peanuts and other toppings. "My technique is based more on the street-food side, because that's how I learned," he says. "I'm not quite up to the art of it yet. But you know me, I'm working toward it."
East Wind Snack Shop, 253 Smith St.; nr. Douglass St.