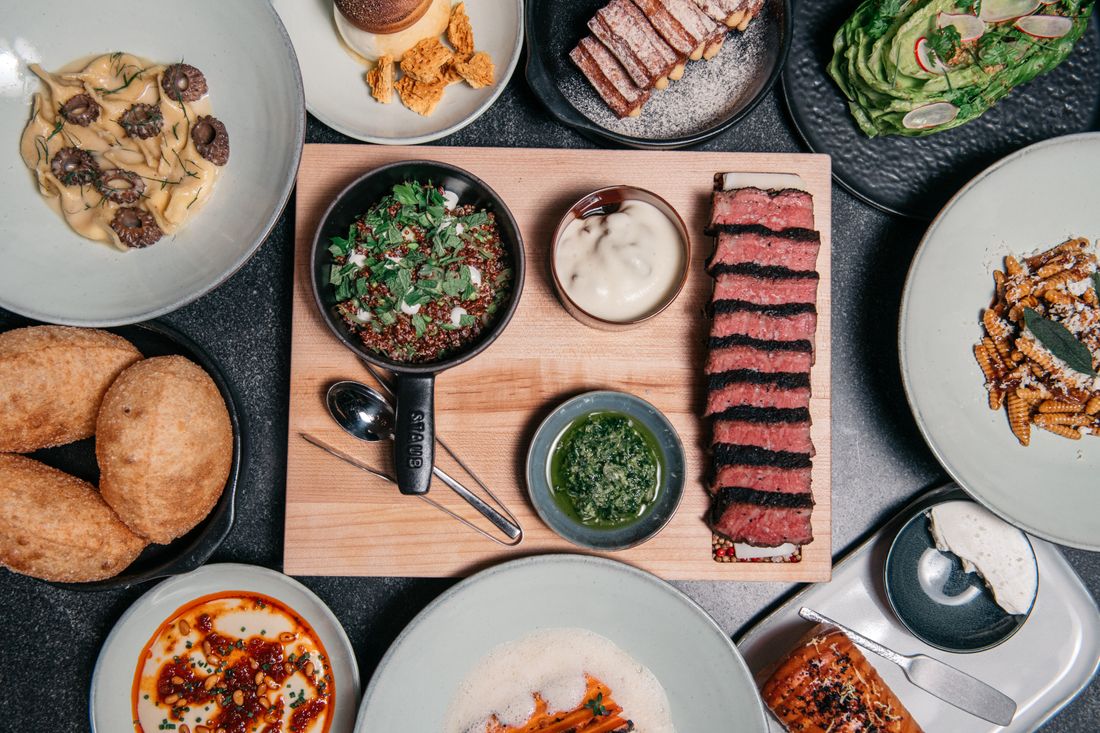 A Crown Shy spread.
Photo: Scott Heins
So what identifies a restaurant of high purpose and ambition in this post-gourmet era of skyrocketing costs, shrinking menus, and ever smaller, simpler (and louder) dining rooms? An esoteric, slightly puzzling name is helpful when it comes to telegraphing a certain kind of poetic gravitas, and so is the sound, as dinner proceeds, of the kitchen staff calling out to each other in the spirited Japanese style. An obsession with different varieties of fresh-baked bread seems to be a sign of a serious kitchen these days (especially if you have to pay extra for it), along with at least one signature large-format farm-to-table dish (côte de boeuf, the ubiquitous chicken for two) and, of course, a preoccupation with vegetables served in all sorts of artful, seasonally appropriate forms.
You'll find many of these characteristics on display at Crown Shy, a large, deceptively ambitious restaurant that opened a couple of months ago off the spiffily renovated, landmarked lobby of an old Art Deco tower down on Pine Street. The name refers to the natural spacings between treetops in a forest canopy, in case you didn't know, although the reference here seems to be to the tops of the tall towers on Wall Street instead of actual trees. There are plenty of carefully conceived vegetable options on the menu at first glance (charred carrots, crunchy cauliflower florets, servings of meticulously stacked romaine), and partners Jeff Katz and chef James Kent are veterans of disciplined, shipshape restaurants around town (Katz is managing partner of Del Posto; Kent was the chef de cuisine at Eleven Madison Park), which means you'll hear their legions of cooks call out in unison now and then from the open kitchen like troops on a parade ground.
But once we'd settled into our table in the somewhat randomly appointed dining room (crowded bar area, brown woodsy tones everywhere, all bathed in a loud, innocuously thrumming soundtrack), the thing that caused everyone to snap to attention was the bread. "This is not your average Parker House roll," someone said as we examined three warm, delicately puffy globes of Indian-poori-like bread the size of small grapefruits, designed to be torn apart and dipped into a creamy hummus made with white beans instead of the usual chickpeas. The hummus was dressed with a drizzle of olive oil and a dollop of guanciale-rich 'nduja, and as we enjoyed it with our shreds of poori, another freshly made wonder appeared — this one described as a loaf of "pull-apart bread" that was dusted on its warm, golden top with crumblings of dehydrated black olives, brown-butter solids, and a faint trail of what looked like lemon zest.
In the tradition of first-class post-gourmet restaurants everywhere, you'll have to pay for the poori-style bread and hummus ($12), but miraculously the pull-apart loaf is complimentary and meant to be enjoyed with a whole variety of small, carefully articulated dishes. These include the aforementioned cauliflower (encased in a sticky-sweet General Tso's–style crust) and the charred carrots, which are set in a frothy broth that turns out, upon closer inspection, to be a delicious chowder with fresh razor clams lurking at the bottom of the bowl. The crudo we sampled was made with red snapper, instead of the usual tedious fluke, and pounded together with bits of citrus into a kind of elegantly zesty tartare, although the dish I kept thinking about on the ride home was the romaine salad, which the kitchen stacks leaf by perfect leaf into a small tower and sprinkles with bread crumbs and a tangy, lightly creamy Green Goddess dressing.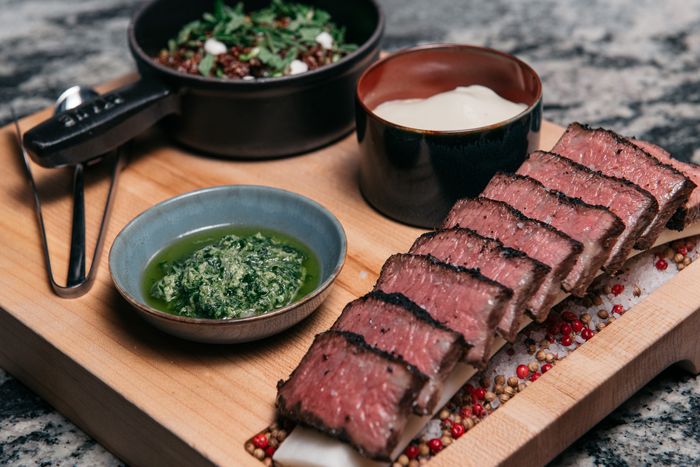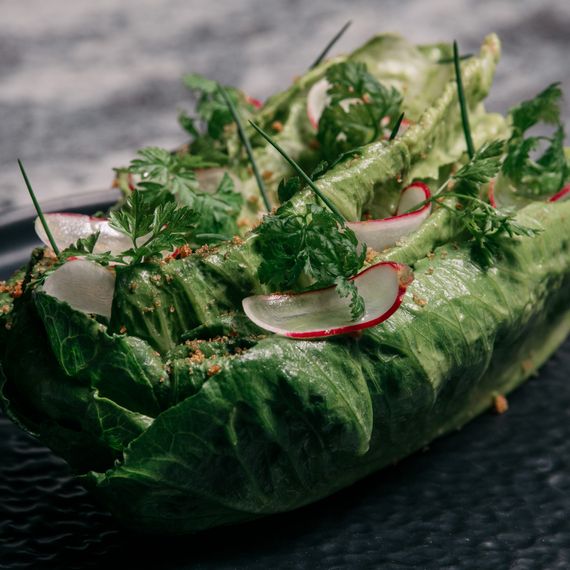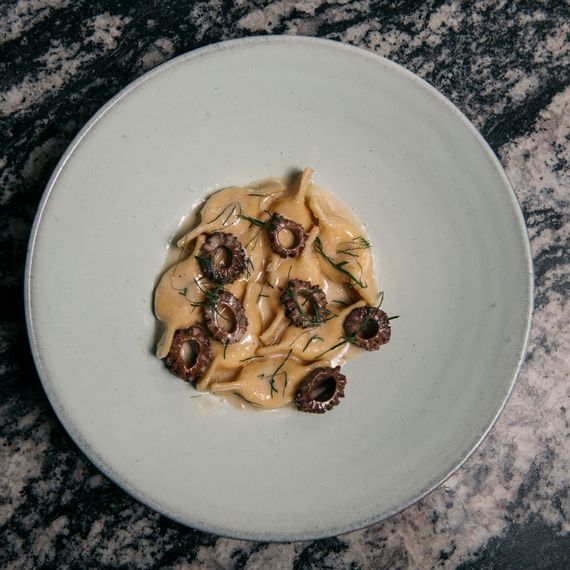 Not all of the larger, entrée-style protein items I sampled on my journeys down to Wall Street managed to tie artistry and pleasure together in such a neat little package, although one or two came close. If the lamb prime-rib appetizer is on the menu, order it immediately (it's served boneless in tender little chunks with farro and a single pickled ramp), along with pasta dishes like the candy-shaped caramelle dressed with mushrooms and the cavatelli, which was tossed, on the evening I enjoyed it, in a dense, vinegary chicken-liver ragù. The chicken entrée is much better than the shoe-leather-tough grilled pork chop (the chicken is spiced with a chile sauce and served, in haute-barnyard fashion, with the claw attached), but if you're still feeling hungry after all of the roughage and bread, call for the short rib, which is roasted to a proper tenderness and served in carefully carved squares laid out on a giant rib bone.
Katz and Kent plan on opening a more rarefied, more old-school-gourmet destination called Saga on top of 70 Pine later this year, although for workaday New Yorkers, especially those who find themselves stranded in the culinarily challenged canyons of Wall Street, this more accessible ground-floor bookend will likely remain the best place to sample the young chef's precise, seasonal brand of cooking. The presence of a pastry chef is another sign of a top kitchen these days, and Renata Ameni, who also served time in the Eleven Madison army, does an excellent job of investing simple comfort-food classics with an elevated, creative touch. The house cheesecake is folded with yogurt and dressed with baby strawberries, and that old fatso favorite sticky-toffee pudding is served with green apples and a fluffy cloud of chantilly cream, but save room for the house-churned ice creams, especially one flavored with oranges, which is dappled with chunks of candied honeycomb and crowned with a decorative cap of meringue.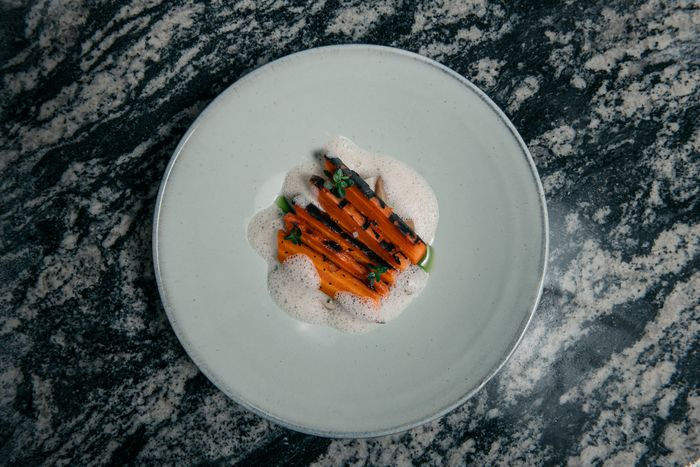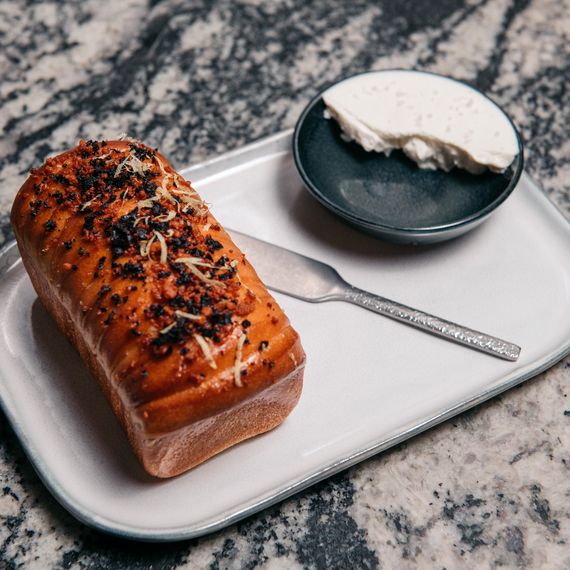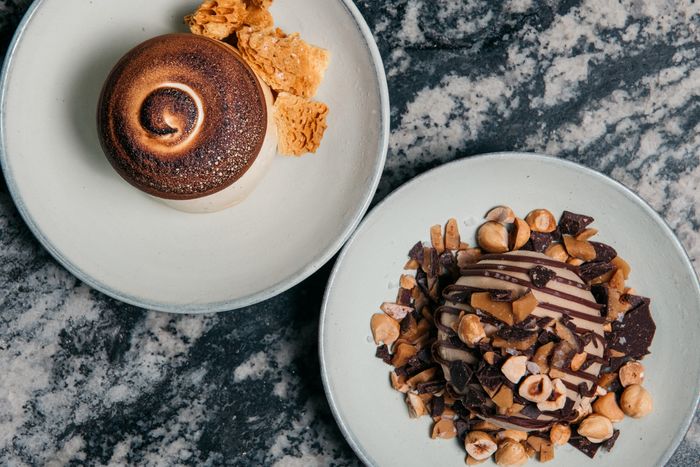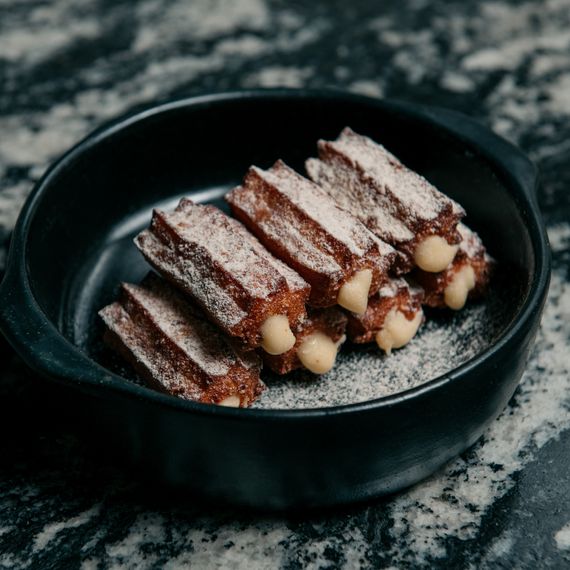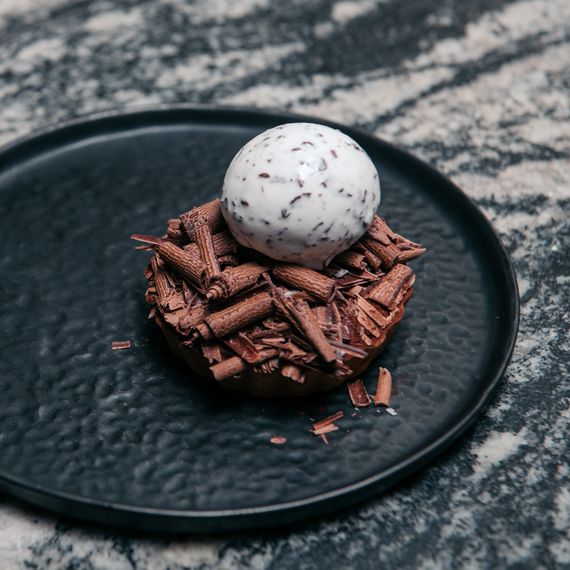 Crown Shy | 86 (out of 100)* | Very Good
70 Pine St., nr. Pearl St.; 212-517-1932; crownshy.nyc
Open: Dinner nightly.
Prices: Appetizers, $9 to $26; entrées, $29 to $59.
Ideal Meal: White-bean hummus with poori, romaine salad and/or charred carrots, caramelle pasta, chicken, short rib or lamb prime rib, sticky-toffee pudding, ice cream.
Note: To the joy and relief of Wall Street cubicle dwellers, the restaurant will begin lunch service later this summer.
Scratchpad: Minus a few points for the generic surroundings, but the service, menu, and quality of those post-gourmet touchstones (bread, vegetables, dessert) all add up to a very good 86.
*The rating scale of 0 to 100 reflects our editors' appraisals of all the tangible and intangible factors that make a restaurant or bar great — or terrible — regardless of price. See The Thousand Best for 999 more great places to eat and drink.
*A version of this article appears in the June 10, 2019, issue of New York Magazine. Subscribe Now!