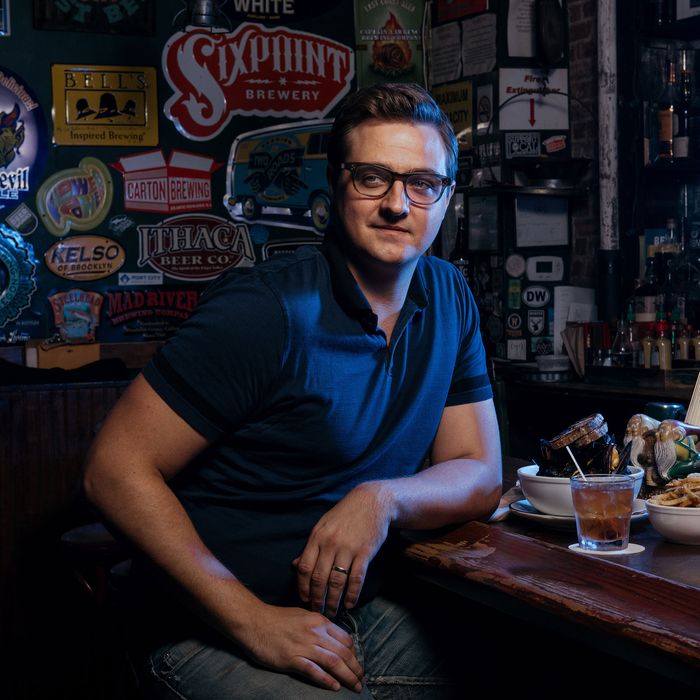 Chris Hayes at the Double Windsor.
Photo: Scott Heins
Over the last week, Chris Hayes's diet has mostly consisted of the Democratric Presidential Primary debates, which he's covering as the host of MSNBC's All In. When he isn't talking politics on television, he's doing so for his podcast (Why Is This Happening?), or writing about them in magazines and books (including A Colony in a Nation). When it comes to his food diet, however Hayes is bit more measured ("not effortless" is how he describes his diet) and quick to admit he's an egg salad guy who likes his low-key local spots like the Double Windsor. This week, he drank his favorite summer cocktail, the Negroni; ate pizza at Twin Star Orchard; and had his wife's seven-minute egg, which he says is "like a miracle." Read all about in this week's Grub Street Diet.
Thursday, June 20
For breakfast I had a small piece of baguette with some egg salad. This item appeared in my fridge of unknown provenance and I didn't inquire as to its origins. I think my parents may have brought it when they came by, and it's really not the sort of thing my wife Kate, who makes insanely good egg salad from scratch, would have acquired. This one looked pretty delicious, too, and I ate it and it was. I've always liked egg salad. I'm a sucker for the salads.
Mid-morning, I had a protein shake and then did a pretty intense weight training workout followed by another protein shake (The Cytosport brand seems to pack the most protein into 260 calories, so that's my go-to.)
At night, I met Ta-Nehisi Coates for dinner at Prune in the East Village, which I'd never been to before. He had eaten there a few times. It was fantastic. I usually don't drink on weeknights but made an exception for a dinner out with a friend, so I had a few Negronis, the most delicious summer cocktail. I have a very nice association with Negronis, and I only drink them in the summer. There's that brightness of the Campari. It's one of those things, like the smell of sunscreen, which might, in other contexts, be just like weirdly, chemically perfumed, but here is an incredibly delightful smell, because of the association of being at the beach or pool.
Anyway, we had a great meal, some fried chickpeas to pick on, some celery toast, some grilled onions, this dish that sounded super weird but was extremely delicious that was basically peas, lettuce, and milk (!), and a perfectly cooked duck breast. About the peas: I was just like, "what is that? What is the genre of dish that is milk, peas, and lettuce?" It's a little like, a lot of pasta dishes work off the fattiness of the dairy and the sweetness of the pea. It was basically that, without the pasta and with the lettuce in it. It totally worked.
Friday, June 21
Kate and I got up with the kids at around 7 a.m. She had to be up and out early because the Supreme Court was in session, and along with being a professor at Cardozo she also does Supreme Court commentary for ABC. I usually take the kids, Ryan and David, to school and make them breakfast and get them ready and drink a bunch of coffee to power me through that. (We also have an 18-month-old who, needless to say, doesn't go to school.)
I had a few eggs when I got back to the house after dropping everyone off: broken yolks, fried, Sriracha. I then went back to sleep for a bit, which I try to do whenever I can. My schedule is so weird and unnatural. I get home at 10 p.m., the earliest I got to bed is midnight, and then the kids are up and I need a fair amount of sleep to be my sharpest at 8 p.m.
I had some chicken salad on a roll for lunch, which I picked up from Whole Foods, then went to my gym where I met my trainer and Kate (who was released from Supreme Court commentary duty, thankfully) and we worked out together. It's a really delightful treat in the middle of the day to workout together. I had another protein shake afterward.
On Fridays, we order dinner at the office. It comes around 5 p.m. and the orderer is set on a rotating fashion. I generally never eat before the show because it makes me logy, but make an exception on Fridays.
This time was Indian from Bengal Tiger, which was good. My first thought whenever it's Indian food at work is "Don't eat the samosas, don't eat the samosas." I cannot not eat them. I was just going to keep it carb-free, just have my chicken tikka (it was delicious), and have some saag paneer. Then ten minutes went by, I was still a little hungry, I walked by the samosas, and they were just talking to me. Two samosas later and it's, "Goddammit, Chris."
Saturday, June 22
We woke up in Brooklyn, and got a bagel egg and cheese (no bacon, obviously, because I am virtuous and watching my figure) from Connecticut Muffin.
I am a true lover, to this day, of a New York City deli, bodega, food and sandwiches. It hits some deep comfort part of me. The chicken cutlet sandwich with lettuce, tomato, and mayo on a roll — I loved it when it was I was 16, and I still eat it now.
After breakfast, Kate and the kids and I drove up to our house in Ulster County. We stopped for lunch at Twin Star Orchards (slash-Brooklyn Cider House), a fantastic orchard, pizzeria, and burger place where the kids can run around and you can sit outside and drink cider. We like the Kinda Dry, which is, confusingly enough, their sweetest one.
The kids and Kate had a margherita pizza. My 5-year-old son, David, had a burger (he took enough bites to justify getting some soda) and I got the seasonal pizza with ricotta, prosciutto, fig, lemon, and arugula that was delicious. I took some prosciutto off for Kate, who is a vegetarian, and she agreed.
I love pizza, but I just never eat it in the city, really. The kids will sometimes have it, but they just order a slice-place-down-the-block kind of thing. The place I like the most is Saraghina, which is like really freaking good. My mom made homemade pizza when I was growing up that was amazing, and is still some of my favorite pizza in the world. That was like closer to thin crust and very sort of authentic. I like that kind of pizza over the oily New York City slice. Which, again, I love that too and if someone hands me and I'm going to absolutely eat it and have positive associations with it.
That afternoon, Kate made some exceptionally delicious sangria, a specialty of hers. I don't know what makes it so good; its like some sort of magic. We went to a friend's house and swam in their pool and drank it.
Later, we made mac and cheese for the kids for dinner, but having snacked on cheese crackers and avocado very late in the afternoon just kind of didn't have dinner. The main thing here is I'm sort of a food philistine. I am lucky enough to live in New York with disposable income, and I definitely like good food. But we go upstate a lot of weekends, and my schedule is so weird, so, I'm not that attuned to what's opening, what's closing, who's a hot chef, stuff like that. Instead, I'll tune in when an opportunity presents itself to have a good dinner.
Sunday, June 23
Woke up with the kids in the Hudson Valley. Kate made me two eggs, which I scarfed with Tabasco before we went out and did some shopping in preparation for my mom's birthday party, which we'll be hosting up there the following weekend.
For lunch, Kate made one of her delicious salads, that she often makes for me when I get home at 10 p.m. They're my favorite thing to eat after a long day. This one was arugula, radishes, avocado, some farro (she usually works in some kind of grains), and then, the pièce de résistance, Kate's perfect seven-minute egg. "It's like the kind you get in ramen — it's a miracle." It didn't occur to me until she started making it that you could even make it. I just thought, you just need to be in a ramen place — that's the only way to get an egg like that. No. You can just cook it a certain amount of time.
That night for dinner, I had my first ever Beyond Meat burger. I grilled those (I'm fairly adept on the grill) with some shishitos. There's like a bazillion different fake meat burgers. My wife's a vegetarian — and has been since, I think, she was 11 — and my oldest daughter doesn't really eat meat, so we are a very veggie household. But this was the first time I had the explicit fake meat. I just started reading about it, their stock was going crazy, Burger King is serving those Impossible burgers, it was in the news. So I was like, "let's try this bad boy out." I give the Beyond Meat a B+. Didn't quite live up to the hype, but pretty delicious all in all.