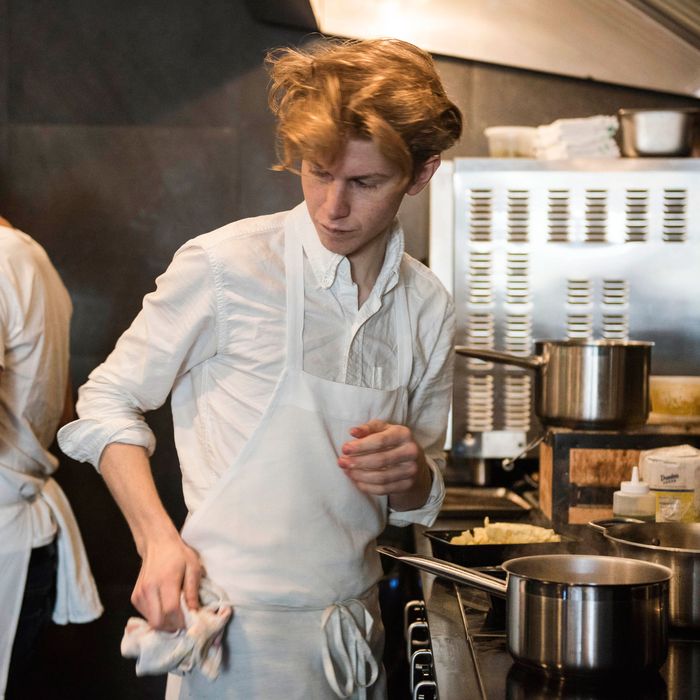 Former teen chef Flynn McGarry is taking his show on the road this summer, according to a report in the New York Times. The 15-month-old restaurant, Gem, will serve its last Ritz Cracker sandwich with foie gras at the end of the month.
Since opening last February, McGarry's first standalone restaurant has received positive reviews, securing a spot on our own Adam Platt's list of The Absolute Best New Restaurants of 2018, where he commended the tasting-menu restaurant for serving "some of the best elevated vegetable creations we tasted all year" in a space with "laid-back L.A.-style décor and vibe." Earlier in the summer, Times critic Pete Wells awarded Gem two stars. Last year, a documentary about McGarry's career entitled Chef Flynn premiered at SXSW, receiving mostly positive reviews. (It's now available to stream on Hulu.)
In an email to Grub, the Gem team confirmed the temporary closure, which will begin on June 29 and run through September 4. During the ten-week hiatus, McGarry "will be spending the summer traveling to gain new inspirations and cooking dinners here and abroad," including a two-week pop-up in London at the end of July.
So, that gives you just 18 days to make a reservation at the restaurant or forever hold your peace (at least through Labor Day Weekend).