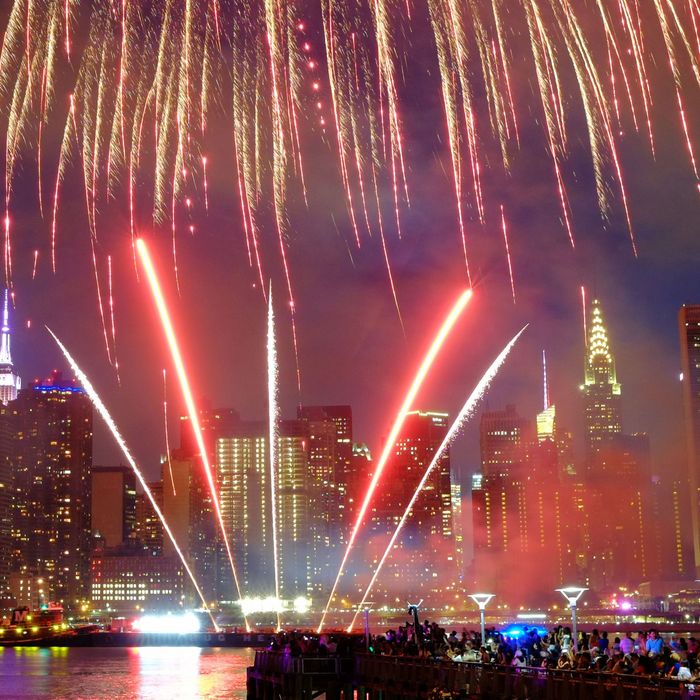 It's the best weekend to stay in town.
Photo: Eduardo Munoz Alvarez/AFP/Getty Images
With July 4 coming next week, we are in for a four-day weekend to end all four-day weekends. Sure, you could hop a train or a plane out of town, but real ones know the best place to go over a holiday weekend is your own backyard. As usual, the city's many restaurants, bars, and venues have an impressive slew of events planned, including a pig roast, a party on a schooner in the East River, and more rooftop parties than we know what to do with. Here's how to spend the Fourth in New York City.
Fill a plate up at the Dutch.
Andrew Carmellini's the Dutch never disappoints on holiday weekends. On July 4, the Soho restaurant will serve a special, cookout-style menu featuring sticky pork ribs, lobster rolls with citrusy yuzu pickles, a $39 barbecue plate stacked with brisket, roast pig, chicken, watermelon, a Parker House roll, and that all-American classic: the corn dog.
Hang out with Threes Brewing on Governors Island.
This Gowanus-born hot spot will host July 4th parties at both the original location and the Greenpoint outpost, but the real party will be on Governors Island, where the brewery-bar is assembling a little get-together as part of a summerlong residency on the island. Italian-American restaurant Popina will be grilling while Threes provides the necessary beers. The free-to-attend affair will take place at the Liggett Terrace food court in the center of the island starting at noon.
Eat a whole hog and drink cider at Brooklyn Cider House.
Over in Bushwick, Brooklyn Cider House will celebrate America's birthday with a pig roast starting at 1 p.m. The premise is simple: Come hang out, play games on the patio, and listen to live music while digging into some roast pork, whether that's the $16 pork platter with coleslaw and a roll or the $12 pork sandwich. Either way, it'll be a good time.
Indulge in a margarita (or two or three) on Empellón's rooftop bar.
Those who love all things Empellón Al Pastor will want to head to the rooftop of the Pod39 hotel next Thursday. On July 4, the hotel will host a party on that same rooftop featuring margaritas and casual bites (think lobster rolls, grilled cheese, and hot dogs — all with a Mexican bent) as well as a nice view of the Macy's fireworks. Grab $40 tickets here.
Attend a "sunset social" at the Ophelia Lounge.
If you're looking for a bit of class amidst the usual holiday-weekend debauchery, this Art Deco lounge will be your oasis. Starting at 6 p.m., Ophelia, in Midtown East, is hosting a so-called sunset social, complete with assigned seats, open bar, raw bar, hors d'oeuvre like beef-filet skewers and lamb meatballs with tzatziki, and other bites. Find $150 tickets here.
Attend a backyard cookout in Ridgewood. 
Nowadays is the perfect place if you're in need of a spot to stretch your legs over the holiday weekend. On July 4, the Queens spot will host a barbecue in its massive outdoor space with plenty of ping-pong, bocce, and hammocks to spare. There'll also be tunes from DJs Butter and Cam as well as (non-Macy's) fireworks. Admission is free; the party starts at noon.
Grab your Sperrys and get on a boat.
With the fireworks shooting off near the Brooklyn Bridge this year, there's no doubt that Brooklyn Bridge Park will be filled to capacity. Pilot, a 140-foot schooner docked at Pier 6, is offering a pricey alternative: For $375 to $17,000 (should you and 19 of your friends want to take over the ship's bow), you can grab a coveted spot aboard the boat. The price includes a four-hour open bar, unlimited oysters, watermelon salad, caviar and tater tots, lobster rolls, Key-lime mousse, and a playlist that will surely include Fleetwood Mac and Steely Dan. Cop a ticket here.
Catch a J.Cole concert in Ridgewood.
Everyone who's been itching to see a live performance of "Middle Child" will be happy to know that Fayetteville's finest will be gracing the Brooklyn Mirage with his presence on the Fourth for its annual Day Party. Starting at 4 p.m., head to the Bushwick party venue for an entire day of hip-hop, dancing, and general carrying on. And because Grub wouldn't send you anywhere without food, rest assured there will be plenty from the Mirage's food court: tapas, classic American, tacos, and more.
Enjoy a crawfish boil at the East Village Standard Hotel.
Over on Cooper Square, the Standard Hotel's in-house restaurant, Narcissa, is hosting a good old-fashioned crawfish boil to celebrate the long weekend. Starting at noon on July 4, head to the restaurant for mushroom dip (made with mushrooms grown at the hotel), mini sourdough rolls, pulled-pork sliders with jalapeño slaw and bourbon barbecue sauce, funnel cakes, and, of course, more crawfish than you'll ever be able to eat. The prix fixe menu is $40 per person, not including drinks. And for an additional $50, guests can head to the hotel's rooftop for drinks and views of the fireworks.
Celebrate the Fourth at Jean-Georges's newest restaurant.
Good news for Jean-Georges: His new seafood-centric restaurant at the South Street Seaport is in the perfect spot to catch this year's fireworks. Accordingly, the Fulton is hosting a blowout dinner featuring seafood platters, sashimi, caviar purses with lime, longevity noodles with chunks of Maine lobster, and an open bar. In other words, a seafood lover's paradise. Tickets are about $490 after service charges, taxes, and fees. Purchase them here.
Spend the day at Williamsburg's North Brooklyn Farms. 
For the seventh year in a row, North Brooklyn Farms will host its annual Fourth of July party on a property near the Domino Park development. That puts attendees pretty close to the fireworks, not to mention hot dogs from Stina's Weina's, beer via Bushwick's Kings County Brewing Collective, and plenty of games and activities. Find $20 tickets here.
Eat your way through the Time Out Market and then see the fireworks.
In case you missed it, Time Out (the magazine) recently opened a food hall in Dumbo, and so it figures that the folks behind the venue would want to sell tickets to the hall's rooftop. For $200, guests will have access to said rooftop and its unrivaled views of the fireworks, as well as a card that can be used at all the market's vendors for food and drink. That gives you access to eats from Nur, Juliana's, Little Ada (from the folks behind Miss Ada), Fish Cheeks, Breads Bakery, Ice & Vice, and more. Purchase tickets here.
Dance the night away on the rooftop at the William Vale.
Few places do a rooftop like a hotel. Enter Westlight, the rooftop at the William Vale, which will throw a house dance party on July 4. Guests can grab a standing ticket or cop a table, depending on their group's size, and there'll be food from the in-house menu, which skews pretty international with shrimp dumplings, ceviche, hummus, empanadas, and a burger all making appearances. Tickets start at $95.
Chill by the pool (and the airport) at the TWA Hotel.
A long weekend is the perfect time to check out the TWA Hotel, the over-the-top venue at JFK airport with restaurants, bars, and shopping. For the Fourth, the hotel's Pool Bar is hosting a party with burgers, hot dogs, grilled corn, and ice-cream sandwiches, as well as cocktails from Aviation Gin. (Other cocktails will also be available.) The party starts at 4 p.m., so hop on the A or the E and don't forget to bring a swimsuit.
Sip your way through happy hour at Dear Irving on Hudson.
The midtown location of this beloved cocktail bar will host a Fourth of July happy hour from 4 to 8 p.m. with $12 cocktails and complimentary bites, including sliders and appetizers to munch on as afternoon transitions into evening. And should you miss the deal on the Fourth, it'll continue through July 7.
Shop and drink beer at the LIC Flea. 
And if you're in Long Island City, you'll want to check out LIC Flea, home not only to vintage clothing and quirky key chains but dozens of vendors specializing in Japanese crêpes, jerk chicken and pork subs, codfish fritters, and more. Even better, there's an on-site beer garden featuring Queens breweries, so you'll never get thirsty. The Fourth of July event kicks off at 3 p.m.
Bring a little color into your life at the Rockaway Beach Surf Club.
While everyone's grilling out, the folks at the Rockaway Beach Surf Club will host the fourth annual Festival of Color, the party where you come all dressed in white and leave drenched in colored powders. The party begins at 8:30 p.m., so your best bet is to hang on the beach, eat some tacos and burgers, and then head over to the festival. Admission is free.