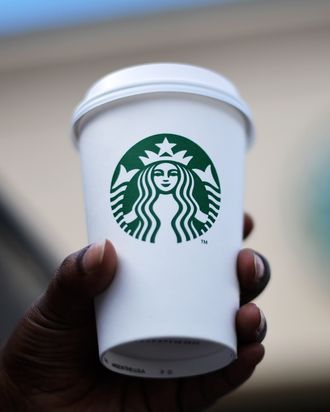 Starbucks cups in the state won't have cancer warning stickers.
Photo: Jewel Samad/AFP/Getty Images
California is a leader when it comes to facing down potential threats to human and animal life, whether that's becoming the first U.S. state to ban single-use plastic bags back in 2014 or being one of the few places in the country where it's hard to find a plastic straw.
But last year the state went a step too far after a Los Angeles judge upheld a statute that required coffee shops from Blue Bottle to Starbucks to put a cancer warning label on their cups under Proposition 65 or face fines of $2,500 per incident. All this came after coffee retailers were unable to prove that coffee contains only a negligible amount of the carcinogen acrylamide.
The state has, however, finally come to its senses. Eight years after this all began, California's Office of Administrative Law has issued an official Prop 65 exemption for coffee. Hallelujah.
More than 90 coffee retailers from McDonald's to mom-and-pop chains are still facing a lawsuit alleging that they sold coffee knowing it contained a carcinogen, but with this news, the lawsuit's days are likely numbered.