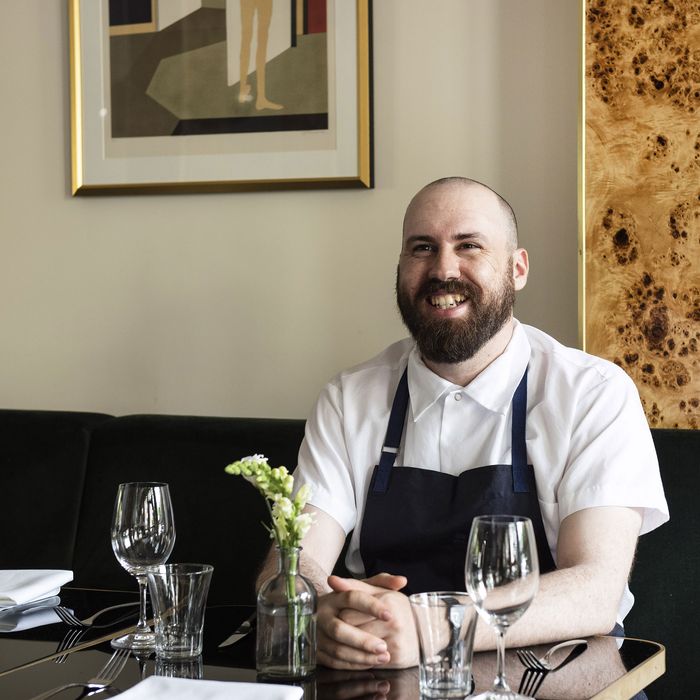 Mimi and Babs chef Efrén Hernández.
Photo: Liz Clayman
When the pint-size West Village bistro Mimi opened in late 2015, it did so without much fanfare. This didn't take long to change, courtesy of the talented young chef Liz Johnson. In a world that felt increasingly fast-casual, Johnson's cooking — the classic veal Oscar, crispy eel with peaches and mustard sauce — was daring and lavish, making it clear that she had some serious culinary pedigree. The restaurant became a surprise hit. New York's Adam Platt praised Johnson's "odd little wonders" in the same month that Mimi landed on GQ's national Best New Restaurants list. But, just as suddenly, Johnson left, and the young owners — Louis Levy, brothers Evan and Daniel Bennett, and Camilla Deterre (who is no longer an active partner) — found themselves in the unenviable position of having to replicate their lightning-in-a-bottle success.
For a while, the restaurant faltered, but there are once again interesting and unexpected things happening at Mimi, as close observers of the downtown scene may have noticed last spring. That's when the kitchen was given over to Efrén Hernández, a young chef who has been cooking a steady stream of dishes like firefly squid and merguez in pastis beurre blanc, and pork crepinettes with Madeira jus.
"There's no drama. He's very intelligent, he just wanted to learn, and he kept his head down and was just a calm presence in the kitchen," says the chef Melia Marden, for whom Hernández worked at the Smile. "He's someone who I'm happy to see doing what he's doing."
With Mimi seemingly righted, the restaurant's owners have moved ahead with their soon-to-open second restaurant, Babs, located around the corner. And with the renewed attention, Hernández's profile is now poised to rise considerably.
A first generation Mexican-American, Hernández was raised in the Los Angeles–adjacent city of Inglewood — "I grew up grilling every day," he says — and arrived in New York to study film at the Tisch School of the Arts. He met Evan Bennett when they were both helping out on a film by one of Bennett's high-school friends. "There was a wrap party, and Efrén and I just sat around and talked for three hours," Bennett recalls, with Hernández adding that they drank grappa and talked about working in restaurants.
After graduating, Hernández pursued film while working in the kitchen at Nitehawk Cinema. He took his first short film, Master Muscles, to Sundance in 2014 but became disenchanted with the movie industry. "I don't want to talk shit about film people, but I think restaurant people are more fun, more interesting — I get along with them more," he says.
After working at Nitehawk, Hernández left for kitchen gigs at the Smile and Faro, the celebrated Bushwick trattoria. "Ef was one of the most important people we hired," Faro chef and co-owner Kevin Adey says. Hernández eventually took over the pasta station and, Adey says, "I still use his employment as a benchmark for how good you have to be to work the station."
Eventually, Hernández started helping out at Mimi as a line cook "because," Evan Bennett concedes, "we really needed the help."
Evan's brother, Daniel, says from there it wasn't tough to decide that Hernández should be the one running the show. "I remember the chef at the time was trying to do this octopus dish for like a month and Efrén kind of quietly being like, 'I know how to cook the octopus,'" Daniel recalls. "'So why don't you just tell him?' Efren was like, 'I can't tell him. He's the chef.' So we were like, 'Okay, you need to be the chef.'"
Now Hernández has reinstated Mimi's more experimental focus. Two unlikely and constantly evolving staples of the menu remain: blood sausage — currently available stuffed inside a fried soft-shell crab — and brains, offered now alongside fava beans, morels, and caviar. "His food doesn't feel pretentious," the Smile's Marden explains. "It feels like he just loves using these ingredients and making dishes that he thinks are delicious."
Hernández has infused the restaurant's neo-bistro spirit with his own idiosyncratic style. He makes liberal use of Japanese ingredients and techniques, like ponzu and tempura, and, as Evan explains, "you can definitely tell that he is hiding Mexican dishes in everything he does." Take, for example, new dish of grilled chicken hearts with shaved foie-gras torchon and rhubarb-strawberry salsa. "You wouldn't look at that dish and say, 'That's Mexican,'" Hernández says. "It's definitely more French than Mexican — but the salsa is definitely Mexican."
Now that influence will carry over to Babs. While the restaurant takes its cues primarily from Vienna and the Basque country, you'll find a riff on pescado divorciado, the popular dish of fish grilled with two different salsas. At Babs, it's a dorado split down the middle with piquillo-pepper romesco, a Spanish sauce, and an herb pistou, a French-Italian sauce. "It's a mix between this Mexican dish and the more European grill thing we're going for here," Hernández says.
That Mexican influence shows up as well in dishes like the charred herb salsa that comes with the scallop tartare. Other options off the grill will include a côte de boeuf for two, and you'll find smoked crab Louie salad, chicken andouille sausage with borlotti beans and smoked grapes, and a seafood platter available raw or grilled. As at Mimi, cocktails will lean classic, and desserts, like a summer-fruit galette, won't be over-the-top.
"In San Sebastián, there's something a little more celebratory in the way you consume food; it's less of a 'show.' That I really like," says Louis Levy. "That's a little bit of the mood we want to have here. Not to take it too seriously while doing it extremely well."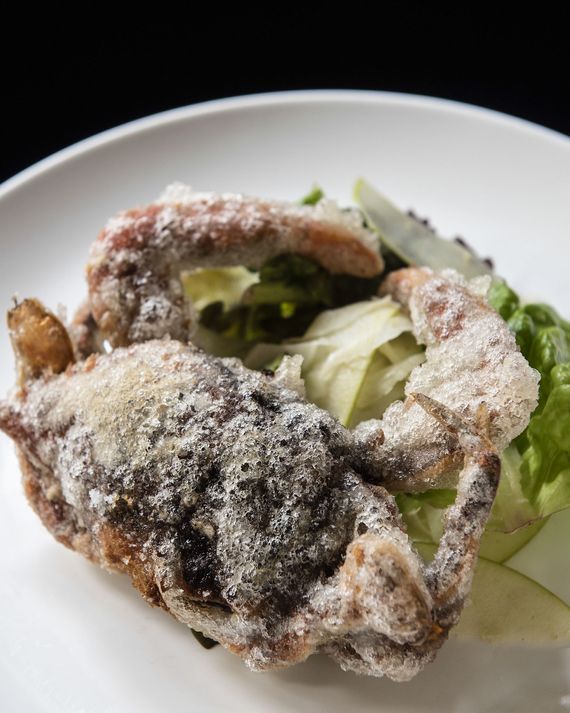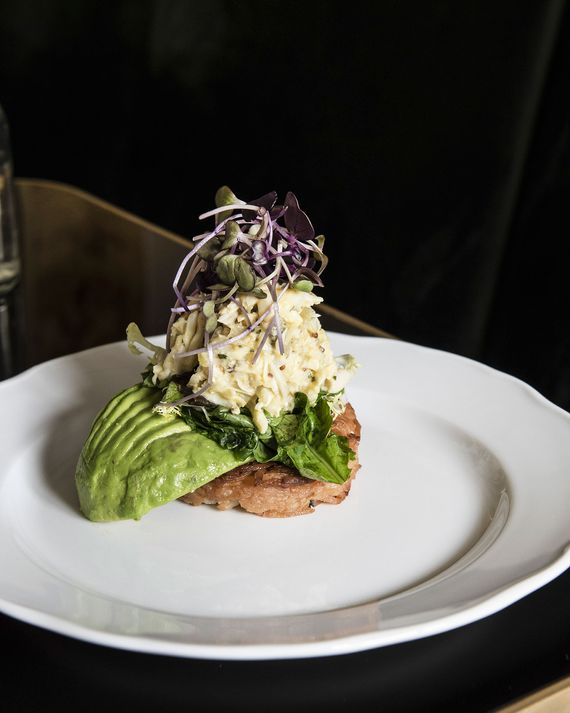 While Mimi is dark and sultry, Babs is elegant, with its sodalite stone slab, verde alpi marble (a green-blue hue that looks like a super-close-up of waves crashing), green velvet, sanded burled-wood columns, and vintage light fixtures from Paris. There's a brass bar and French windows, and the spaces are meant to complement and contrast each other in function and design. With Babs, the group wants to open a place where people can go more regularly, one that is less deliberately challenging. And because Babs is a New York restaurant opening in 2019, the plan is to eventually open for breakfast and lunch, when you'll find pastries, omelettes, and lobster BLTs.
From there, the team wants to expand further: "We had always just been starved and wanting to work with someone who is going to head the kitchen and bring into the business and grow together as a group," Evan says. Daniel adds, "We were kind of holding out to do that next place until we found that person."
Babs, 72 Macdougal Street, nr. Houston St.; 212-610-2835