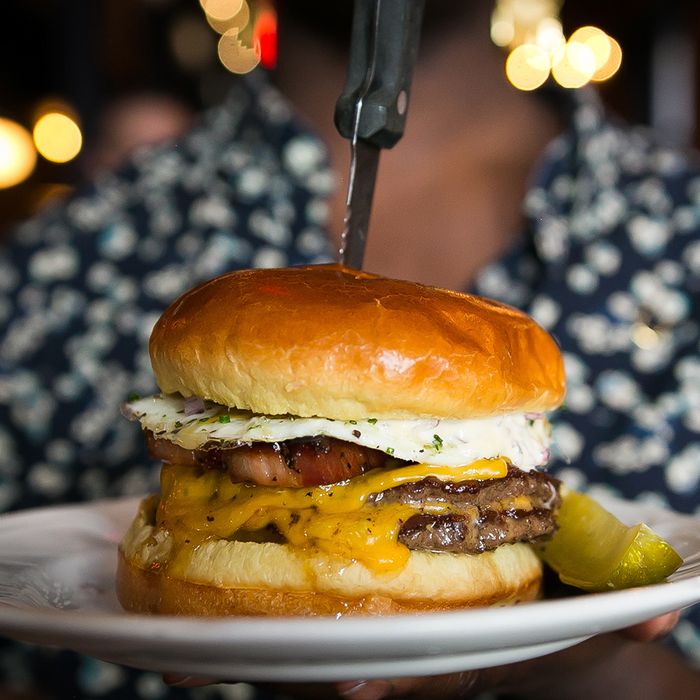 Au Cheval's famous burger.
Photo: Courtesy of Au Cheval
What happens when the best burger in America arrives in New York, but nobody really wants it? Today, Eater New York critic Ryan Sutton dropped a disappointed one-star review of the Au Cheval in Tribeca, the much-anticipated Chicago import that's been so busy you, let's be real, possibly haven't bothered to go. Sutton digs into dishes he likes, and many he doesn't, but his criticism is, fundamentally, a foundational one. "Our New York doesn't really need any more classic steakhouses or expensive burgers."
This isn't just a matter of poorly executed cooking, though. As Sutton puts it in his review, the restaurant's "indulgent menu" is guided by a "prevailing philosophy" of ignoring "accepted principles of good cooking." He calls the omelet "a study in too much," argues the foie gras that comes with scrambled eggs is merely there "to pump up your bill," and the restaurant's famed bologna sandwich? Well, why wait a couple hours for this model when "a corner deli could do better." This line of thinking extends to the famous burger, as well, which is "perfectly respectable" but at $27 with fries not comparable to similarly priced gourmet burgers.
Close readers will recall that New York's own Adam Platt came away similarly unimpressed with the burger, and, in his review from earlier this year, wrote a complaint that is similar to Sutton's: "More than a few of the boisterous, high-profile kitchen-slave revolutionaries who helped create and define the kind of macho meat-heavy culture that the original Au Cheval was designed to embody have been replaced on the national culinary stage by a more diverse, eclectic, internationalist group of young chefs and cooks with their own tastes and agendas in mind." In short: This place feels like a throwback to an earlier era that nobody really misses at the moment.
That burger is, nevertheless, the reason for the restaurant's ridiculous waits: Seven years ago, Bon Appétit put it on a pedestal, calling it "just about perfect," after which Eater Chicago wrote the burger's "popularity went supernova." Food Network declared it one of America's five best burgz, Condé Nast Traveler included it in a story about where to eat around the whole damn world, and on and on. It's no wonder that Au Cheval's New York opening was anticipated for literal years and that its debut has been met with massive waits of its own.
Still, the early critical consensus is that times have changed; the Au Cheval aesthetic has not. And maybe that's a problem.
It's hard not to draw comparisons to Una Pizza Napoletana, one of last year's most-hyped arrivals. After a brief dalliance with San Francisco, owner Anthony Mangieri returned to New York and opened the latest Una Pizza iteration on the Lower East Side with the help of Jeremiah Stone and Fabián von Hauske Valtierra, chefs who made their collective name with Wildair, a wine bar modeled after the neo-bistros of Paris, and Contra, the closest thing New York has to one of Copenhagen's more casual tasting-menu spots. If that team-up sounds incongruous on paper, it felt even more so IRL.
Though Una Pizza was "trailblazing" when it opened in New York back in 2004, Platt noted, there'd been a whole Neapolitan-pie craze after and Una felt, well, a little staid. The restaurant got okay reviews from Platt and the New York Times' Pete Wells, while Sutton wrote the pies weren't good enough, at $25 a pop, in New York's now "experimental, ingredient-obsessed, regionally focused" pizza world. The austere, high-concept appetizers and desserts — handled by Stone and Von Hauske — also didn't match up with the straightforward rustic comfort of Mangieri's pies. It was another place that arrived with a bit of an unexpected thud.
But, plot twist: Una turned things around, at least in the eyes of Wells, who upgraded it to two stars and wrote that the restaurant has "gone from one of the most confounding pizzerias in the city to one of the most enjoyable."
Which brings us back to Au Cheval. While early reviews don't necessarily spell doom for the restaurant, they do tend to set a tone and it doesn't really seem like there's anything that can simply be fixed, from the critical point of view, with Au Cheval. Unless, of course, they want to rethink the entire enterprise.
And yet, it's not quite obvious how much of this even matters for the time being. Sutton says the staff still quotes 90-minute waits to potential diners, though the restaurant did begin to take reservations and, anecdotally, one friend of Grub Street who went "early" on two recent occasions reports that the waits were actually "not long." Even in this city, a restaurant doesn't need to be packed at all hours to be successful, after all. One need only look to Manhattan's many mid-tier steakhouses to see that.