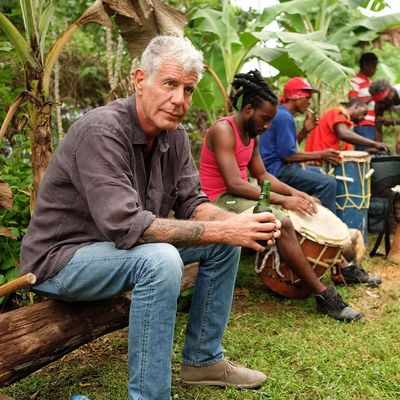 The scholarship will support studies abroad.
Photo: David S. Holloway/CNN
Today, the Culinary Institute of America announced it will start a scholarship in the late Anthony Bourdain's name. It will go to one or two students a year, helping pay — fittingly — for their studies abroad. The late author and television personality graduated from the school in 1978, and worked in restaurants for decades after, a life he documented in Kitchen Confidential.
As the New York Times reports, the C.I.A. was approached about doing the scholarship by Eric Ripert, Bourdain's close friend. He came up with the scholarship — "I thought it should be a celebration of Anthony Bourdain," he tells the Times — after discussing ways to honor Bourdain with José Andrés, another friend of Bourdain's, and Bourdain's estate. After discussing the idea with the institute's president, Dr. L. Timothy Ryan, they created the Anthony Bourdain Legacy Scholarship. How much money the scholarship will provide has not yet been determined, as the fundraising has only just begun. Ryan tells the paper of record that he hopes there will be enough money for the scholarship to be an endowment fund.
In a post on his Instagram, Ripert says the scholarship will provide students "the opportunity to follow Anthony's global path of discovery & curiosity." Along with the scholarship, the C.I.A. will create a memorial to Bourdain at the school's campus in Hyde Park.