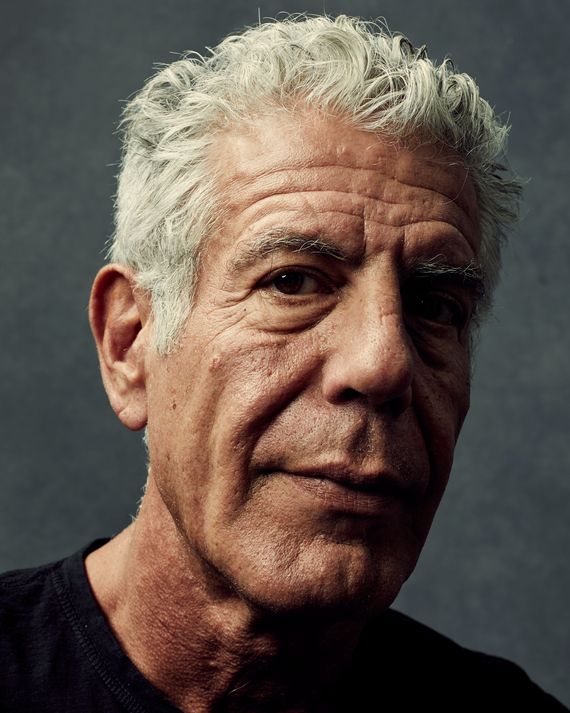 Photo: Erik Tanner/Contour by Getty Images
I was 9 years old when Anthony Bourdain's industry-changing essay, "Don't Eat Before Reading This," was published in The New Yorker — an age when my only insider-food knowledge was that on weekends you should wait a bit on my dad's pancakes, which invariably got better and crispier a few rounds into the cooking. By the time I did start to think about things like "People Who Brunch" or proper steak doneness, Bourdain had published Kitchen Confidential and was at least a few seasons into his television career. It was as if he'd always been there.
I couldn't tell you about the first episode of No Reservations that I watched, but what I know for sure is that I was introduced to Bourdain's work through my older brother, Matt. He's a chef now, and like a lot of other millennials who worked in restaurants circa 2007, Matt cites Bourdain as a major influence on, and inspiration for, his career. (When he was still in college, Matt told my dad he was thinking about a career in cooking, so my father did what plenty of others have probably done and bought Matt a copy of Kitchen Confidential.)
It's now been a year since Bourdain's death. He still comes up in conversations with friends and strangers, and we all know that he changed the way lots of people approach eating and traveling. But what I still tend to focus on is the way Bourdain's early struggles with addiction offered a concrete example of honesty and optimistic thinking that can carry troubled people through life.
There are, undoubtedly, people with more name recognition than Bourdain, but I can't think of another celebrity to whom fans felt so closely attached. In my own life, too, I can't say any other celebrity's death has been so talked about. And the response that struck me the most was my dad's, who called me the day Bourdain died last June. Bourdain had survived and recovered from monstrous addiction, and my dad told me that the chef, writer, and TV host's story once "gave him hope" that he, too, could get better, that he could also reverse course on a life marked by decades of heavy drinking and past, but prodigious, drug use. Here, in Bourdain, was a guy who had struggled with some of the most addictive substances available — and kicked them. Bourdain's death hit my dad with a particularly blunt force.
When he first saw the show A Cook's Tour, my dad was still drinking uncontrollably, and to frightening results — it's a formative experience to sit in an erratically driven car feeling like you're just waiting to get hit because your dad is pissed you were picked up somewhere unexpected on Halloween. "I have tried to drink myself to death," he confessed to me, though I already knew it. That show is what first led my dad to Kitchen Confidential, which details Bourdain's own drug abuse in vivid, unrelenting detail. My dad says that, within those scenes, he saw a role model. "He gave me hope that a person addicted, emotionally bankrupt, could lift himself up," my dad told me recently. "He could've easily ended up washing dishes somewhere, dying of a heroin overdose, never having been heard of." Instead, he lived, and "his addiction took him to a place only another addict can relate to."
In particular, my dad mentioned to me — unprompted — the passage in the book where Bourdain wrote about, after working a full shift, taking "over the bar, drinking Cristal — which we'd buy at cost — and running fat rails of coke from one end of the bar to the other, then crawling along on all fours to snort them." They would do whatever it took to stay out as long as possible, keeping it going at after-hours parties with more drugs. If the weather was good, they'd take the 7 a.m. train to Long Beach and "finish the last of our smack on the train, then pass out on the beach." It reminded my dad of mornings when he'd be strung out on coke on the beach.
When I was old enough, my dad would tell me lurid, sometimes scary stories from his younger days in the Bronx that would fit right into Bourdain's world. It helped me understand why he seemed so bugged out, at least on occasion, when we would go to Yankees games together. He still talks about his past penchant for drugs like Percocet, which he's told me are what he really loved. And there are stories, for sure, that would be more fun, or at least funny, if drinking didn't make him monstrous.
I only met Bourdain once, for no longer than half an hour, but I wish that I had known then what I know now and could have talked to him about how his work made my dad — and by extension me — feel. When Bourdain died, I couldn't help but think of losses in my own life: the 2016 death of a lifelong friend at 27, who had a voracious appetite for substances and struggled with his mental health, and the suicides of two friends in high school during one year.
Now I think of something Bourdain's publisher and friend Dan Halpern told me earlier this year, that the author "loved people in such nonjudgmental ways." Bourdain could be acerbic, of course, but addiction is uniquely humbling. It can grind you down, make you do desperate things and feel powerless. Bourdain approached everyone's life, both ordinary and extraordinary, with understanding and empathy. And, as I've thought about it over these 12 months, I think the profound attachment that people felt was based, at least in part, on the fact that Bourdain was transparently imperfect. (He would also later admit, it's worth noting, that Kitchen Confidential celebrated the "meathead culture" endemic to abuse in the restaurant industry.) But even with his well-known demons, journalists saw in him a great reporter, chefs saw a man who embodied all of their ideals. For everyone, Bourdain's travels made the world feel a lot more accessible. And he gave anyone struggling with addiction hope that there is always a way beyond it.
For those who are experiencing crisis, please call the National Suicide Prevention Lifeline at 1-800-273-TALK (8255), or contact the Crisis Text Line by texting TALK to 741741.