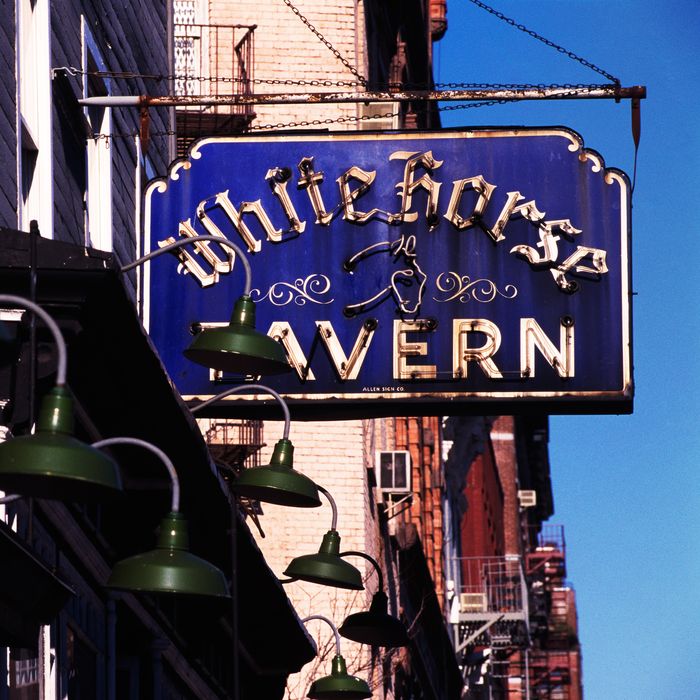 The historic bar is under new ownership.
Photo: David Lefranc/Sygma via Getty Images
I was 24 years old the first time I walked into the White Horse Tavern. I'd decided to become a writer, and as the cliché dictated, I needed a waitressing job. A friend worked at the bar and offered to get me a few shifts during the summer. The pay was solid, and the hours were excellent, but what I would later come to realize was that it was also the Platonic ideal of a New York pub, and a legendary neighborhood's beating heart. Now, it may never again be the same.
Like any great New York haunt, the White Horse has a storied literary history: It's most notable as Welsh poet Dylan Thomas's favorite watering hole, where he drank himself to death in 1953. It was a longshoremen's bar for most of its history, and was also a meeting place for creatives like Lou Reed, Bob Dylan, Norman Mailer, and the original staff of the Village Voice.
I started working four shifts a week and noticed two distinct sets of patrons that frequented the Horse: the daytime regulars and the nighttime revelers. Many regulars stopped in every day. On Tuesdays, "kids from the neighborhood" — many of them in their 60s and 70s — came for lunch. It was a bar where tourists, locals, college students, salty old-timers, and the occasional celebrity came together over $6 beers and decent, but by no means exceptional, burgers.
It was a regular bar, in other words. Not a dive, but not exactly upscale, either. Getting through a shift could be trying. There was no official host, no food runners, and unpredictable weather often meant we were understaffed during rushes. The place was also cash-only, which meant that if a table stiffed you on a check, which they often did after four or five rounds, it was up to you to chase them down the street. We frequently kicked out disorderly folks, a part of the job I have to admit I enjoyed, and I witnessed no fewer than ten live fistfights over my five-year tenure. It could be borderline chaos at times.
The waitresses were mostly actresses, singers, musicians, students, or underpaid PR assistants, occasionally male but mostly female. Working in the trenches at a place as crazy as the White Horse made you bond quickly with just about everyone sharing your shift. Restaurant people are ride or die: They're the kind of friends you call at 3 o'clock in the morning to come bail you out of jail.
Jim Munson, from Rockaway, Queens, was the boss. He co-owned the bar with the Brennan family, who originally purchased it in the late '60s. Eddie Brennan and Jimmy's father, Jim Sr., were longshoremen together. Jimmy, as we called him, was always good to us. He was old-school, and his very presence commanded respect. He was intimidating, but known for his boundless generosity. He gave jobs to people who probably shouldn't have had them, and he kept less-than-perfect employees on way longer than other owners might have, out of concern for their livelihoods. He once slipped me some cash before a trip to Miami so I could afford to eat at Joe's Stone Crab.
Recently, he grew tired of running the bar and decided to sell, which he did earlier this year. You've probably read about the new landlord, Steve Croman, and the bar's new proprietor, restaurateur Eytan Sugarman, who owns Times Square's ritzy Hunt & Fish Club and has been under fire by locals about his plans to revamp the Horse. At a recent community board meeting, he pledged that he had "no intention of making any dramatic changes," promising to keep the bar mostly as it is, but what else can you say when you take over such a beloved institution?
Maybe he won't change it, or maybe he'll turn it into a place that serves $19 bespoke cocktails and $85 seafood towers. Nobody seems to really know, but the bar officially closed this week and the word either way is that Sugarman has no plans to employ any of the existing kitchen or service staff. That doesn't feel like a sign that he's dedicated to preserving the Horse's legacy, and the regulars who held a rally and an Irish wake for the Horse earlier this year don't seem to trust Sugarman, either.
In New York City, the only assurance we have is that everything will get more expensive and less authentic over time. And we have a culture that has become increasingly obsessed with improvement and optimization, coupled with an ongoing decimation of communal spaces. The White Horse Tavern was never a pinnacle of food, drink, or service. Instead, it was a ramshackle place for regular folks (and, when I worked there, the occasional Gossip Girl actor). But there's value in the idea of leaving things as they are. Not everything needs to be perfected. Not everything needs to be Instagrammable. Just knowing the old White Horse was there meant something to me, and to everyone who loved it. Some things just simply can, and should, stay the same.