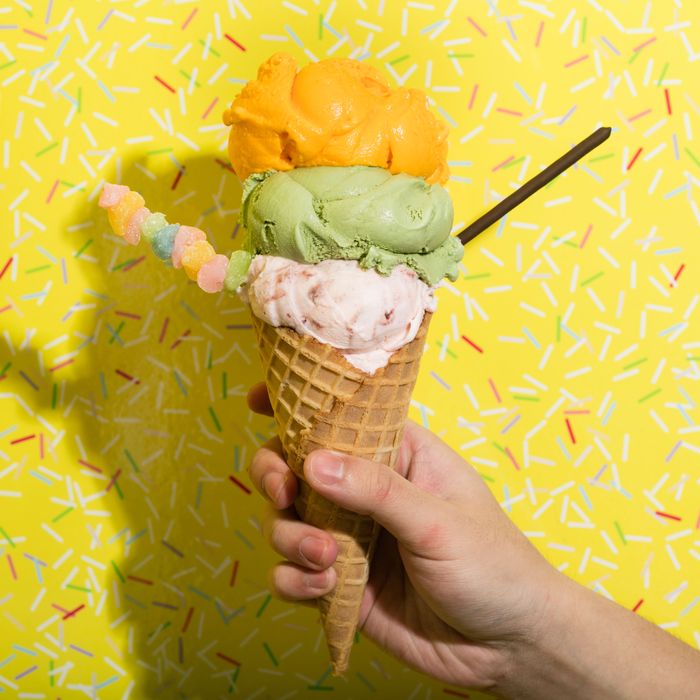 Take the 7 train to Flushing to check out the new Original Chinatown Ice Cream Factory.
Photo: Melissa Hom
Winter jackets have been stored and snowshoes retired, which means that warm(er) weather is here to stay. Yes, folks, it is nearing prime ice-cream season. We're talking cones, cups, sundaes, scoops — you name it. The city's ice-cream scene is always brimming with frozen possibilities: sundaes influenced by the flavors of India, a brand-new destination for exciting flavors in Flushing, and ice-cream cakes so joy-inducing that you'll feel like a 7-year-old all over again. Here's Grub Street's official 2019 ice-cream agenda. Get to it.
Visit the new Flushing outpost of the Original Chinatown Ice Cream Factory.
Since 1978, the Original Chinatown Ice Cream Factory has been cranking out ice cream in flavors like durian, litchi, Thai iced tea, and pandan to critical acclaim. This year, the family-owned business expanded its footprint with a second location in the city's second-largest Chinatown: Flushing, Queens. With the new location come exclusive new flavors, including gochujang chocolate as well as misugaru (a Korean grain powder) and cookies that'll taste great after a self-guided Flushing food tour.
Get ice cream with a side of Harlem culture at Sugar Hill Creamery.
In Harlem, stop by the corner of Malcolm X Boulevard and West 119th Street for a scoop or two from Sugar Hill Creamery. The family-owned establishment will run a special Harlem Flavor of the Week series all summer long featuring flavors created with modern Harlem icons, including chef and author J.J. Johnson (a raspberry, hibiscus, and rice-milk ice cream) and Thelma Golden (golden-chai ice cream), the director and chief curator at the Studio Museum in Harlem. The collaborator changes every week, so plan to drop by on a fairly regular basis.
Imbibe your ice cream at the new Tipsy Scoop.
With its line of alcohol-infused treats, Tipsy Scoop in Kips Bay has quickly become the "adult swim" of Manhattan ice-cream shops. On May 11, Brooklynites will get their own "barlour" when Tipsy Scoop arrives in Williamsburg, with flavors like dark-chocolate whiskey salted-caramel ice cream and mango-margarita sorbet. (The first 100 people who line up on opening day will receive $1 (C)old Fashioned scoops made with Wild Turkey. Don't bother bringing the kids.)
Check out Republic of Booza's stretchy ice-cream collaborations.
Nearly a year after introducing many New Yorkers to booza, elastic ice cream with roots in the Middle East, the folks at Republic of Booza have launched a collaboration series. Through early August, stop by the Williamsburg shop every two weeks for a different flavor created with local restaurants, including a Vietnamese iced-coffee-cake flavor from Meme's Diner, chocolate swirled halvah from Seed + Mill, a guava-plum-powder sorbet from Win Son, and three(!) cheese and wine flavors from Murray's Cheese. On offer right now: an everything-bagel booza featuring chunks of bagels from Black Seed.
Order an ice-cream cake and feel like a kid again.
Fudgie the Whale is the once and future king of ice-cream cakes. But if you're looking for something a little more highbrow and equally delicious, Morgenstern's has an ever-changing series of ice-cream cakes worth checking out. This week, the shop debuted a mint-chocolate ice-cream cake featuring mint whipped-cream frosting, while a PB&J-inspired cake and Vietnamese coffee cake are always available. Best part: You can always buy the cakes by the slice, too.
Stop by King for extra-fancy ice cream.
This week, the women behind stylish downtown restaurant King debuted a new offering: ice cream to stay or to go. Flavors include strawberry, rhubarb ripple, and lavender & honey, but that's just the beginning. The flavors, and ingredients, will change with the seasons.
Dig in to an Indonesian-inspired ice-cream sundae.
If you're looking for an ice-cream sundae that is classier than a banana split but still makes good use of the fruit, look no further than Wayan's ube ice cream featuring two generous scoops of purple-hued ice cream made with the yam native to the Philippines, caramelized baby bananas, fluffy slices of banana cake, vanilla-flavored crumbles, and a scoop of whipped cream.
Get the jitters from Van Leeuwen's new cold-brew shakes.
The folks at Van Leeuwen are taking advantage of cold-brew season by turning it into a line of shakes. Stop by any location to try the Brooklyn-born shops' cold-brew shakes made with coffee from Partners Coffee (formerly known as Toby's Estate) and either vanilla-bean or vegan chocolate ice cream. Think of it as the New Brooklyn version of a Frappuccino.
Check out the soft-serve at a brand-new Korean dessert bar.
The Korean-born dessert chain Milkcow recently landed on Bayard Street with the promise of "the best soft-serve ice cream." Now, it is your job to see if that claim holds true. Flavors include milky, milky cube (milky with raw honeycomb), snow drop (milky with sea salt, jelly beans, and a head-size cloud of cotton candy), affogato, and cookies 'n' cream.
Check out the new frozen-treat vendors at Smorgasburg.
Tourist trap or not, Smorgasburg is still one of the finest places to try up-and-coming food. Like the truly insane sundaes from French-Vietnamese outfit Kochin, where flan, coffee ice cream, coffee jelly, banana brûlée, toasted coconut, sesames seeds, lace cookies, and a pipette of Vietnamese espresso all come together to create the aptly named Coffee Bombe. For the more health-conscious, there's the Better Pop Co., a booth specializing in probiotic ice pops made with fresh fruit (cherry-sumac, mango-orange, pineapple-chili-tamarind) and kombucha and frozen into geometric shapes. Unsurprisingly, both options are highly Instagrammable.
Try the city's most sophisticated new sundae.
A new lunch menu equals a new dessert and at Indian hotspot Gupshup, you'll want to end your meal with the restaurant's ice-cream sundae, featuring three scoops of ice cream (pistachio, cardamom, and Thai iced tea), a slice of flourless sponge cake, caramelized fox seeds from lotus flowers, seasonal fruit (at the moment, mandarin oranges), and a nankhatai shortbread.
Go all in on kakigōri at a new shop.
Bonsai Kakigōri has opened its first stand-alone shop on the Lower East Side, where the focus is all on the Japanese dessert featuring a mound of shaved iced and colorful syrups. Expect flavors like matcha mountain and strawberries and cream as well as three rotating seasonal flavors, including mango and ginger, espresso peanut, and Key-lime pie.
Enjoy new dips while taking in the Manhattan skyline.
Last week, Mister Dips returned to its post at the William Vale hotel, which is the surest sign that summer is really coming. In addition to the burgers and waffle fries, the Airstream food truck will also serve two new dips: a carrot-cake–coconut-cream-cheese swirl with cinnamon streusel dubbed the Carrot Top, and the After Eight, featuring thin-mint custard, grasshopper cookie, and a generous drizzle of fudge.
Drop by the two new Ample Hills locations.
Ever since opening a Red Hook factory last year, Brooklyn's own Ample Hills has been on an expansion tear. This summer, two new locations of the ice-cream chain will open: one on the Lower East Side at the Market Line, and the other at the 91-year-old Fireboat Station in Brooklyn Bridge Park. (Which was formerly home to the Brooklyn Ice Cream Factory.) Both are expected to open in June.
Check out three new flavors from Big Gay Ice Cream.
Big Gay Ice Cream doesn't do "low-key," and 2019 is no exception. The beloved ice-cream shop recently debuted three new offerings, and none of them are basic: There's Fluffernutter, peanut-butter ice cream with marshmallow swirl, mini-marshmallows, and praline peanuts; Spicy Choco-Lit, chocolate ice cream with fudge swirls and Red Hots; and Banan-o-Graham, which features a banana-ice-cream base with graham crackers swirled throughout. All three flavors are available by the scoop now and will soon be on sale by the pint.
Make your own ice cream with a little help from Salt & Straw.
Amateur ice-cream-makers of the world: This is the summer you get experimental. And the best place to start is with the new cookbook from cult West Coast ice-cream-maker Salt & Straw. (It just so happens to be one of Grub Street's Best Spring Cookbooks.) Inside, you'll find recipes that are familiar (chocolate gooey brownie), edgy (smoked Hefeweizen), and downright bizarre (cauliflower garam masala) plus a whole new appreciation for the art of ice-cream-making.