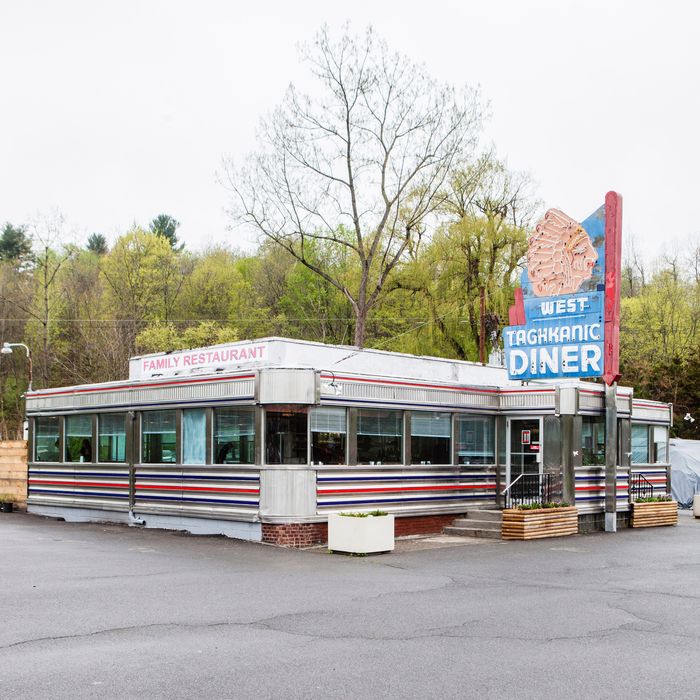 The West Taghkanic Diner in Ancram, New York
Photo: Lauren Lancaster
It's not every day that your diner's hash was made by a cook whose last job involved making aged, pressed cakes of pork fat for an entire menu built around whole pigs. But, Kristopher Schram isn't running an everyday diner. Schram — who is now, perhaps, the world's first short-order chef — spent over a decade cooking from California to Copenhagen, at places like Copenhagen's Manfreds, Melbourne's Attica, and Healdsburg's Madrona Manor. The chef was moving toward opening his own place there. Now, though, he's back in his upstate New York hometown of Ancram, running a diner that's 15 minutes away from the house where he grew up.
Schram is the first to admit that, after culinary school, he never thought he'd land at a place like the West Taghkanic Diner. He was one of many talented cooks to pass through Napa Valley's iconic but now closed Terra, eventually becoming the chef de cuisine. Romance brought him to Copenhagen in 2012, where he linked up with Christian Puglisi, one of the most famous of the Noma alums. After a stint at Puglisi's tasting menu spot Relæ, Schram was offered a sous chef gig at the chef's wine bar Manfreds. "I started realizing that I'm still using the same techniques I was using in fine dining," he says of his time there. "It's just at a lot faster pace and a much higher energy and that really opened my eyes to the fact that I just didn't want to do fine dining anymore."
After two years at Manfreds, Puglisi tapped Schram to open Bæst, a pizzeria where the produce comes from Puglisi's farm. He was there for three years, leaving in September of 2017 to open his own restaurant in Copenhagen. But romance brought Schram back home, when his wife got the U.S. correspondent gig for a Danish paper. As he put out feelers in New York City, he realized he couldn't get rid of the "itch" to do his own thing. Then he was let in on some interesting news: A classic roadside diner was available "My whole family is still here, so they have their ear to the ground and I just heard some rumbling that the place was for sale. I snuck in there before anyone really realized it was on the market," he says.
The decision was, Schram says, a no-brainer. He bought, and went about rehabbing, the diner — gutting the kitchen (it "was a nightmare"), tidying up the dining room, and bringing on an marketing agency, Sophie Wedd Design. Early on, a local baker named Kate Snider (of Honey's) was tipped off by a mutual friend who said Schram needed someone to bake pies once a week. They hit it off, and she proposed a full-time gig. Schram also brought on the chef Christopher Bradley, who worked at Gramercy Tavern and Untitled.
Open since 1953, the West Taghkanic is a silver-dollar pancake's throw from the Taconic State Parkway. It's got that Back to the Future chrome look, with black and red lines, big square windows, and a neon sign that depicts an illustrated Indian chief, imagery that Native Americans have campaigned against and criticized over issues of representation and racism. (See the end of this post for a note about the sign.) The culinary road warriors Jane and Michael Stern once enthusiastically endorsed the old iteration and Schram went, he says, 20 or more times as a kid. But he says everyone he knows stopped because it'd gone downhill in recent years. He wanted to restore it, both physically and culinarily, without straying too far from what makes American diners so great in the first place.
"When I go to a diner I'm always looking for those classics, you know? I feel the other things you can have a lot of fun with. And that's what I've always searched out in a restaurant — a place that you don't have those extreme rules," the chef explains. The menu reads very familiar, but Schram sees that changing in a couple years. Still, things won't get too unfamiliar during the day. "I want them to walk in and be like, 'ah, this is a diner. And it's comforting like a diner. And there's my favorite dishes just like a diner but whoa, what is this?'"
There are plenty of diner classics, but nothing is straightforward. Everything is under $14, and many dishes are $10 or under. Cornmeal buttermilk pancakes get a pat of salted butter, and a juicy "hamburger sandwich" (or "veggieburger sandwich") is crowned with charred onions. A 9-foot smoker is parked outside, for bacon and homemade pastrami, as well the turkey and smoked mayo in the properly tall club. Fries are thick and shattering, with condiments like smoked mayo with a red swirl of fermented chili. You can get your omelet with 'nduja and stracciatella, and there's lemon-y sumac in the Greek salad. Snider walks the same line with her rotating pies and layer-cakes, making carrot cake with sliced ginger in the frosting, coconut pie, and an orange meringue pie in lieu of lemon meringue. Last weekend, she put out more counter-top items like buckwheat blondies and, of course, there are milkshakes.
"You walk into a diner and you see a display case with these over-the-top desserts. So, that's not really our aesthetic. We are finding that middle ground," she says. Later she adds, "I always have felt like if I'm gonna go to a diner with someone, I'm gonna sit with a cup of coffee and be engaged in talk. And it's not about the food, it's about the environment. I love that concept."
Other dishes are more all-day café. Take the local grain porridge flavored with citrusy earl grey, or the local greens and grains (so New Nordic!) with smoked chickpea with Nordic rye. The most provocative for the grumpy ones is the avocado toast. "As much as you can kind of snicker at how everybody has it on their menu, people like it," he says. "As trendy as it is, for sure I think that is something that you could definitely envision even casual diners putting on their menus."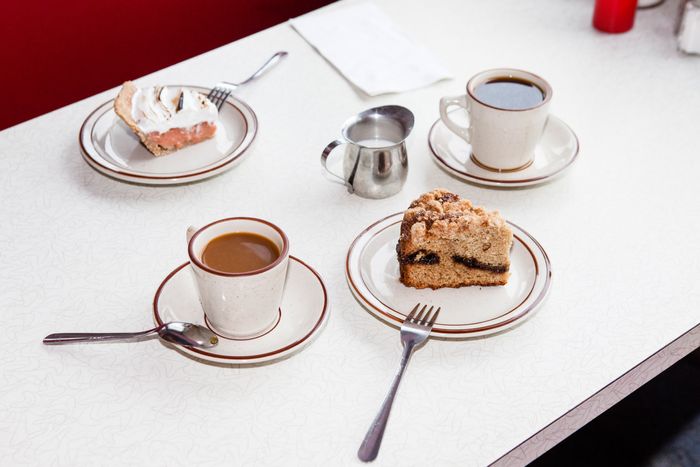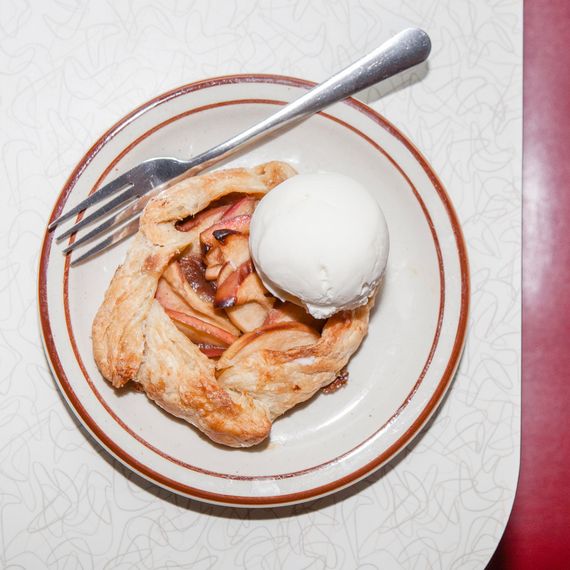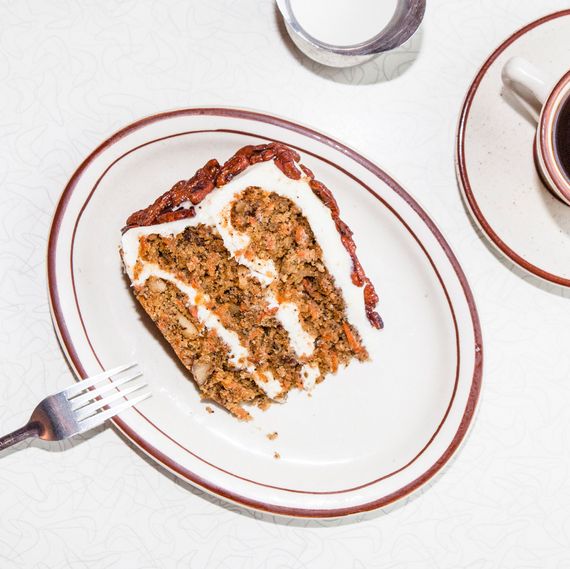 On a recent, rainy Friday, lunch got progressively busier as it turned to early afternoon. (The diner is open Thursday through Sunday, which won't change even after dinner is introduced.) Schram was there cooking, emerging every now and then to deliver food. I was there with a couple upstate friends and one's fiancé, who grew up not that far away. The topic of the Phoenicia Diner — which a New York friend remarked he sees a different person Instagram "literally every single weekend" — naturally came up. "When I was growing up, it was full of people wearing flannel. Now it is full of people wearing flannel," he says.
That place raises the question of how to not alienate locals and regulars — at a moment when real-estate market is rising, and the New York Times asks, "Is the Hudson Valley Turning into the Hamptons?" — though bad food does this in its own way, too. On the beverage menu, there are hallmarks of today's hipper restaurants. Natural wines, instead of supermarket wines; Nine Pin cider from Albany; a mezcal cocktail in the Bloody Mary Ann; and Yesfolk's uniquely delicious kombucha. Still, the coffee is endless. (It's from Ithaca roaster Forty Weight.) And there's house-made chocolate milk. It's a balancing act.
"Of course, with anything you do, you're going to alienate someone. This historic diner has been a certain way for a long time. So there are probably going to be locals who are not so interested in what we're doing," Schram says.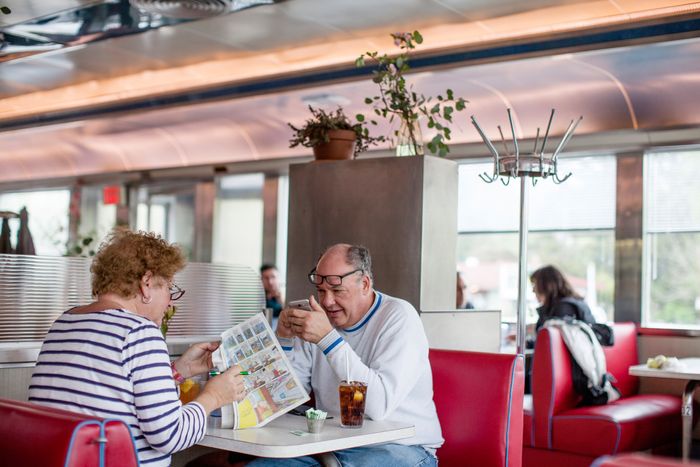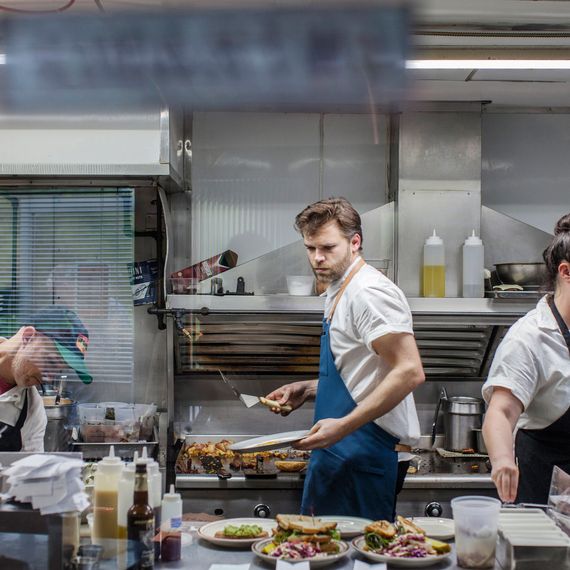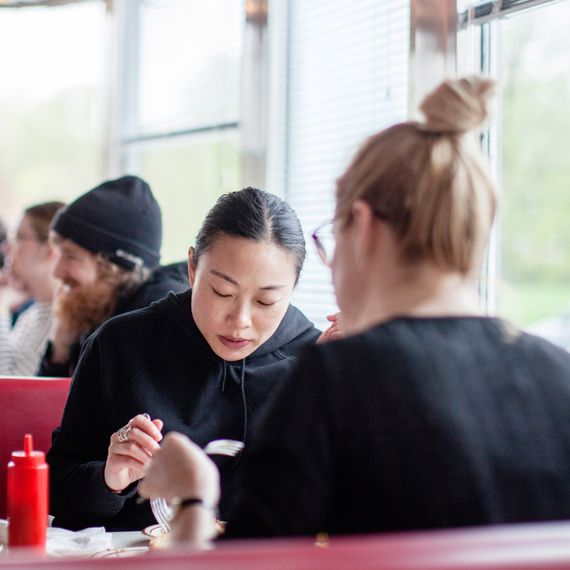 One man posted up at the long, wide counter that's the gravitational center of the dining room. People ate Reubens while what might be called dad rock in ten years played softly: the Replacements, the Velvet Underground, Joy Division's less brooding songs. Many of the tables were occupied by older couples, one of them were greeted by a friendly server like they'd been coming forever. Maybe they will.
Diners occupy more real estate in the minds of Americans than any other kind of restaurant. They're egalitarian and expansive. And people are opinionated about what they should and shouldn't be. But diners are not fixed, which is what appeals to Schram. Greek immigrants added gyros and more to menus in the Northeast. There's meatloaf and chicken parm. One of my favorites, West Brattleboro, Vermont's the Chelsea Royal, serves pizzas, a Cajun skillet breakfast, and on Fridays and Saturdays a "Mexican menu" with Southwestern wings. Once upon a time, Southwestern food was the hottest thing in American cooking. That's no longer the case. But trends get folded and baked into these places, like butter into flour. A diner can be, relatively speaking, whatever you want it to be. Which is how the West Taghkanic Diner ended up with, in all likelihood, the world's most pedigreed short order cook.
Observers took note of the diner's sign, which depicts an illustration of a Native American. The sign was erected when the diner, one of four "Chief Taghkanic" diners, was first opened in the 1950s, during the time of the Indian termination policy.
The National Congress of American Indians has, since 1968, campaigned against harmful stereotypes in popular culture like the Cleveland Indians logo Chief Wahoo, which the NCAI writes "denigrates Native people and is harmful to their self-esteem."
Asked via email about the sign (the neon was restored earlier this year, but not the whole sign) Schram writes:
We understand the weight the sign carries and are actively considering our options to remove the antiquated imagery in the most sensitive manner. The service we offer is built upon inclusivity and mutual respect, and, while the neon sign has sentimental and historical value in the area, we do not believe that it aligns with our values.
West Taghkanic Diner, 1016 NY-82, Ancram NY; 518-851-3333
This post has been updated with more information and a note about the diner's neon sign.