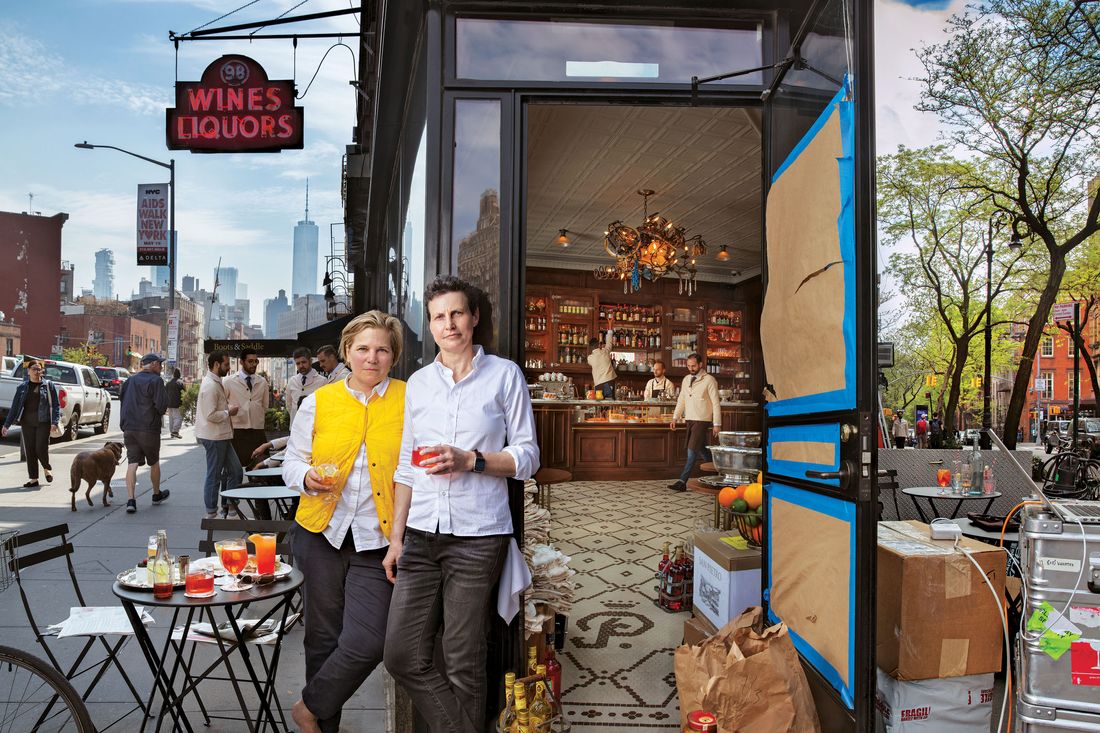 Jody Williams, left, and Rita Sodi at Bar Pisellino.
Photo: Jonas Fredwall Karlsson
Between the two of them, the newly crowned James Beard Foundation Best New York City Chefs Jody Williams and Rita Sodi own a French-inspired "gastrothèque" (Buvette), a traditional Tuscan ristorante (I Sodi), and a lively Italian neighborhood canteen (Via Carota), all within a three-block West Village radius. Still, something was lacking. Running three incessantly mobbed restaurants in New York wasn't enough. What was needed to make their mini-fiefdom complete, according to the married couple, was a classic Italian bar — the kind of civilized oasis they loved to visit in the old country's cultural capitals and longed for when they returned home. And so over the last year or so, they've created their own version of that iconic social institution and christened it Bar Pisellino, and will open it this week opposite Via Carota on a Seventh Avenue South corner that sorely needed some sprucing up. The goal, says Williams, is to capture a particular mood, something akin to what you might experience while traveling in Europe. "I think this place has the feeling of a train station out in the country, where you end up at the bar and you miss your next three trains because you met somebody and you're having such a good time."
At only 600 square feet, the corner space has almost three times more seats outside than in, but most of the activity is meant to ensue at the standing bar, an expanse of oak panels and Carrara marble that segues from serving Italian-style morning coffee and pastries to afternoon tramezzini and Aperol Spritz on tap, and an array of original cocktails listed in hand-lettered booklets published six times a year. Although the room feels like it could have been airlifted intact from the back alleys of Rome, Venice, or Sodi's native Florence, the owners feel it fits seamlessly into the context of its neighborhood, with a view overlooking the Stonewall National Monument and what Williams calls "four blocks of Greenwich Village history." Here's a look at Bar Pisellino's bar, and what you'll find on, behind, and around it.
From Anisette Frappes to Tuna Tramezzini, It's All in the Details
Anisette Frappe
This elegant tray of espresso, club soda, and anisette shaken with sugar over pebble ice is meant to translate the Sambuca-spiked caffè corretto into a refreshing aperitif.
Aperol Spritz
An aperitivo bar is not an aperitivo bar without an Aperol Spritz. To keep the orangey-red thirst-quenchers flowing at a steady clip, they're served here on tap.
Bomboloni
Italian doughnuts are filled with Nutella, pastry cream, or raspberry jam and run about the size of a Dunkin' Munchkin.
Bottled Cocktails
Americanos, Americano Biancos, and Boulevardiers are ready to drink.
Cinghialino
Williams found this iron baby-boar's head at a hardware store while visiting Sodi's hometown of Barberino di Mugello and hung it on the wall for good luck. "I love to go into hardware stores all over the world," says Williams.
Dirty Doilies
Doilies crocheted by a Signora Crespi in Milan bear parolacce, or dirty words, in keeping with the bar's cheeky name; pisellino is slang for "little dick," what Williams describes as a nod to the unique history of the Village and its gay bars.
Floor Tile
The brown-and-cream mosaic tile floor is made by American Restoration Tile in Little Rock, Arkansas.
Ice
In keeping with current cocktail orthodoxy, hand-cut blocks from Hundredweight in Long Island City are delivered to the bar, where they're carved, crushed, and even branded with the letter P.
Napkins
Williams and Sodi have a soft spot for the flimsy, scratchy, remarkably unabsorbent napkins they say you find in all the finest aperitivo bars in Italy. "They're almost useless," says Williams, "but nostalgic for Rita and me." The New York graphic designer Louise Fili created the logotype.
Olive-Oil Cake
Soaked with a blend of honey and olive oil and topped with sea salt and fennel seed.
Panini
Sandwiches like this chicken Milanese panino arrive later in the day.
Patatine
Instead of Goldfish and Rold Golds: housemade cacio e pepe potato chips.
Pistachio Cocktail
This original tipple was inspired by a dessert that bar manager Jon Mullen had in India; it blends pistachio-green-cardamom orgeat with gin, the Alpine herbal liqueur genepy, bitters, and lime juice.
Pinguini
The chefs call these little chocolate-covered ice-cream treats pinguini (penguins) because they're frozen. They're like miniature Italian Klondike bars wrapped in traditional Italian confectionary wrappers custom-made in Lombardy.
Sgroppino
The great Venetian dessert–drink–palate cleanser of lemon sorbetto, Prosecco, and vodka is made to order not in a blender or a slushie machine but in a copper bowl with a whisk at the bar. "Part of the fun is mixing in the kitchen utensils and cooking techniques with bartending," says Williams. "It's inevitable when chefs build a bar."
Shakerato
Espresso shaken with ice and sweetened with a creamy paste of sugar blended with espresso. "I think that's how they do the sugar at Sant Eustachio," says Williams.
Spumoni Cocktail
This riff on the drink adds gin and a pink-peppercorn tincture to the standard combo of grapefruit, tonic, and Campari.
Sugar Bowl
Various serving pieces and teapots were sourced from London's silver vaults on a trip the partners made over Christmas.
Tramezzini
One of the bar's inspirations is Turin's Caffè Mulassano, the birthplace of the tramezzino. Bar Pisellino's will run the gamut from tuna with fennel to the one pictured here with peas, prosciutto, and mascarpone.
52 Grove St., at Seventh Ave. S.; no phone
*A version of this article appears in the May 13, 2019, issue of New York Magazine. Subscribe Now!