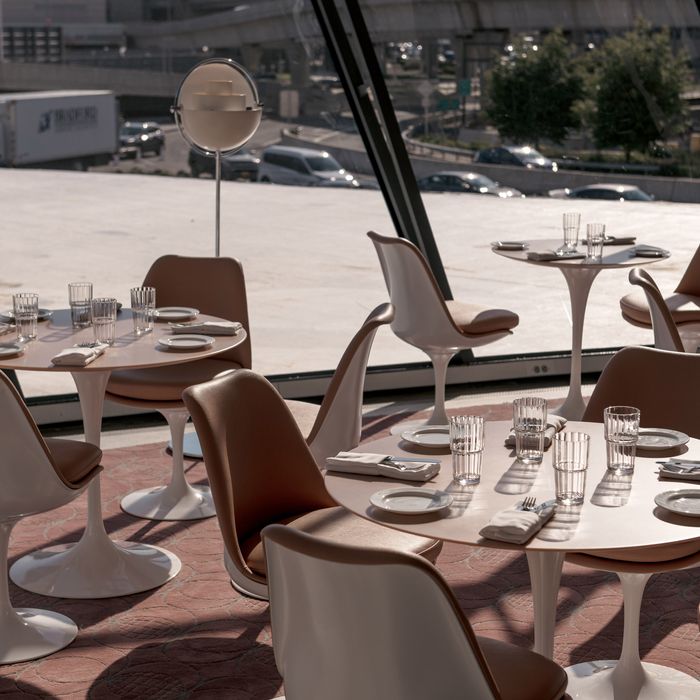 The new Paris Café is run by chef Jean-Georges Vongerichten.
Photo: Scott Heins
One of New York City's most iconic buildings is open again. As promised during years of teasing and hype, the TWA Hotel is officially welcoming guests into its handsome, mid-century doors. But does that mean that you — presumably a busy New Yorker who doesn't love the idea of sitting on the A train for an hour-plus out to Queens — should actually check it out? Read on to see what we think.
Seriously, what's the deal with this place?
After 18 years languishing in plain sight, John F. Kennedy International Airport's iconic TWA Flight Center — the retro-spacey building sitting just outside the airport's Terminal 5 that was designed by Eero Saarinen and originally completed in 1962 — reopens this week as the TWA Hotel, one of the most bonkers, meticulous restoration projects in recent memory.
Now, the developer, MCR — which is said to have outbid Ian Schrager and Donald Trump for the contract — has reopened the building, flanked by two new wings, as a 512-room hotel. And, as with any big-money real-estate project, there are bars and restaurants designed to entice people to visit.
Are you really telling me to go to the airport to eat dinner?
Not exactly. Architecture fans will want to check out the restored terminal building, which certainly looks like it was brought back to life with a painstaking eye for period details. (The team also bought many pieces — including Mies van der Rohe armchairs — from the 2016 Four Seasons auction.) As Tyler Morse, the CEO of MCR said earlier this week, "We've restored everything to exactly as it was in 1962." Here's an example: Through one arched side door is an unassuming round banquette designed by Charles Eames. It used to be called the "Pope's chair," because Paul VI and John Paul II, both TWA fans, would receive their final guests here while waiting to depart for Rome. Morse's group restored the space to its original splendor, so guests who find it can sip coffee and act pontifical.
That said, anyone rushing out specifically to eat and drink should save themselves the hour-long Lyft ride for now.
So … it's bad?
It's not bad, but it's all incredibly ambitious and, at least in the early going, everyone is very clearly getting up to speed. To put it less charitably: During the hotel's first full day in business, the place was a mess. The main restaurant refused to seat anyone without a reservation, and the bar wasn't able to actually serve many people — including some unlucky souls who arrived to learn their rooms also were not yet ready.
Tell me more about this bar. How could it not be ready?
It's a big deal. The bar, henceforth known as the Sunken Lounge, which is run by the Gerber Group (the same people who recently revamped the Campbell in Grand Central Terminal). It resembles, as the name indicates, a giant "conversation pit," decked out with chili-pepper-red carpet, a black Solari di Udine flight board, and red-upholstered Saarinen tulip stools. "The simplicity," Scott Gerber boasts, "is what makes it so spectacular."
The drinks are all airport-themed — the Come Fly With Me involves vodka, St. Germain, prosecco, and lime; a $20, vodka-based Sunken Lounge Martini comes with flight wings — but Grub Street's calls for a proper Aviation were met only with apologies from a bartender who said the bar was not yet stocking any crème de violette, a crucial ingredient. (The bar's food is similarly straightforward: a pretzel, some hummus, or a charcuterie plate.)
There's no denying that the lounge is an extremely handsome place to drink, but you won't find anything here that you can't also get at any decent cocktail bar in Manhattan.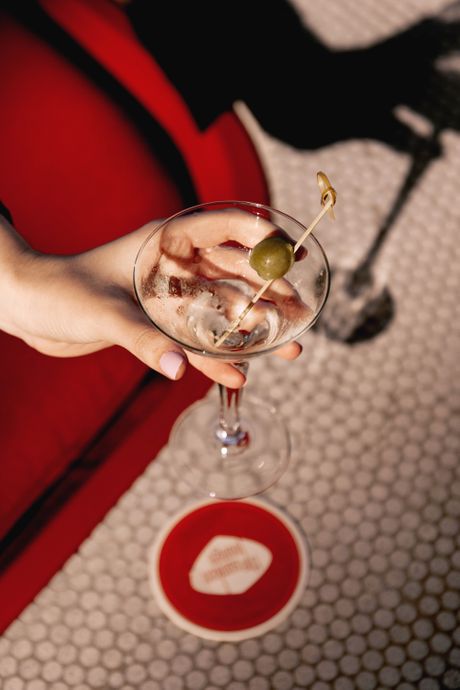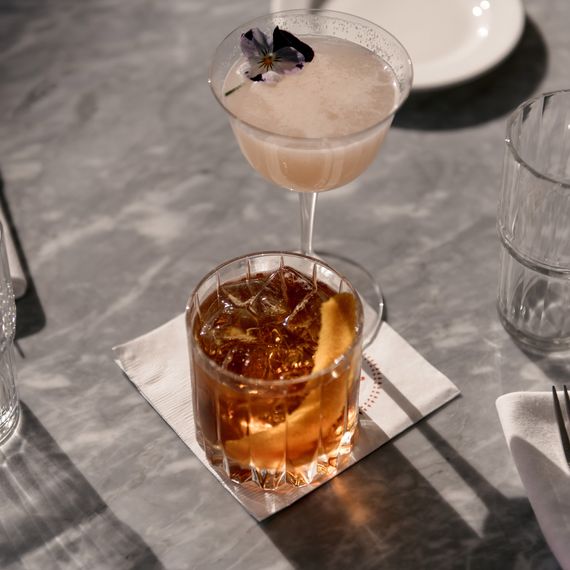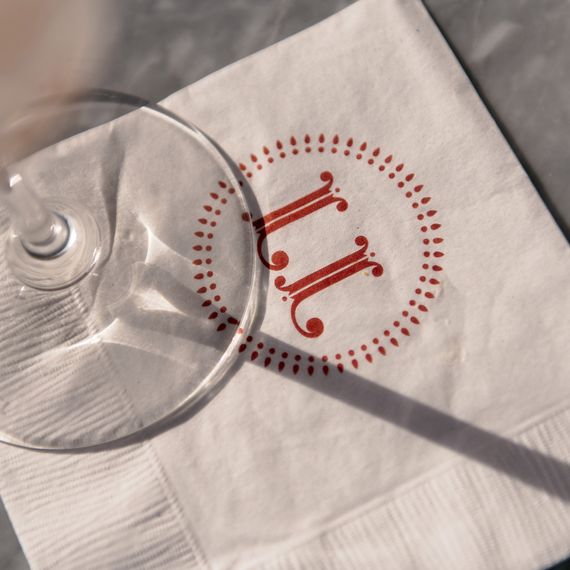 Doesn't Jean-Georges have a restaurant, too?
He does, and it is very pink. Jean-Georges Vongerichten's 200-seat redo of the Paris Café is being touted as his first hotel restaurant — which isn't technically true, since, for example, his flagship Jean-Georges is in the Trump International Hotel — but it's definitely his first airport restaurant, and, as you might expect, he's nostalgic for the days of luxury air travel: "Smoking was okay, there were massages, pedicures, manicures," the chef says. "You could fly to L.A., and arrive as a new person! Well-fed, too!"
That's fun! I love caviar and chicken Kiev!
We do, too, but hold on, because the early menu for the Paris Café is very much rooted in 2019 crowd-pleaser mode: burrata, fish tacos, and black-truffle pizza are all accounted for, and the restaurant is being called — you guessed it — an all-day café. "You can have an omelet in the afternoon, a burger for breakfast, or a steak with Café de Paris butter at 10 p.m.," Vongerichten explains.
It still sounds better than a Sbarro.
That's true, but if you're looking for a full-on return to mid-century luxury dining, you'll want to stick to the Grill or maybe Thomas Keller's new TAK Room in Manhattan. Much like the Sunken Lounge, the Paris Café (and its sibling, the Lisbon Lounge) are decked-out in mid-century vibes, but are, for better or worse, designed to appeal to actual airline travelers of the 21st century.
So that's it? One restaurant and one bar?
Hardly. There are wheeled coffee carts serving Intelligentsia, a food hall in the south wing called the Departures Dining Hall that features sandwiches, empanadas, etc., a rooftop lounge — also run by the Gerber Group — with an infinity pool overlooking the airport's runways (!!!), and, oh yeah, another bar inside an actual plane.
What?
On the tarmac outside, you'll find a refurbished L-1649A Starliner. "Connie," as the 1958 Lockheed Constellation has been nicknamed, comfortably seats 30 guests.* A conveyor belt now ferries booze and ice to the bar, the cockpit was left intact for maximum Instagrammability, and the seats are originally from 1958. You can reserve tables for two or four up to 60 days in advance, and do not be surprised if this becomes a popular spot for private parties.
Look, I have to go to Orlando for work next week so I'll be at the airport anyway — should I get there early to see this or not?
Yes! Sure! Probably! It really is like Mad Men brought to life. But even if it looks like 1962, it very much is still an airport hotel in 2019, so you may want to eat something before you get there.
* This post has been updated. The original information provided about seating capacity inside "Connie" was incorrect.