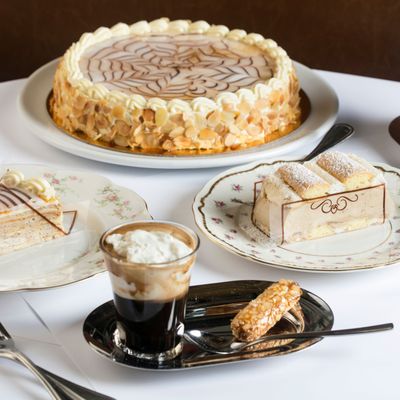 Some of the new afternoon cakes and coffee drinks from Augustine.
Photo: Melissa Hom
Every month in New York, there are a bewildering number of new dishes to eat, drinks to imbibe, and food-themed events to attend. Often, the hardest part is just figuring out what's really worth your limited time. So Grub Street kicks off each month with a curated selection of dishes, drinks, and events that should absolutely be on your agenda. Make your plans now.
1. Spend a summer Friday eating Austrian cakes and sipping on Austrian coffee drinks.
Since taking over the kitchen at Augustine, the Bâtard chef Markus Glocker has added Austrian accents to the restaurant's menu. The latest provides you an entirely new reason to go to the restaurant: an afternoon menu that's meant to bring a slice of Viennese café culture to New York. Called Kaffee & Kuchen, it includes Viennese coffee drinks like the Fiaker ($11) — a double espresso with demerara sugar, rum, and whipped cream — and the Franzisknaer ($7) — black coffee with vanilla whipped cream and cocoa nib. But most importantly, there are seven desserts on the menu for your afternoon cake time. There's a kardinal schnitte with meringue, French biscuit, and coffee mousse; an esterházy torte ($12) with hazelnut and almond dacquoise and vanilla butter cream; and, of course, apple strudel ($12) with rum raisins and crème fraîche ice cream.
2. Set aside a Sunday for brunch at Oxalis.
New York critic Adam Platt praised the pop-up turned restaurant Oxalis for its creative cooking, and the regularly evolving carte blanche menu is, at $60, one of the better dinner investments you can make. Soon you'll find an even better bargain during the weekends. On June 16, the Prospect Heights restaurant will serve its first Sunday brunch, offering a $30 menu of four dishes like fingerling potato hash with harissa and ramps and a spring vegetable, basil, and Idiazabal cheese salad. Those feeling less hungry can go a la carte, and order a French omelette, green blueberry clafoutis, and other dishes.
3. Drink local beer on a shuttle out to the Rockaways.
It's officially beach season. (Which also means that, yes, it is pina colada season.) For New Yorkers who don't run away to the Hamptons or further afield, it's always of a question, how can I be minimize my effort when getting to the beach? Rockaway Brewing Co. now has a new answer for summer 2019: a shuttle between its breweries in more centrally located Long Island City and Rockaway Beach. Called the "Brew Cruiser" (tickets are $20), it'll run six loops a day starting tomorrow. It's not the first shuttle service out to the beach, but it is first one to offer beer on the bus that's brewed by the service's operator. And once you're at the beach, you can stop by one of your favorite spots.
4. Go to a festival that's entirely devoted to IPAs.
Hop heads take note: On June 22, Other Half, a.k.a. New York's hottest brewery, will host its second festival dedicated to all things IPA. Called Green City, the event brings more than 70 brewers to Industry City, including Mikkeller, Alchemist Beer, Firestone Walker, Half Acre, local favorites like Grimm, and many others. To top off the pint, they've also brought on NY Wrestling Connection to provide the entertainment, Ends Meat will be roasting pigs, and Excell's Kingston Eatery will serve jerk chicken. General admission (tickets are $100) gets you four hours of as many beers are you like, as well as access to Industry City's food court and the wrestling courts. The all-in tickets have already sold out, so if you like your beer bitter you might want to act fast.
5. Check out a new Chinatown spot that serves Hakka rice rolls.
When it comes to rice rolls, Grub's official opinion has been made very clear: the more the better. Chinatown already has a handful of street vendors and shops specializing in the treat, including the buzzy Joe's Steam Rice Roll and the more recently opened and just as great Yi Ji. But what about other kinds of rice rolls? A couple weeks ago, a very small shop called Hak Box opened on East Broadway, serving not Cantonese but Hakka-style rice rolls ($2.50). These are big and tightly wound in a spiral so they're shaped more like spring rolls, and you'll find the familiar flavors of dried shrimp, pork, and scallion seeds. The three item menu is rounded out by tofu ($5 for two pieces) and dumplings ($4 for three pieces).
6. Check out new restaurants from one of the former chefs of Dover and the owner of Breads Bakery.
Breads Bakery and the now closed Dover didn't have much of anything in common, except that they both had big impacts on the New York dining scene during this decade. (Dover helped shape a certain style of Brooklyn neighborhood restaurant, and Breads Bakery's babka became an instant New York classic.) Now, two of the people behind those two places are opening new restaurants this month. The chef Joe Ogrodnek, who went on hiatus after Dover closed, is back with Floret, an all-day restaurant in the Sister City hotel in which he is a partner. Together with Andrew Witcomb, he's created a casual menu of tastes like flatbread with crushed fava beans ($10), sandwiches included roasted lamb with tapenade ($15), and dishes like merguez with crushed chickpeas ($16). The restaurant opens for day-time service on June 3, with brunch and dinner following later in the month. (It also is cash-free, a practice some argue is discriminatory.) A few days later on June 8, Breads Bakery owner Gadi Peleg will open Lamalo in the Nomad neighborhood. The flatbread laffa will be a signature, and the focused dinner menu will include dishes like Shabtai-style fish ($32) in chickpea batter  while lunch will mean skewers.
7. Go support Hot Bread Kitchen's new space in the Chelsea Market.
Hot Bread Kitchen is social enterprise disguised as bakery and incubator, with breads as great as its mission to train and support immigrant women. Now, the Harlem operation is expanding, for the first time, with a second space in the Chelsea Market. This location will function as a platform to showcase the businesses Hot Bread is incubating or has in the past. First up is Gorsha, which applies the fast casual template to Ethiopian food. Bowls are $13, and along with proteins like berbere chicken there's plenty for vegans.
8. Eat Jonathan Waxman's chicken again at a special dinner celebrating Il Buco's 25th anniversary.
Donna Lennard and crew have been celebrating Il Buco's 25th birthday — no small milestone in the restaurant world — this year with a series of dinners. On June 11, they'll host the third with chef-restaurateur Jonathan Waxman, whose much loved Barbuto closes tonight; Jams chef Ginger Pierce; Il Buco's Preston Madson, and former Il Buco Alimentari chef Justin "Short Rib" Smillie. The five-course prix-fixe ($125, reservations here) with a pasta from Smillie and Waxman's famous chicken with potatoes as the main. So, hey, at the very least you can go eat Barbuto's chicken if you didn't get one last chance to go.
9. Go to a talk with the great cookbook author Madhur Jaffrey.
Madhur Jaffrey is a living legend in the world of food; her cookbooks on Indian food are essential for all home cooks. On June 4, she'll pop by the 92nd Street Y for a discussion (tickets are $29) with Eater's Sonia Chopra on immigration and food as well as her latest book, Madhur Jaffrey's Instantly Indian Cookbook. (Jaffrey has prolifically covered various aspects of Indian cooking, and the Instant Pot has been adopted by home cooks who find its particularly useful for Indian food.) After discussing spice needs and butter chicken, Jaffrey will stick around for a book signing.
10. Or one by the Chicago researcher who investigated the real origins of American pizza.
Speaking of the 92nd Street Y, there's an event pizza geeks won't want to miss. Earlier this year, the Chicago researcher Peter Regas revealed evidence that upends the story about pizza in America. Long story short: his work suggests some very important people were left out, and that Lombardi's was not America's original pizzeria. On June 6 at 7 p.m., he'll head to the 92nd Street Y (tickets are $35) to talk with Scott Wiener, king of the New York pizza geeks, about the research. There will be pizza, but why not head over to Mama's Too or further uptown to Patsy's after?
11. Eat French sandwiches all month long.
All month long, wine bar La Compagnie des Vins Surnaturels will operate a French sandwich shop at 253 Centre Street. It'll be open Monday through Friday from 11 a.m. through 2 p.m., or until sandwiches sell out, and everything to eat is $10 (cash only). There are four thoroughly French options: brown) butter and ham on baguette, comte and caramelized onion, marinated artichokes with sundried tomato tapenade and arugula, and duck confit with porcini mayo and pickled mustard.
12. Eat at great restaurants supporting Edible Schoolyard NYC.
Tomorrow, Edible Schoolyard NYC will launch its annual summer fundraising effort in conjunction with restaurants around the city. The restaurants will donate a portion of the proceeds from particular dishes or drinks, as well as hosts events. They're also all places you'd go to any ways, so why not? The participating restaurants include Cosme and Atla, from June 17 to 21; Ferris, which is donating all sales of a special on June 21; Momofuku Ssäm Bar, where $1 of every spring white truffles and fried cauliflower as well as glazed St. Louis ribs sold in June will go to the effort. Check out the full list of restaurants here.