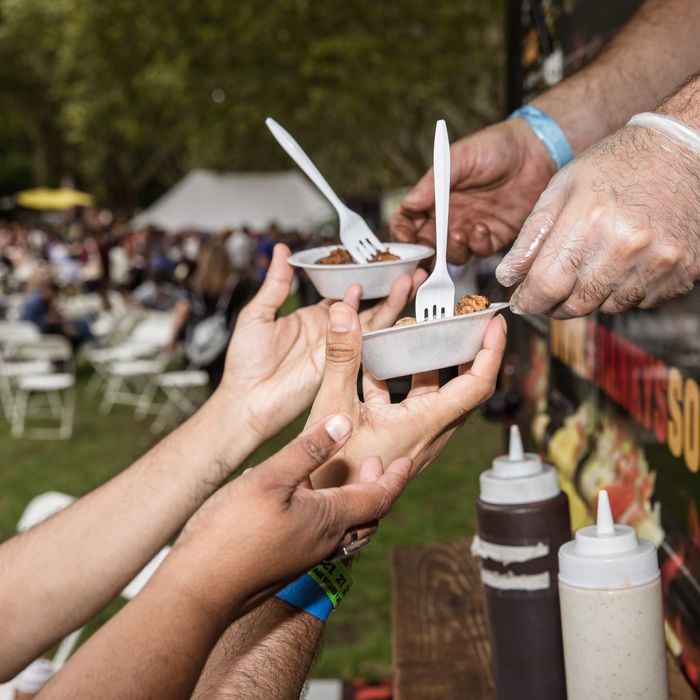 A scene from last year's Vendys.
Photo: Scott Heins
For the last 14 years, the Vendy Awards have been a fixture on the New York food scene and the city's go-to celebration of all things street eats. A fundraiser for the nonprofit advocacy organization the Street Vendor Project, it's brought together and honored excellent versions of Burmese chicken noodle soup, biryani, arepas, El Salvadoran obleas — the list of foods, and cuisines, goes on and on. Each year, awards are given out in various categories like breakfast, dessert, market, and rookie, with the main trophy being the Vendy Cup. But when the sidewalk and market chefs gather for the 15th year in a row on September 21, it will be for one last time. The Vendy Awards are ending.
"We thought 15 years would be a nice, good, clean point to, you know, go out on a high note. A good, sort of landmark occasion," says Sean Basinski, the organization's founder and co-director. (Tickets, which go live today, can be purchased here.) "We kind of feel, honestly, that the Vendys have mostly accomplished, if you will, what we set out to do 15 years ago. The landscape has changed so much, and we're going out in style."
The first Vendys were held three years after he started the SVP with just $15,000, a Yale Law School degree, burrito-cart experience, and a desire to advocate for and organize the city's street vendors. As Basinski told the New York Times, "We are trying to be a voice for vendors and have the public see them in a different way, almost like in a collective action." While there were thriving and long-standing vendors across the city, like Fauzia's Heavenly Delights and El Saboroso de Aracataca, they lacked a collective voice. It didn't help that most vendors are immigrants, who may be dealing with an unfamiliar bureaucracy and in some cases are undocumented and people of color.
"It served a really critical role in New York food culture at the time and it raised a lot of awareness about street vending at a time when that still wasn't — like, we take it for granted that food trucks are everywhere now," says Max Falkowitz, a writer (and sometimes Grub contributor) who served on the Vendys planning committee in 2010. "It was always really about the vendors and they made a big effort to publicize the vendors that they were attending far more than what the SVP itself was doing."
Over the years, being invited to the Vendys became a badge of honor — and not just for businesses that won. Though, that wasn't necessarily the case early on when street vendors got less attention. "I remember when they started in 2005; I had the invitation and laughed at it, to tell you the truth. It was a customer who told me they nominated me. I didn't pay attention; 2006, the same," says King of Falafel's Freddy Zeideia, who has several trucks and a restaurant. "I didn't think anybody was interested in finding out the stories of food vendors."
Zeideia changed his mind and first attended in 2007, then again in 2009 and 2010, when he won the Vendy Cup. He says he now recognizes how it brought his business exposure. The list of pushcarts, trucks, and market stalls that have attended the Vendys is, more or less, a dossier on New York street food from Queens classics like the Arepa Lady and Sammy's Halal, midtown institutions like the Biryani Cart, Sunset Park's Guandong Cheong Fun, and trendier operations like the Cinnamon Snail and Hard Times Sundaes. Businesses that have helped shape New York's food scene over the last 15 years have been amplified or given a major boost by the event, including Big Gay Ice Cream and Patacon Pisao.
"The Vendys were definitely a big starter for us. It was actually one of the first events we were able to take our truck to. We are very blessed to be apart of that," says Jonathan Hernandez of Patacon Pisao, which started in Washington Heights and now includes two storefronts. "Only a certain population knew about us. But the Vendys were able to open us to different types of markets that we really weren't thinking about."
Myo Thway of Burmese Bites agrees. He first participated in 2015, when he was running a Queens Night Market stall, after which he says "people became familiar" with his business. More critically, the SVP literally helped him expand when he was thinking about opening a pushcart by giving him information on where to purchase one, what not to do, and more. In 2018, Burmese Bites won the event's People's Choice Award at its second Vendys.
While Basinski says that attendance hasn't dropped much during the last two years (there have been around 1,600 or 1,700 attendees, the SVP says), he's acknowledged that it's gotten harder every year to sell tickets. Part of that is the reality of running more or less the same event every year, and the pool of people who want to attend. It's also the increased competition.
During the event's 15-year run, New York's street-food ecosystem has changed significantly. There's the perennially popular Smorgasburg; street fairs run by the likes of Urbanspace; the five-year-old Queens Night Market, a bootstrap event that's become one of the best things in New York food; and of course the multiplying food halls. Part of what's going on is also, Falkowitz argues, a shift among entrepreneurs from street vending to other opportunities like Smorgasburg and pop-ups. All of these things came out of a growth of interest in street food and the people who make it, which the Vendys celebrate and the SVP fights for. With the end of the Vendys, the SVP will have to find a new means of fundraising, whether that's a gala or a new event. But, this summer, they'll spend their time thinking about how to celebrate what the event has meant to New York by, say, bringing back past winners or doing a battle of the boroughs.
"We're going to look back and say this event — and how many people can keep a food event going for 15 years?" Basinski says. "We're proud of what we've done, not just at producing the yearly event but accomplishing what we have. Not just the money we've raised, that's been helpful, but raising the profile of street food and street vendors."
This post has been updated to reflect that the Vendys will take place on September 21 and not September 19, the date originally supplied by the Street Vendor Project.