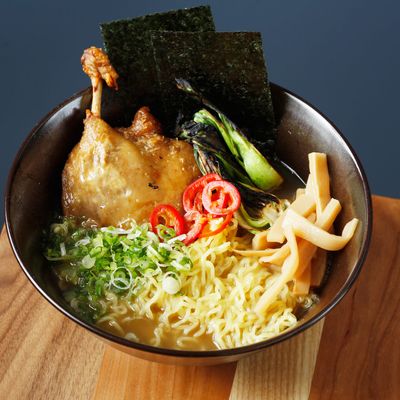 No more.
Photo: Melissa Hom
Rightfully so, the restaurants and bars that New Yorkers lament tend to be ones that, a wistful regular will tell you, were part of the fabric of the city. It's a sign of the times that the bar where Dylan Thomas used to hang is unceremoniously shuttered, or that the owners of one of the city's soup-dumplings destinations can't make it work in Flushing.
Short-lived restaurants don't get the same treatment, for obvious reasons, but it's unfortunate when ambitious places from established players fizzle out fast. There are all kinds of reasons why these closings happen (and the same can be said for why a 60-year-old pub closes, even if we reflexively need to frame it in the battle of good versus evil that is New York City real estate). But it's still a bummer to hear that Bushwick's Teo has closed after just five months of serving cast-iron-skillet okonomiyakis.
The closing came out of nowhere, given what the restaurant had going for it. It wasn't a rookie chef's project. The owner was Joaquin Baca, who was David Chang's first employee at Momofuku Noodle Bar and helped right the ship at Ssäm Bar after a rocky start. Baca helped shape Momofuku in its earliest years before going on to open Williamsburg's the Brooklyn Star, which closed in May after nine years in Williamsburg. He's a talented chef who was cooking food people want to eat; short rib over kimchee fried rice, oysters coated in cornmeal and then fried, a confit duck-leg ramen. The news was announced on the restaurant's Instagram and website, but no reason was given. (Grub has reached out to Baca for comment about the closing.)
Five months is a short period of time, but Baca invested much more into the restaurant. He told Grub he'd been in negotiations on the space for three years. "I missed the format a lot," he said back in December, of the small, izakaya-ish sort of place he was opening. It was a return to the sort of cooking he'd made his name with.
Teo isn't the only relatively quick closing to happen so far this month, as Günter Seeger NY has closed after just under three years. The restaurant marked the return of its eponymous chef after a decade away from restaurants. Seeger spent 30 years cooking in Atlanta, and Atlanta magazine called his last restaurant there "what the French Laundry was to San Francisco or Restaurant Daniel was to New York: a highly personal beacon of artistic gastronomy."
At least in the circles that Grub runs in, Günter Seeger NY wasn't a restaurant you heard a lot of food geeks talk about. Still, it received a two-star review from Pete Wells in the New York Times. The critic noted the closing on Twitter, as well as the reality that New York restaurants are often the victims of difficult-to-navigate trend winds: