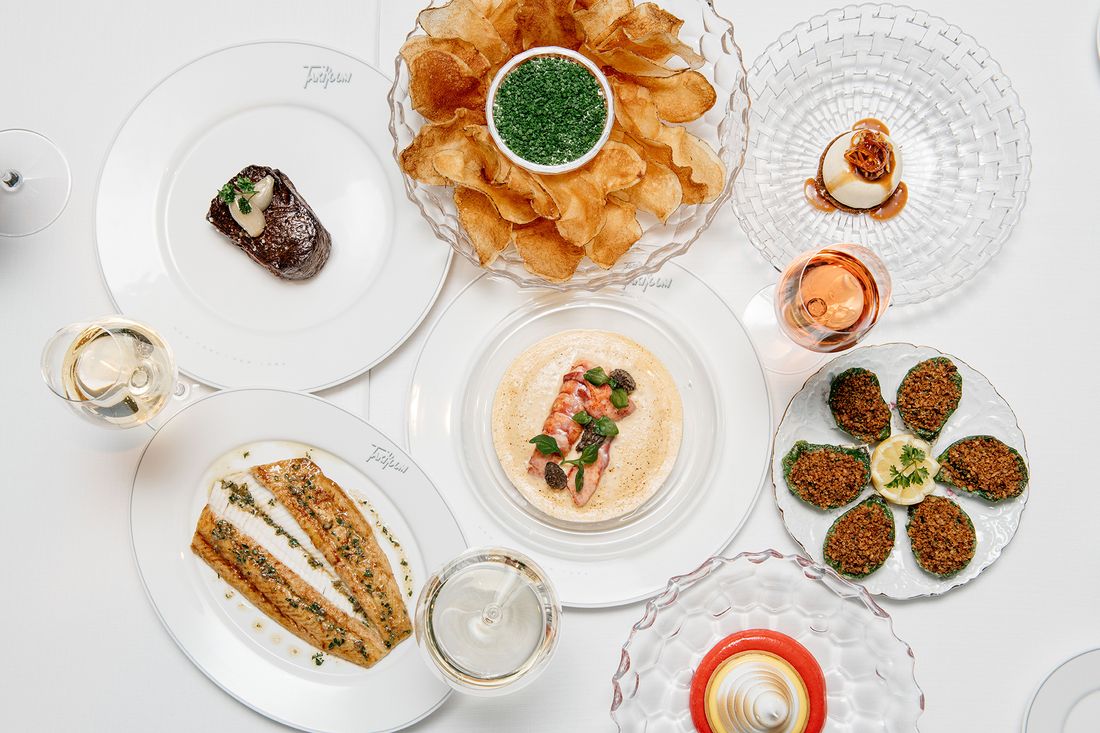 TAK Room's retro-American fare.
Photo: Scott Heins
Few of the highly touted culinary ventures to open at Hudson Yards over the past few months fit as seamlessly into the dull, frictionless mall-dining terroir as Thomas Keller's outlandishly pricey, curiously satisfying new restaurant, TAK Room. Unlike the local David Chang outlet, which is stuck in a windowless space in the back of the fifth floor, Keller's sprawling operation occupies a two-story "anchor" spot, with its entrance on the same fifth floor, hard by the mostly deserted entrance to Neiman Marcus. The prime tables in the various bustling, crowded rooms (I counted four dining rooms plus a bar) command prominent front-row Hudson River views, which means you can sip your carefully procured bottle of Champagne and pick at your oysters Rockefeller while looking out at those endlessly reviled (and endlessly Instagrammed) new local landmarks, the spiraling, shawarmalike Vessel and the Shed.
With Keller's use of rolling carving carts and his throwback dinner menus filled with heavily sauced lobster dishes and opulent cuts of beef, his TAK Room seems to have been influenced by the success of Major Food Group's the Grill across town in the Seagram Building. But this isn't a grand, landmarked big-city space, like the one on Park Avenue, and like Hudson Yards itself, this doesn't feel like a restaurant that's necessarily been designed with grizzled New Yorkers in mind. Much of the retro menu turns out to have been recycled from Keller's popular Miami operation, the Surf Club Restaurant, and there's a polished, generically posh quality to the décor (white tablecloths, curving banquettes, darkly paneled walls) that makes you feel — as the jazz trio cranks up at the bar, and the moneyed tourists begin to drift up for a drink from the great fluorescent mallscape below — like you could be dining anywhere from Dallas to Dubai.
There are plenty of good mall restaurants in Dallas and Dubai, of course, especially if you have the funds, and like Keller's other popular mall restaurant in the city, TAK Room (the name derives from the chef's initials) turns out to have its charms. Like at Per Se, the service is coolly impeccable, especially if the gray-jacketed waitstaff happen to spy a VIP lumbering through the doors. Keller is the original booster for blue-ribbon ingredients and sourcing, and no expense has been spared in bringing in the finest of everything from trophy farms around the country. The chickens are Keller's beloved milk-fed poulardes from Four Story Hill Farm in Pennsylvania, the blue crab in the excellent house blue-crab cake is trucked up from North Carolina, and if you wander by the kitchen, you'll find different cuts of rose-colored Wagyu from Snake River Farms in Idaho displayed like pieces of sculpture in a tall glass case.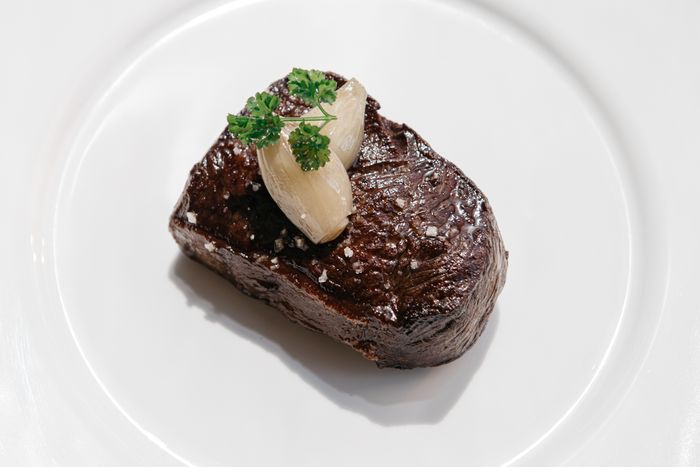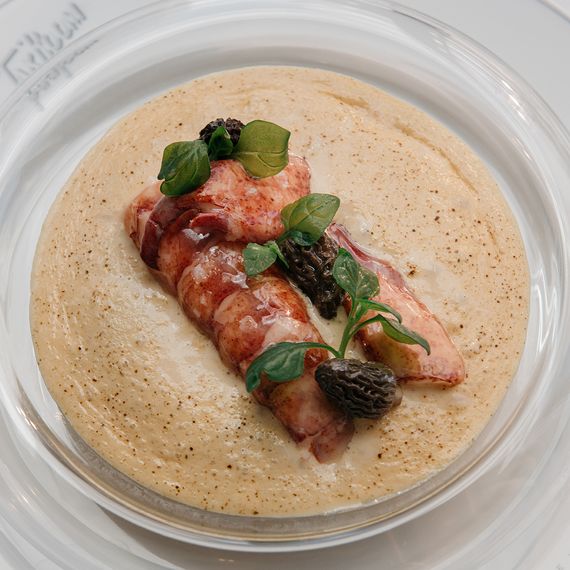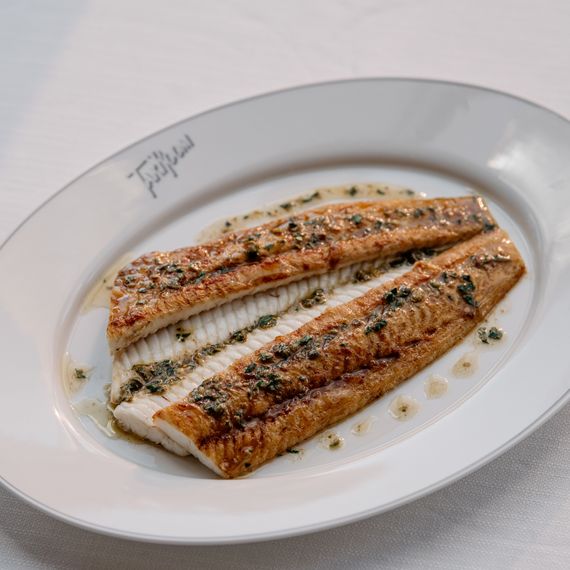 On the evening I sampled it, the aforementioned jumbo lump crab cake was almost as good as the fabled version at the Grill across town, and at $27, it was 11 bucks less expensive. It was accompanied by the oysters Rockefeller, which consisted of six large oysters that were overwhelmed with bacon and lacked any real oyster taste, and a sinful Per Se-style creation of caviar, crème fraîche, and soft-boiled egg that cost roughly $10 a bite (the "Warm Soft Boiled Egg" for $46). Many of the items we ordered at TAK Room seemed to cost roughly $10 per bite, so if you want to try to stretch out your dollar in the early going, I suggest the clam chowder (made with fresh Long Island littlenecks for $16), and if you don't, call for the fettuccine Alfredo, which Keller's acolytes in the kitchen fold with gouts of butter, Parmesan, and a generous helping of black winter truffles.
Other playfully indulgent old 20th-century classics pop up as specials, including some very good beef stroganoff and a less-successful version of chicken Kiev, which reminded me more of a giant chicken tender than the miracle dish I remember sticking my fork into more than half a century ago. With the exception of the chicken for two (beautifully roasted and a relative steal at $68) and a very professional wild Dover sole meunière, you're better off saving your buckets of cash for the big-ticket red-meat dishes, like the lavishly tender Snake River prime rib, which is rolled to the table in a refurbished carving cart dating from 1912; the densely flavorful boneless cut of rib eye; and the beef Wellington for two, which is made here with a block of gently softened prime short rib instead of the usual filet and poured, just like down in Miami, with a truffle-rich Périgourdine sauce.
"This is a lot more fun and interesting than I thought it would be," said a lofty food professional of my acquaintance as he practically licked his plate clean of Périgourdine sauce and prepared to receive a snow-colored log of coconut cake for his dessert. This was before our bill arrived, of course, which totaled exactly $547 for four people (the beef Wellington costs $5 more here than it does at the Surf Club), not including our tip and the two bottles of reasonably priced wine. Like a lot of the desserts (gold-flecked dark-chocolate layer cake, a decent lemon-meringue tart, an overly mannered ice-cream sundae), the coconut chiffon cake turned out to be the kind of thing you'd find at an upscale steakhouse in, say, Dallas, or even Dubai, so save your cash and enjoy a fine gourmet version of that old mall favorite, caramel popcorn, which is hoisted to the table as an after-dinner treat in a brightly colored vintage tin from the chef's collection as the plates are being cleared away.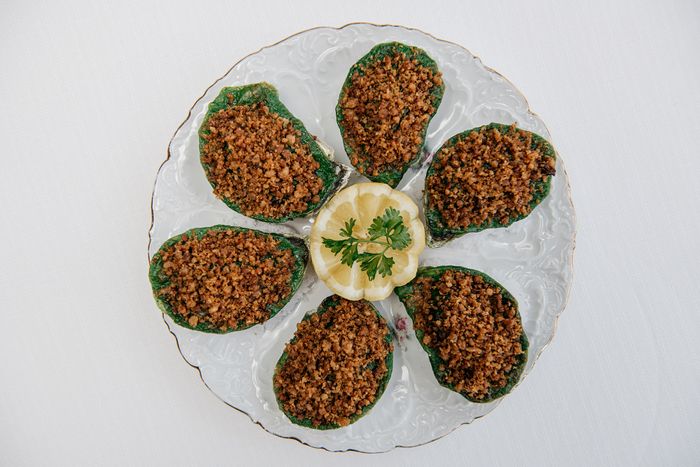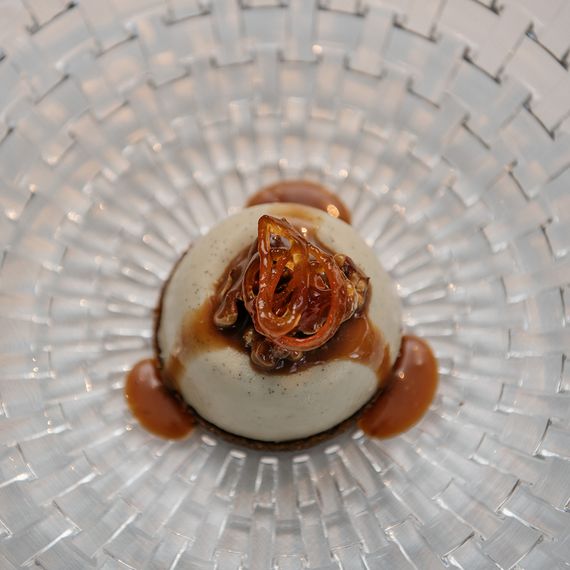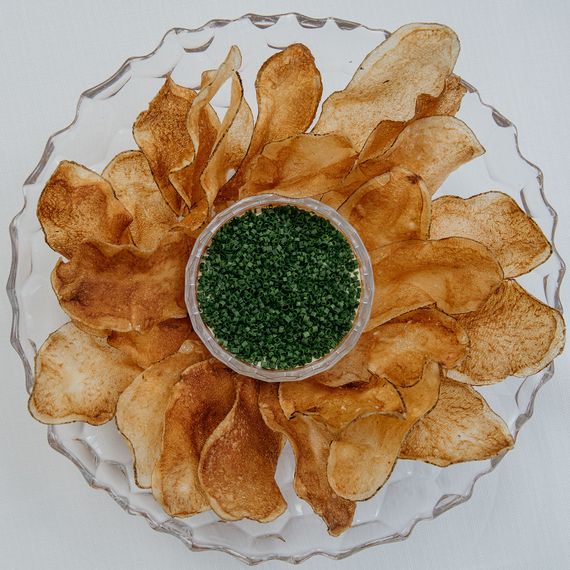 TAK Room | 81 (out of 100)* | Good
20 Hudson Yards, fifth fl.; takroomnyc.com
Open: Dinner, Tuesday through Sunday.
Prices: Appetizers, $16 to $46; entrées, $26 to $138.
Ideal Meal: Crab cake, rib eye, chicken for two (or prime-rib special, if you have $100 handy), lemon-meringue tart.
Note: A discreet, reservation-only speakeasy called Bookbinders is open now on the bottom floor of the restaurant, next to the entrance.
Scratchpad: Professional service, uneven but sometimes excellent food, and prices bordering on the insane add up to a "good" 81 for Keller's destination restaurant in Hudson Yards.
*The rating scale of 0 to 100 reflects our editors' appraisals of all the tangible and intangible factors that make a restaurant or bar great — or terrible — regardless of price. See The Thousand Best for 999 more great places to eat and drink.